Opinion: They feared a Trump presidency when he was inaugurated. A year later, they're only more afraid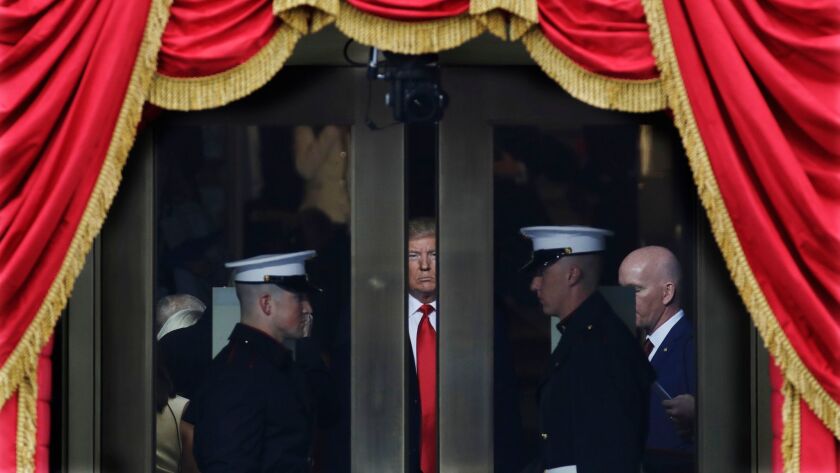 To the editor: On Inauguration Day in 2017, I wrote a letter to the editor that was published the next day in the Los Angeles Times.
In the letter, I recalled staying at a remote tent "resort" during President Obama's inauguration in 2009, during which another guest from Denmark congratulated me and my country. In contrast, on Jan. 20, 2017, I felt afraid and anxious because of President Trump.
My fears when I wrote that letter were tremendous and my depression was quite serious. I could not, however, have imagined just how horrible this would turn out to be a year later. My greatest fears have been realized, as our status in the world has reached an all-time low and our democracy is in serious jeopardy.
I wish that I could write that I was wrong a year ago. Instead I fear for our country, our world and our precious children. We owed them so much better.
Barbara Sobin-Rosen, Fullerton
..
To the editor: On Saturday in Los Angeles and elsewhere, we women will march for many reasons.
We march because we recognize the value of all people who come to our country hoping for a better life, and because we recognize that immigrants who contribute may come from Norway, Nicaragua or Nigeria.
We march because same-sex couples who can now legally love and marry who they choose should be guaranteed the same services as the rest of us.
We march because black lives do matter and we will never stop working for the justice that our civil rights heroes were willing to die for.
We march because we choose to protect our Earth from those who place profit over pollution.
We march because women who have been harassed, abused and paid lower wages or denied promotions deserve better.
We march because our free press should never be threatened for reporting the truth.
We march because we are at a critical time in our nation's history. We are concerned about who we are as a nation and, more important, who we will become.
We will march for as long as it takes.
Diane Luftig, Pomona
..
To the editor: A year into his administration, Donald Trump has proved himself the most straightforward and candid president the U.S. has ever had.
Did he not utter vile statements during his campaign? Did he not link the whole religion of Islam to terrorism? Did he not pledge to build a wall along the southern U.S. border to keep out Mexican immigrants, people he called murderers and rapists? Did he not say he would recognize Jerusalem as Israel's capital, compromising America's stance as an honest broker in the Middle East? Did he not promise to withdraw the United States from the Paris climate deal?
We should not be surprised by Trump's vulgarity during his first year as president. Instead, we should blame those who raised him to the highest echelon of power.
Munjed Farid Al Qutob, London
..
To the editor: How ironic!
After just one year of his incredibly divisive and rueful, ruinous rule, at both the national but especially international level, we now really do need someone to "make America great again."
Sad!
Michael Ward, Sierra Madre
Follow the Opinion section on Twitter @latimesopinion and Facebook
---
A cure for the common opinion
Get thought-provoking perspectives with our weekly newsletter.
You may occasionally receive promotional content from the Los Angeles Times.