Readers React: Trump might have hit a new low at NATO. That's saying something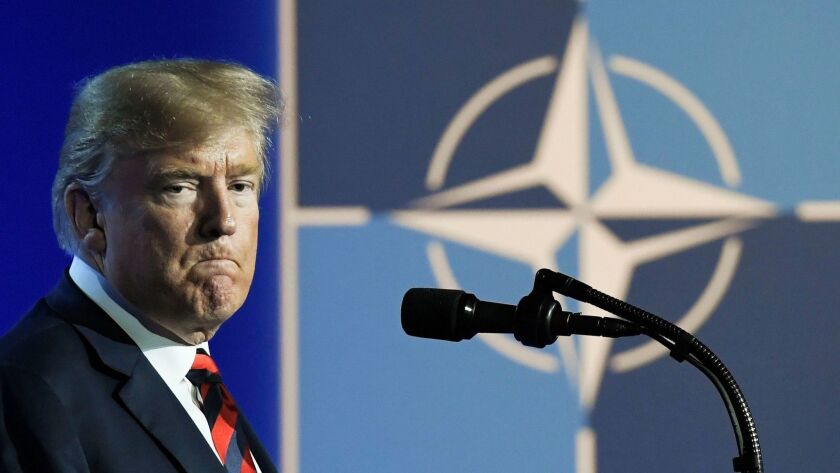 To the editor: What amazes me most about President Trump is that so many politicians, diplomats and journalists are still treating this president as if things are normal. After his debacle recently at the North Atlantic Treaty Organization summit in Belgium, it is obvious that he is so completely out of his depth, and dangerously so.
Trump's policies and decision-making are all spur of the moment and without rational forethought or knowledge, as evidenced by the horrific suffering and uncalled-for chaos at our southern border.
He projects all the time, accusing others of terrible misdeeds, and blames everyone else for his own failures. He tweets, lies, name-calls and bullies incessantly.
Are we really going to wait until Trump has destroyed our democracy?
Penelope Burley, Santa Rosa Valley, Calif.
..
To the editor: Trump contradicts 28 other NATO members and claims they all agreed to his demands on military spending. Why do the media continue to headline the president's fatuous assertions as if they may be true?
The choice to place Trump's lie that he was victorious at the NATO summit in the headline of this article is misleading at best, irresponsible at worst, and simply reinforces the alternate reality of the president's base.
At this point, "Trump claims the moon is made of cheese" doesn't seem so far-fetched.
One of the reasons we have an incompetent president in the White House is the media's habit of pretending he's just like any other public official, when it has long been crystal clear that he's not. I wish The Times and the rest of our news media would start covering this unrepentant, habitual liar like an unrepentant, habitual liar.
Michael Finnigan, Encino
..
To the editor: I am 75 years old and in good health. But for the first time, I fear that the damage done by the president and his administration, both domestically and internationally, cannot be undone before I die.
Kerry Burnside, La Habra
Follow the Opinion section on Twitter @latimesopinion and Facebook
---
A cure for the common opinion
Get thought-provoking perspectives with our weekly newsletter.
You may occasionally receive promotional content from the Los Angeles Times.