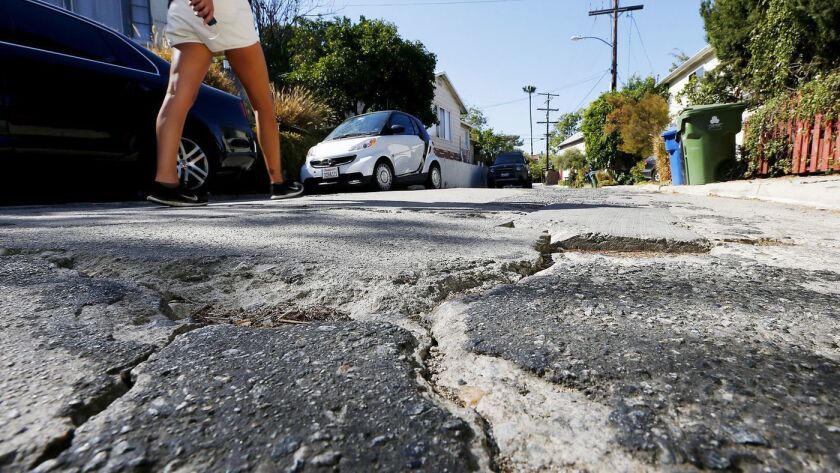 Los Angeles' economy is producing an increase in city revenue, largely from property, sales and hotel bed taxes. Mayor Eric Garcetti announced a $9.9-billion budget that will rely on that revenue as well as taxes from marijuana and Airbnb sales, and the state's gas tax.
The budget will allocate funds to repair buckled sidewalks, rebuild the city's most damaged roads and improvecrosswalk and street safety to decrease the number of traffic deaths.
Garcetti seeks to repair more streets and sidewalks — and make them safer »
We asked readers where the extra money should go and they responded.
Several prioritized homelessness and housing, calling for an overhaul of Skid Row and a greater commitment to finding permanent placement for the homeless.
Here's a sampling of what they told us:
Creating a community for the homeless, where they can receive proper medical & mental healthcare, rehab, and job training.

— Marie Mira (@MarieMira3) April 19, 2018
Sort out Skid Row ...and I don't mean move the problem somewhere else!

— Josh L'Arbre (@LAXandBNE) April 20, 2018
Homeless. Social services and housing.

— KWalksAgain (@KWalksAgain) April 20, 2018
Low income housing. Help the homeless.

— Kristine Kenyon (@kristine_kenyon) April 19, 2018
Others cited investment in schools and public safety.
@ericgarcetti Let's spend money in our schools. Better educated citizens contribute to our future. That's a big payoff.

— Fred S (@fredfromla) April 20, 2018
One reader suggested using the money for infrastructure and upgrading city buildings.
"Spend it on infrastructure upgrade our buildings to meet modern earthquake safety standards. An earthquake will strike southern California. Why wait for the inevitable when we can prepare for it," Jorge Hernandez wrote on Facebook.
Another reader thought it should be used to cut parking tickets.
Senior care was on at least one person's mind.
Where do you think Los Angeles should spend its newfound money? Weigh in the comments below, or tweet @latimes.
---