Garcetti seeks to repair more streets and sidewalks — and make them safer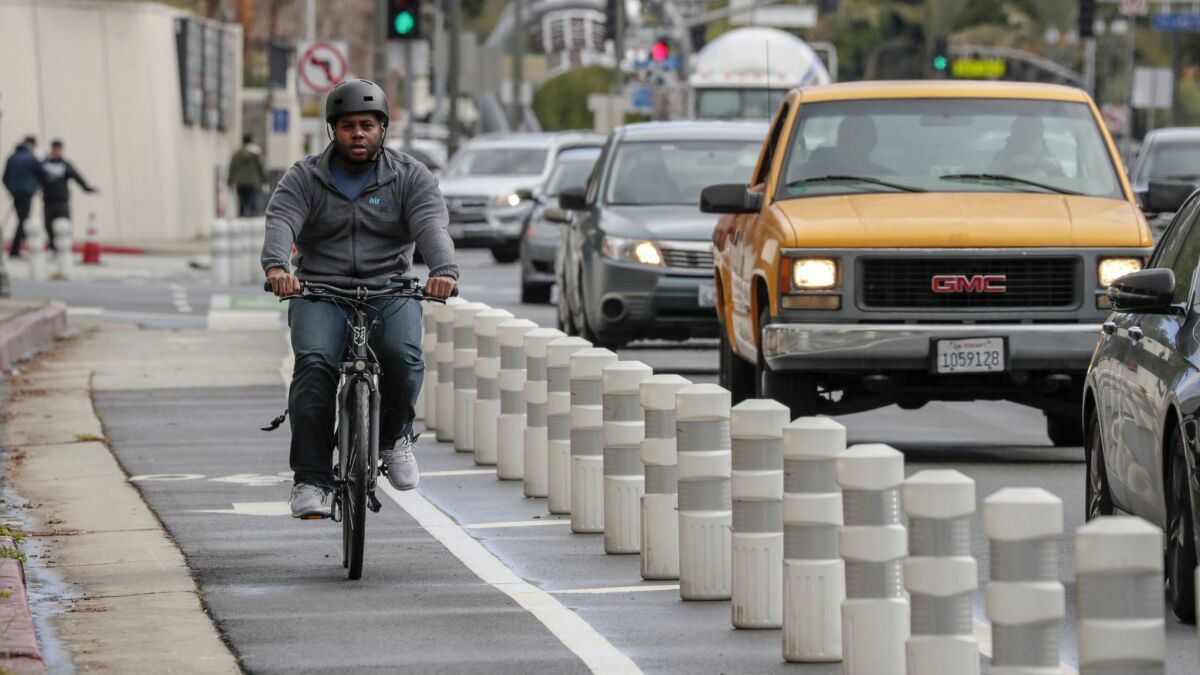 Flush with revenue from a strong economy, Los Angeles Mayor Eric Garcetti is looking to ramp up efforts to fix buckled sidewalks, rebuild the city's most damaged roads and reduce the number of traffic deaths.
The mayor's $9.9-billion budget, which was released Thursday, relies on a 5.6% increase in key revenues, such as property, sales and hotel bed taxes, according to city budget analysts.
The spending plan, which covers the fiscal year that starts July 1, will also experience a boost in revenue from Airbnb and marijuana sales. And it will depend on an influx of extra money from a state gas tax — $67 million over the coming year — as well as from Measure M, a voter-approved tax hike to pay for transportation projects.
Garcetti aides say those and other revenues will allow the city to expand an array of services, providing:
$41 million for sidewalk repairs, up from $31 million this year
$73 million for reconstruction of the city's worst streets, up from $30 million this year
$90 million for projects aimed at improving street safety, including new crosswalks, improved traffic signals and "curb extensions" — projects that extend a sidewalk deeper into an intersection. The city had budgeted $78 million this year, according to mayoral aides.
Garcetti billed his upcoming budget as the city's most stable financial plan in years, the latest sign of a decadelong recovery from a crushing recession.
"We've made prudent decisions. We've secured new revenues. And now we're in a position to fund new programs and grow the ones that we know work," he said.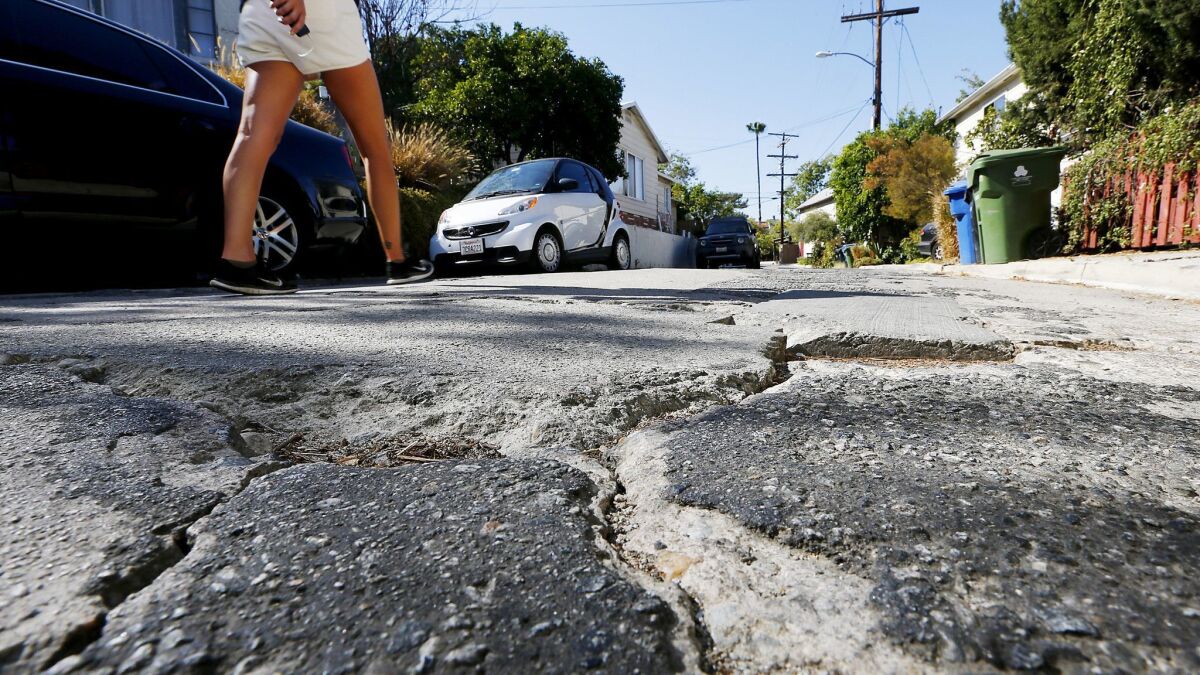 The City Council is expected to take up Garcetti's proposal this month. So far, it is drawing praise from Councilman Mike Bonin, who was a pointed critic of the mayor's previous spending plan.
Last year, Bonin argued that Garcetti had allocated too few resources for Vision Zero, a city initiative aimed at eliminating traffic deaths by 2025. This time, Bonin said he is happy to see plans for additional street safety measures, arguing that the city is experiencing an "epidemic of death" on local streets.
South Los Angeles experienced four fatal crashes in the span of a week, three of them hit-and-runs. The number of pedestrians killed has jumped 82% since 2015.
"This is a good investment, and a bigger investment, and I'm happy about it," said Bonin, who represents coastal neighborhoods. "It's never going to be everything I want, but I'm glad with the direction we're going in."
Garcetti laid out his strategy for addressing homelessness earlier this week, promising to put $20 million into emergency shelters. Since then, he has announced plans to beef up the number of cleanup and outreach teams that respond to encampments, taking the number of staff from 74 to 140 in January.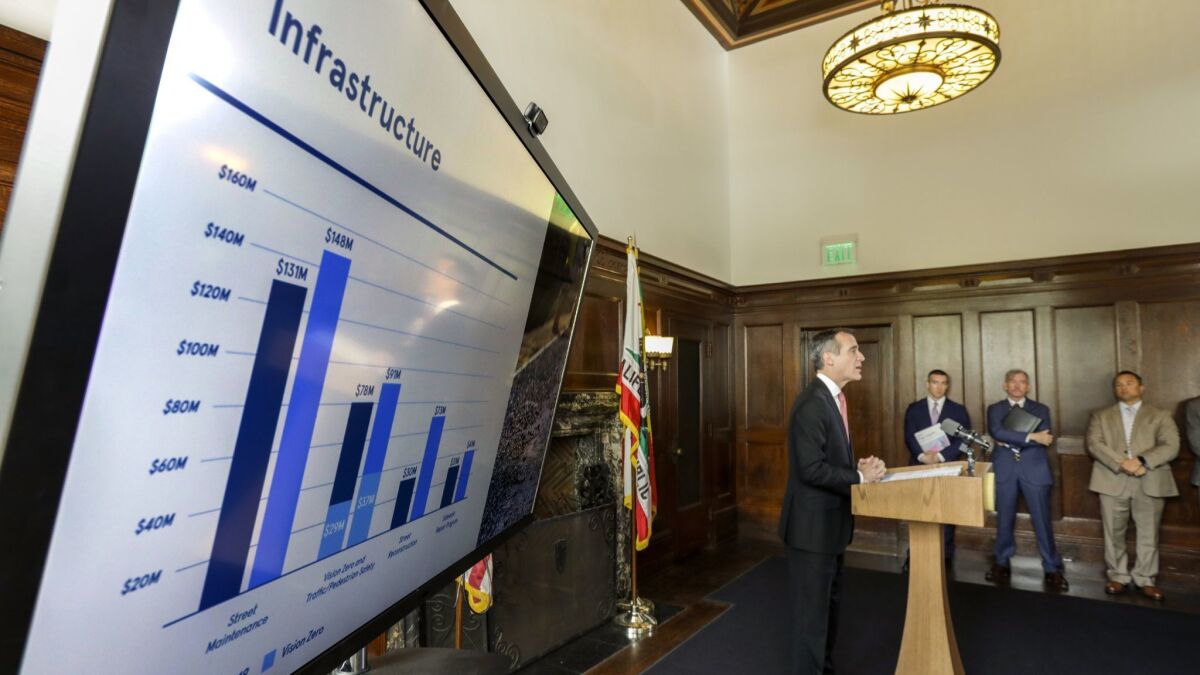 Garcetti also wants to use this year's budget to hire an additional 58 firefighters and reduce wait times for 311, the city's hotline for reporting graffiti, abandoned couches and other neighborhood-level issues.
Although tax revenues are growing in a variety of ways, the city also is facing increased workforce costs. For example, budget officials are expecting to spend $38 million to cover a one-year salary agreement negotiated by the Los Angeles Police Protective League, the rank-and-file officers union.
That agreement, which is heading to the council for a final vote, is expected to provide raises of up to 5% for police officers and up to 4.5% for detectives at the Los Angeles Police Department. Still unclear is how much the city will need to allocate for a new salary agreement with the Coalition of L.A. City Unions, which represents civilian city workers and has a contract expiring this summer.
Los Angeles is also on track to spend $1.2 billion on employee pensions and retiree healthcare, an increase of more than 8%, Garcetti aides said.
Retirement costs are projected to make up more than 19% of the city's general fund next year, which pays for such core services as police patrols and paramedics. Those costs are up $92 million compared with the prior fiscal year, city officials said.
Even though Los Angeles is "in the midst of a renaissance," the city's elected leaders need to confront some serious financial challenges, said Christopher Thornberg, founding partner of the research firm Beacon Economics.
The city still has an enormous backlog of infrastructure repairs, due in part to work halted during the recession. Meanwhile, retirement costs are continuing to consume a huge share of the budget, he said.
When the economy slows down again, things could get ugly at City Hall, Thornberg added.
"There's really almost no conversation whatsoever about how we're going to get through the next slowdown, and that to me is a problem," he said. "We're not facing up to the problems we have."
Garcetti, appearing at a news conference on the budget, argued that the city is already taking steps to weather the next downturn, by ensuring that next year's reserve is equal to about 5.5% of the general fund budget, which pays for core services.
"Today we're in a much stronger and much more stable place," he said.
Twitter: @DavidZahniser
Twitter: @dakotacdsmith
---
UPDATES:
5:05 p.m.: This article was updated with reaction and additional details from the budget.
12:05 p.m.: This article was updated with a comment from Mayor Eric Garcetti.
This article was originally published at 10 a.m.
---
Life is stressful. Our weekly mental wellness newsletter can help.
You may occasionally receive promotional content from the Los Angeles Times.