Michael Bloomberg drops $9.5 million on ads targeting GOP Reps. Rohrabacher and Knight in midterm election
Michael Bloomberg's political action committee has launched a major ad campaign aimed at unseating Republican Reps. Dana Rohrabacher of Costa Mesa and Steve Knight of Palmdale.
The intervention by the former New York City mayor has further tilted California ad spending in Democrats' favor in the final two weeks before the Nov. 6 midterm election.
Bloomberg's Independence USA PAC reported spending $4.4 million on advertising against Rohrabacher and $5.1 million to promote Knight's Democratic challenger, Katie Hill.
It is part of the PAC's expected $11-million final push for Democrats in tight House races in California, with a small amount going to Mike Levin, who is vying to succeed retiring GOP Rep. Darrell Issa of Vista.
"That's a jaw-dropping amount of money," said Rob Stutzman, one of California's top Republican strategists.
Bloomberg's spending underscored California's pivotal role in deciding which party will control the House for the second half of President Trump's term.
Democrats, who need to gain 23 seats to win the majority, have targeted Rohrabacher, Knight, and Reps. Mimi Walters of Laguna Beach and Jeff Denham of the San Joaquin Valley. They also hope to capture the open seats of Issa and departing GOP Rep. Ed Royce of Fullerton.
The unpopularity of Trump, who lost all six districts in 2016, has put every one of those seats in play for Democrats.
The closing burst of advertising from Bloomberg was a reminder that Hill, despite her spectacular success in fundraising, still faces a tough fight to dislodge Knight in conservative-leaning suburbs on the northern outskirts of Los Angeles. Bloomberg's first TV ad for Hill casts her as a champion for veterans in the state's 25th Congressional District.
The other spot that Bloomberg started airing this week is a brutal attack on Rohrabacher, hammering him for saying that global warming is a fraud.
"It's getting hotter, but while fire and smoke choke our air, Dana Rohrabacher is radically opposed to efforts to fight climate change," a narrator says as images of forest fires and belching smokestacks flash on screen.
A League of Conservation Voters committee has joined Bloomberg in spending $650,000 to air the ad.
Rohrabacher spokesman Dale Neugebauer said the congressman believes the climate is changing, but not that human activity is the cause.
"Billionaires from San Francisco and New York City are pouring millions of dollars into this district to buy the election for Nancy Pelosi and advance their own personal agendas," Neugebauer said. "Their attack ads are intended [to] mislead and to distort Rep. Rohrabacher's record. It won't work."
Scientists say carbon emissions, largely from the burning of fossil fuels, are rapidly warming the Earth and threatening civilization with inundation of coastal cities, food shortages, die-offs of coral reefs, more frequent and intense hurricanes and wildfires and other catastrophes.
Howard Wolfson, a Bloomberg senior advisor, called the congressman's stand on climate change extreme.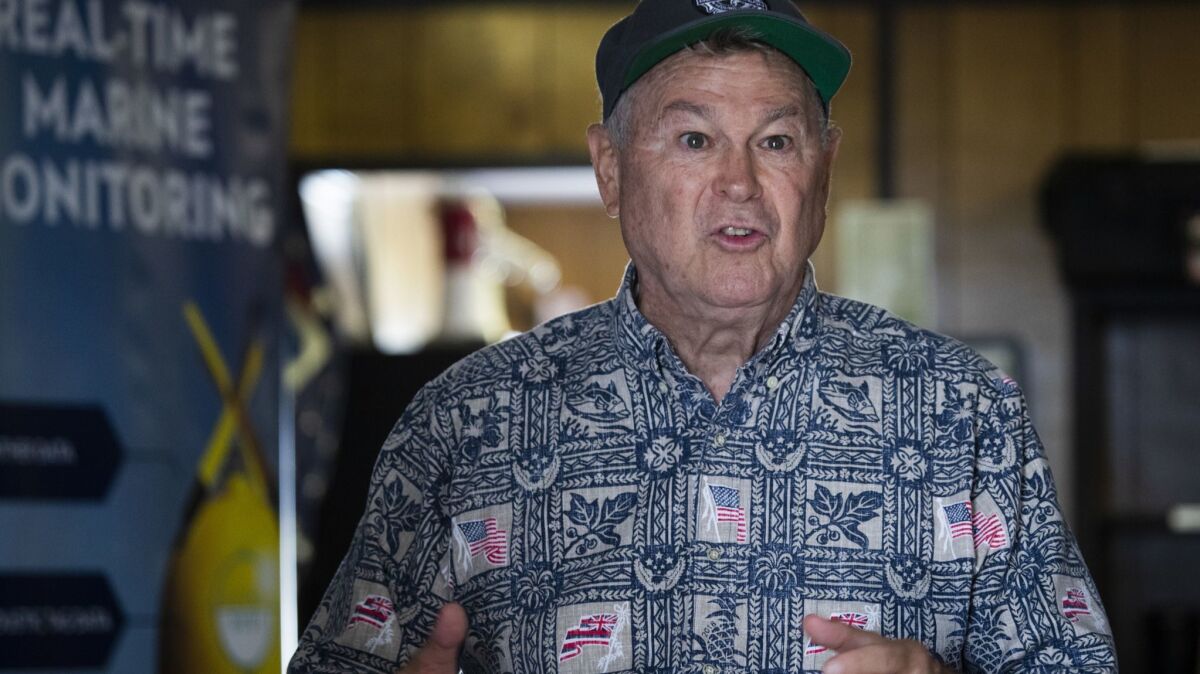 "There are many Republicans who vote against the environment, but there are not many who are willing to say so explicitly on the record that they believe that climate change is a hoax," he said. "That kind of thing is really out of step with the district."
Republicans outnumber Democrats by more than 10 percentage points in Rohrabacher's 48th Congressional District on the Orange County coast, stretching from Seal Beach to South Laguna. But Hillary Clinton beat Trump there in 2016, 48% to 46%.
The new attack ad is a worrisome sign for the 15-term incumbent, whose lackluster fundraising has left him unable to respond forcefully to his Democratic challenger, Harley Rouda, and his allies.
The Congressional Leadership Fund, a super PAC closely tied to House Speaker Paul Ryan, has come to the rescue, up to a point, with $3 million in cable television ads, but left Rohrabacher to fend for himself on the more expensive broadcast stations with broader audiences.
On Thursday, Rouda, the Bloomberg group and a Democratic super PAC were all airing ads pounding Rohrabacher on ABC, CBS, NBC and Fox stations with no counter-spots defending the congressman.
"That's a real disadvantage for Rohrabacher to not get up on broadcast," said Stutzman, the Republican strategist.
At the same time, he said, Bloomberg's late arrival in California could diminish the impact, because the sheer volume of campaign advertising in the days just before an election can be too much for viewers to absorb.
All three of the other Republicans in close races in the L.A. media market — Knight, Walters and Young Kim of Fullerton — are getting help on broadcast stations from the Congressional Leadership Fund or the National Republican Congressional Committee. Like Rohrabacher, they badly need assistance to withstand the Democrats' record spending.
Courtney Alexander, communications director of the Congressional Leadership Fund, declined to say why the group was limiting its defense of Rohrabacher to cable channels with fewer viewers than the main broadcast stations.
"We will do what it takes to ensure he wins his reelection," she said.
Knight, who also can't afford to advertise on the most-watched stations, said he was grateful the Congressional Leadership Fund was stepping into the void.
"They got us on broadcast," he said of the GOP super PAC. "Being on broadcast is a big deal."
Twitter: @finneganLAT
Life is stressful. Our weekly mental wellness newsletter can help.
You may occasionally receive promotional content from the Los Angeles Times.