U.S. diplomat arrested, accused of conspiracy with Chinese intelligence agents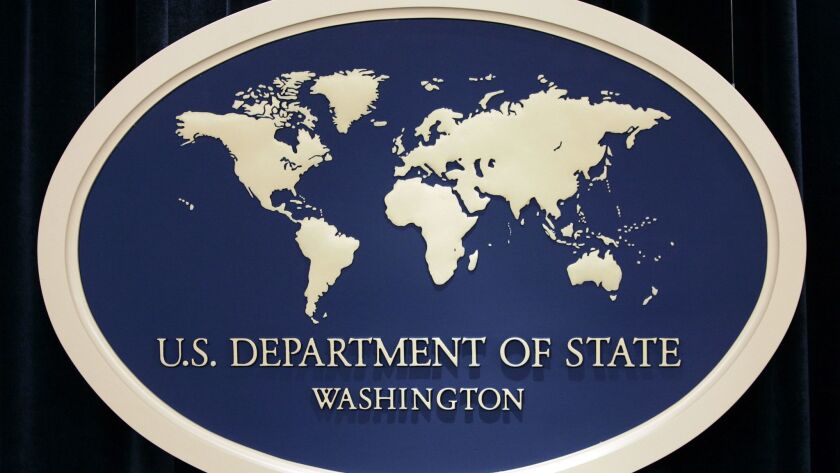 Reporting from WASHINGTON —
A longtime State Department employee was arrested Wednesday and charged with repeatedly lying about her contacts with Chinese businessmen who had plied her with thousands of dollars in cash and gifts to glean inside information about U.S. economic policy, U.S. officials said.
Candace Claiborne, 60, has training in Mandarin and a top secret clearance. She worked for the department for 18 years, rotating on assignments in China, Sudan, Libya, Morocco and most recently in Washington in the department's office of Caucasus affairs.
The case offers a window into Beijing's efforts to gain an advantage in its economic jockeying with the United States, and how business owners in China often double as agents for state intelligence.
While stationed in China in 2007, Claiborne began dealings with two Chinese businessmen, including a Shanghai importer — not identified in the documents — who federal authorities believe was gathering information for Chinese state security.
"Clairborne used her position and her access to sensitive diplomatic data for personal profit," said a statement by Mary B. McCord, acting assistant attorney general for national security.
In 2011, the importer wired $2,500 to Claiborne's U.S. account and a month later asked her for information about how the U.S. government was evaluating economic negotiations with Beijing, the affidavit says. She responded with publicly available information.
"What they are looking for is what they cannot find on the Internet," the businessman responded, according to the affidavit.
Claiborne received about $3,000 cash for herself, authorities say. Most of the rest of the gifts went to a younger family member who was not identified. He wanted to study fashion in China but Claiborne could not afford it on her State Department salary, officials said.
The relative received plane tickets, dinners, an apartment and tuition at the Raffles Design Institute in Shanghai, the affidavit says. When he was charged with a serious crime in China in 2013, the two businessmen helped him leave the country, a sign of their influence, the government says.
Worried that she could get in trouble, Claiborne asked the younger relative to cut ties with the men, authorities said. "I really don't want my neck or your neck in a noose regarding another party/person that has made this possible for you," she wrote at one point, according to the affidavit.
In interviews with State Department and law enforcement officials, Claiborne repeatedly failed to report the contacts.
Two months ago, the FBI sent an undercover ethnic Chinese agent to her door pretending to seek assistance. He mentioned the names of the businessmen and identified himself as an agent of Chinese intelligence.
Claiborne didn't deny her previous work, but refused to help him or accept his money, authorities say. She did not report the encounter.
Later, upon questioning by the FBI, Claiborne acknowledged that she eventually realized the two were trying to get information for the government. She said she also passed them information about a dissident who was living at the U.S. Embassy, but insisted that she always provided unclassified information.
Times staff writer Del Quentin Wilber contributed to this report.
Twitter: @jtanfani
ALSO
Tillerson will push NATO allies to 'do more, faster'
Senators pledge to 'go where the intelligence leads' in Russia investigation
Hoax. Con job. Chinese plot. Trump tweets have bashed climate science for years
---
Get our Essential Politics newsletter
The latest news, analysis and insights from our politics teams from Sacramento to D.C.
You may occasionally receive promotional content from the Los Angeles Times.