Hillary Clinton aides can be questioned about her email, judge rules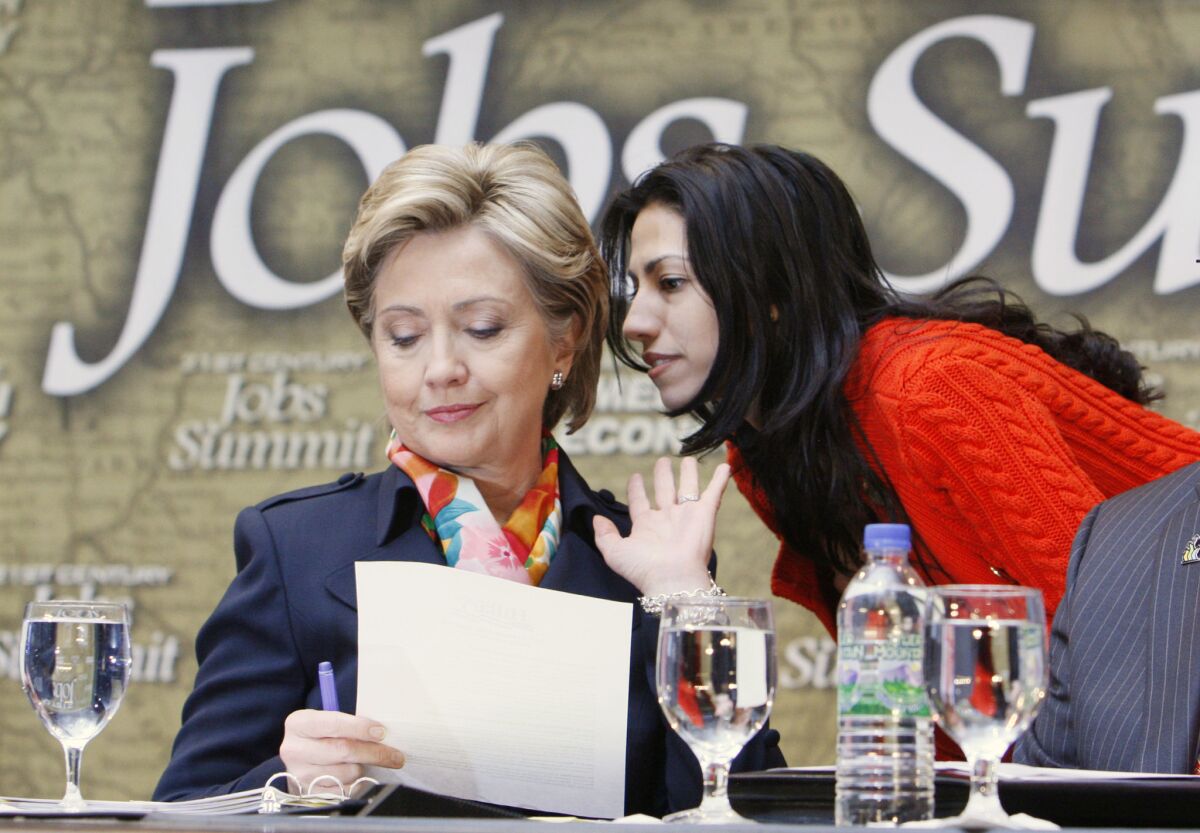 Reporting from Washington —
Hillary Clinton's email problems continued to haunt her presidential campaign Tuesday after a federal judge ruled that aides to the former secretary of State should be questioned in a lawsuit that alleges the private server set up in her home may have been intended to dodge federal transparency laws.
The lawsuit was brought by the conservative advocacy group Judicial Watch, which for years has sought records related to the State Department employment of one of Clinton's top aides, Huma Abedin.
Abedin was given special permission to work for the Clinton Foundation and an outside consulting firm at the same time she was on the State Department payroll.
TRAIL GUIDE: All the latest news on the 2016 presidential campaign >>
The State Department argued that the questioning was unnecessary after Clinton turned over tens of thousands of emails that had gone through her private server. The State Department has released them to the public in monthly batches since mid-2015.
But U.S. District Judge Emmet G. Sullivan was unconvinced.
On Tuesday, he ruled that Judicial Watch should proceed with a "narrowly tailored" discovery involving the questioning of Clinton aides.
The judge also is considering whether Clinton should be compelled to turn over all the emails that went through her private server, not just those that she and her lawyers self-selected as involving government business.
"The court-ordered discovery will help determine why the State Department and Mrs. Clinton, even despite receiving numerous [open records] requests, kept the record system secret for years," Tom Fitton, president of Judicial Watch, said in a statement.
See the most-read stories this hour >>
The initial round of questioning will not include Clinton or Abedin, but the judge left open the possibility that they could ultimately be called to the stand.
"It may happen that [Clinton's] testimony is necessary for the court to resolve the legal issues about her undocumented email practices," Fitton's statement said.
State Department lawyers had argued in court that the testimony was unnecessary because the government had already searched through the emails turned over by Clinton for records related to Abedin's employment.
Judicial Watch's complaint that Clinton and Abedin "self-selected" their work emails "ignores the fact that federal employees routinely manage their email and 'self-select' their work-related messages when they, quite permissibly, designate and delete personal emails from their government email accounts," they wrote.
Sullivan issued his ruling from the bench Tuesday, where he said questions about how the State Department handled Clinton's email server have created "at least a 'reasonable suspicion'" that open-records laws were violated, according to a report in the Washington Post.
"This case is about the public's right to know," the judge said.
The lawsuit is separate from an ongoing FBI investigation into whether classified material was improperly sent and received through the unprotected computer server in the Clinton home.
Follow me: @evanhalper
ALSO
Marco Rubio's super PAC casts Trump as Voldemort (and who is Harry Potter?)
Four big questions await answers Tuesday in Nevada's Republican caucuses
Univision fought with Donald Trump and now it wants to register 3 million new Latino voters
Life is stressful. Our weekly mental wellness newsletter can help.
You may occasionally receive promotional content from the Los Angeles Times.