Alicia Machado, former Miss Universe insulted by Trump, emerges as forceful Clinton ally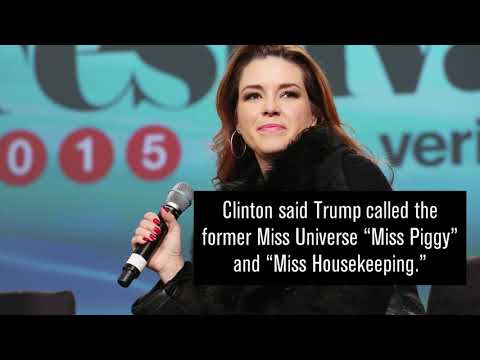 How the former Miss Universe became a topic of conversation during the presidential debate.
When Hillary Clinton told the 84 million people watching the presidential debate how Donald Trump disparaged Alicia Machado's weight and ethnicity during her tenure as Miss Universe, the former beauty queen, watching at home in Los Angeles, began to cry.
Then she began to tweet: first a message supporting Clinton, then a pledge to vote, complete with a picture of her smiling with her U.S. passport, bestowed when she became a citizen after leaving her native Venezuela.
Clinton's crisp recitation of the insults Trump lobbed at Machado was a breakout moment in Monday's lively debate. Machado, now an actress at age 39, has since emerged as Clinton's latest breakout political weapon: a walking embodiment of Trump's political vulnerabilities.
His crass nickname for Machado following her weight gain, "Miss Piggy," got immediate attention as alienating to women. Less noticed, but also potentially toxic, was his other nickname for her: "Miss Housekeeping," a dig at her ethnicity.
"It's a dignified job, but he said it in a way that was meant to insult me," Machado told The Times on Tuesday. "It really is a reflection of how he feels about Latinos."
Election 2016 | Live coverage on Trail Guide | Sign up for the newsletter | The race to 270
By personifying Trump's crass interactions with Latinos and women, Machado could make an efficient appeal on Clinton's behalf to key voting groups.
The Clinton campaign is "trying to raise the decibel with its own base" of Latinos, said GOP strategist Mike Madrid, as well as "trying to peel off Republican women."
"There's no question that this is a two-fer," he said.
Machado, who has been campaigning for Clinton since June, said she was surprised to hear the Democratic nominee tell her story Monday night. Her self-professed shock belied the obvious groundwork laid by the Clinton team: a slickly produced campaign video was rolled out online within an hour, a well-timed interview and photo shoot with Cosmopolitan magazine landed by midday Tuesday.
The attention gave Machado ample chance to rehash her unhappy history with Trump.
Machado was crowned Miss Universe in 1996, the same year the real estate magnate purchased the pageant organization.
About eight months into her tenure, she approached Miss Universe officials about seeking help to lose weight. To her surprise, Trump got involved and convened a media scrum to watch Machado, then 20 years old, work out.
"When you win a beauty pageant," Trump told People magazine at the time, "people don't think you're going to go from 118 to 160 in less than a year, and you really have an obligation to stay in a perfect physical state."
Trump was unapologetic Tuesday about his comments on Machado's weight.
"She was the worst we ever had, the worst, the absolute worst. She was impossible," he said in a television interview. "She was the winner and she gained a massive amount of weight and it was a problem."
Machado said her weight gain was less extreme — closer to 20 pounds than 40. She said she felt Trump publicly pressured her to slim down as a publicity stunt to boost the pageant.
"It hurt me a great deal," she said.
Machado, who went on to star in Spanish-language soap operas in Venezuela, is used to working in an industry with exacting standards of female beauty.
Spanish-language entertainment industry is especially guilty of the double standard that women face when it comes to their appearance, Machado said.
"I see it as violence against women," she said. "If a woman gains weight, it becomes a big issue.… If a man does the same and gains weight, nothing is said."
In the 20 years since her Miss Universe tenure, Machado's life has at times resembled the telenovelas she starred in. In 1998 she was accused of being an accomplice to an attempted murder. A judge later said there was insufficient evidence to arrest her and ordered only her boyfriend's arrest. The judge later accused Machado of threatening his life.
She's posed twice for Playboy and six years ago launched a foundation that supports single mothers. She's also become an outspoken advocate to raise awareness of eating disorders, which she herself suffered from.
Machado moved to Los Angeles six months ago in hopes of jump-starting her English-language acting career.
Time hasn't softened her views on Trump. Machado often uses the hashtag #NaziRat to describe Trump on Twitter.
"I want people to know about his levels of racism," she said. "He's a misogynistic man. He considers women to be inferior to him. That is the reality."
Machado said Clinton campaign officials approached her in May or June after they read about her on Twitter.
She'd planned to vote for Clinton even before being approached. Clinton "is a great leader," she said. "I think she's very capable."
Machado vowed Tuesday that she would actively support Clinton until the end. How potent a cudgel she will be for the campaign remains to be seen.
Madrid, the GOP strategist, noted that other figures insulted by Trump — such as Khizr and Ghazala Khan, parents of a slain U.S. Army captain, and Serge Kovaleski , a disabled journalist for the New York Times — had not sunk the Republican nominee's campaign.
"He has sustained more hits than this," Madrid said. "Is this the thousandth cut? Because that's probably what it's going to take."
Follow @melmason for the latest on national politics.
ALSO:
Round by round: Our analysts say Clinton outpunched Trump
Trump flinched under Clinton's criticism, but this race is not over
Clinton and Trump clash over their pasts and their plans in ferocious opening presidential debate
Get our Essential Politics newsletter
The latest news, analysis and insights from our politics team.
You may occasionally receive promotional content from the Los Angeles Times.