Democrats sue Trump campaign, Russia and WikiLeaks over alleged election conspiracy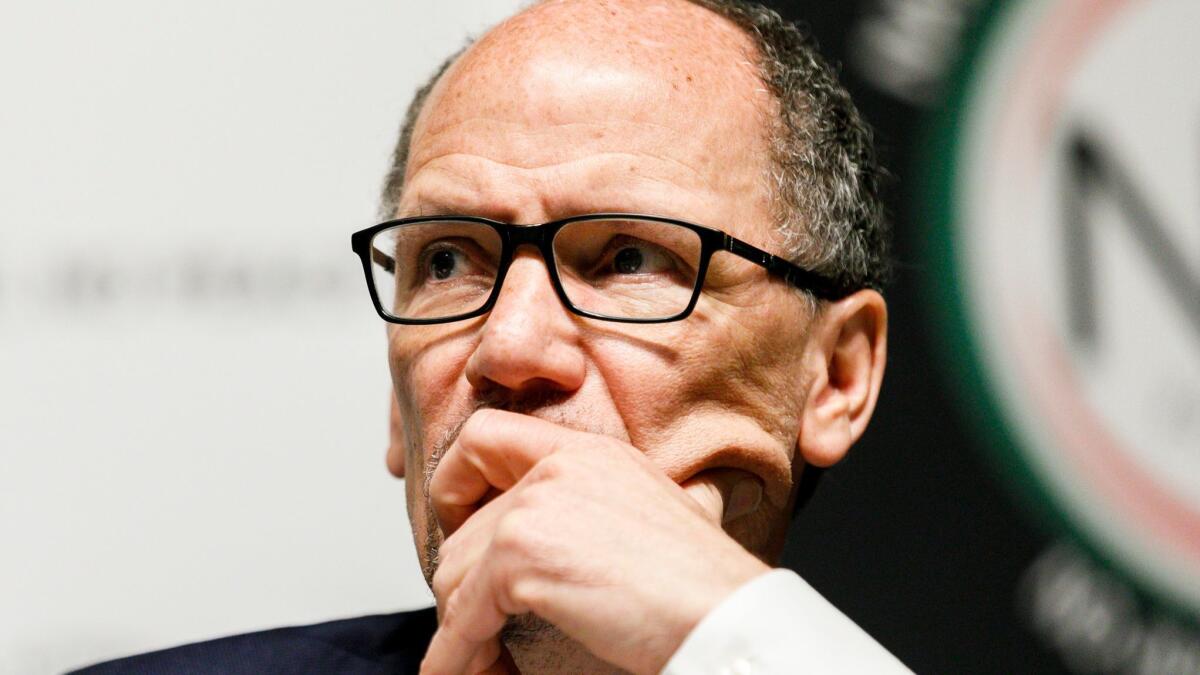 Reporting from Washington —
Democrats gave President Trump another potential legal headache Friday, filing a federal lawsuit that alleges an illegal election conspiracy between his presidential campaign, the Russian government, the WikiLeaks organization and others.
The lawsuit seeks unspecified financial damages, probably in the millions of dollars, for computer fraud, racketeering and other illegal activity that it says undermined the Democratic Party and Hillary Clinton's campaign. The suit does not name Trump as a defendant.
"During the 2016 presidential campaign, Russia launched an all-out assault on our democracy, and it found a willing and active partner in Donald Trump's campaign," Tom Perez, chairman of the Democratic National Committee, said in a statement. "This constituted an act of unprecedented treachery: the campaign of a nominee for president of the United States in league with a hostile foreign power to bolster its own chance to win the presidency."
Trump's campaign called the lawsuit, which was filed in federal court in Manhattan, "frivolous."
"This is a sham lawsuit about a bogus Russian collusion claim filed by a desperate, dysfunctional and nearly insolvent Democratic Party," said Brad Parscale, who was digital director of Trump's 2016 campaign and now manages the president's 2020 reelection bid.
The Democrats' lawsuit echoes one filed against President Nixon's reelection campaign after five burglars were caught breaking into Democratic Party headquarters in the Watergate complex in Washington in June 1972, and investigations soon uncovered a web of illegal activities run from the White House. The case was settled for $750,000 when Nixon resigned the presidency in August 1974.
Two federal investigations have burrowed into Trump's inner circle, and the lawsuit suggests Democrats see a political advantage in the swirl of Russia-related allegations before the November election, when the party hopes to wrest back control of at least one chamber of Congress.
"It's very motivating to the base," said Democratic pollster Mark Mellman. "Swing voters are looking for more evidence. To the extent it provides more evidence, it could be important."
Special counsel Robert S. Mueller III is leading a wide-ranging investigation into whether Trump's team aided Russian efforts to interfere in the 2016 race. Mueller has obtained criminal charges against 19 individuals so far, but no one has been charged with campaign-related malfeasance and Trump has denied any conspiracy or collusion.
A separate but related federal investigation in New York is focused on Trump's longtime personal lawyer, Michael Cohen. He has not been charged, but FBI agents recently raided his office, apartment and hotel room for evidence of suspected crimes.
The Democrats' lawsuit accuses Russians and Trump's aides of having "formed an agreement to promote Donald Trump's candidacy through illegal means."
"Through multiple meetings, emails and other communications, these Russian agents made clear that their government supported Trump and was prepared to use stolen emails and other information to damage his opponent and the Democratic Party," the lawsuit claims.
Rather than report the Russian operation to the FBI, "the Trump campaign and its agents gleefully welcomed Russia's help," it adds.
The lawsuit names several current and former members of Trump's inner circle, including his eldest son, Donald Jr., his son-in-law, Jared Kushner, and former campaign chairman Paul Manafort. The three met at Trump Tower in June 2016 with a Russian lawyer and others who had offered incriminating information on Clinton.
"To the extent they had information concerning the fitness, character or qualifications of a presidential candidate, I believed that I should at least hear them out," Trump Jr. said after the meeting was exposed last year.
Lawyers for Kushner and Trump Jr. did not respond to requests for comment Friday. A spokesman for Manafort declined comment.
Manafort has pleaded not guilty to nearly two dozen federal charges of money laundering, tax evasion and bank fraud. The charges focus on his lobbying for a Kremlin-backed government in Ukraine before he joined the Trump campaign, although the indictments allege the crimes continued through 2016.
WikiLeaks, the anti-secrecy website founded by Julian Assange, is named in the lawsuit because it published tens of thousands of emails in fall 2016 that were hacked from accounts used by the Democratic National Committee and Clinton's campaign manager, John Podesta.
U.S. intelligence agencies have concluded that operatives working for Russia's military intelligence service had penetrated and stolen the emails, and view WikiLeaks as an adjunct of the Russian operation.
In a Twitter message, WikiLeaks said it was "constitutionally protected from such suits" because it is "an accurate publisher of newsworthy information."
Roger Stone, an informal advisor to Trump who is named in the suit, called it "a PR stunt" and "a fundraising plot." Stone exchanged messages with WikiLeaks and he tweeted before the Podesta emails came out that the Clinton aide would soon spend "time in the barrel," but he later denied any advance knowledge.
The Democrats will face an uphill battle pursuing the Russian government, which has denied meddling in the U.S. election. But the lawsuit could compel depositions or production of documents, providing new information about Trump's campaign.
Follow the latest news of the Trump administration on Essential Washington »
Twitter: @chrismegerian
Get our Essential Politics newsletter
The latest news, analysis and insights from our politics team.
You may occasionally receive promotional content from the Los Angeles Times.