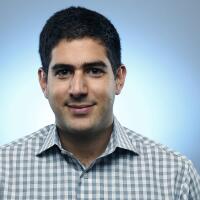 Former staff writer Chris Megerian covered the White House from the Los Angeles Times' D.C. bureau until January 2022. He previously wrote about the Russia investigation, the 2016 presidential campaign and the 2015 United Nations summit on global warming in Paris. While based in Sacramento, he reported on Gov. Jerry Brown, climate change policies, California politics and state finances. Before joining The Times in January 2012, he spent three years covering politics and law enforcement at the Star-Ledger in New Jersey. He grew up in Massachusetts and graduated from Emory University in Atlanta.
El presidente Biden anuncia más apoyo federal en las pruebas y mascarillas de COVID, y envía equipos médicos militares para ayudar a navegar por la ola de Ómicron.

El presidente Joe Biden se enfrenta a las crecientes críticas durante la ola de Ómicron.

President Biden announces more federal support on COVID tests and masks, and he is sending military medical teams to help navigate the Omicron wave.

President Biden plans to speak about the COVID-19 pandemic on Thursday as he faces rising criticism during the Omicron wave.

President Biden challenged the nation to reject political violence in a speech on the anniversary of the Jan. 6 attack on the U.S. Capitol.

One year later, the lies that fueled the Jan. 6 attack remain deeply embedded in American politics.

President Biden's promise to end the pandemic is being tested by the Omicron variant, which is spreading rapidly through the country.

Despite Manchin's 'no' vote, Democrats are determined to press forward with the 'Build Back Better' legislation.

Biden says world leaders no wask him if America is going to be all right and where the country's democracy is headed.

President Biden returns to South Carolina, the state that saved his candidacy, on Friday for the first time since the election.