Robert Mueller tells Trump's legal team that he will accept written answers on campaign questions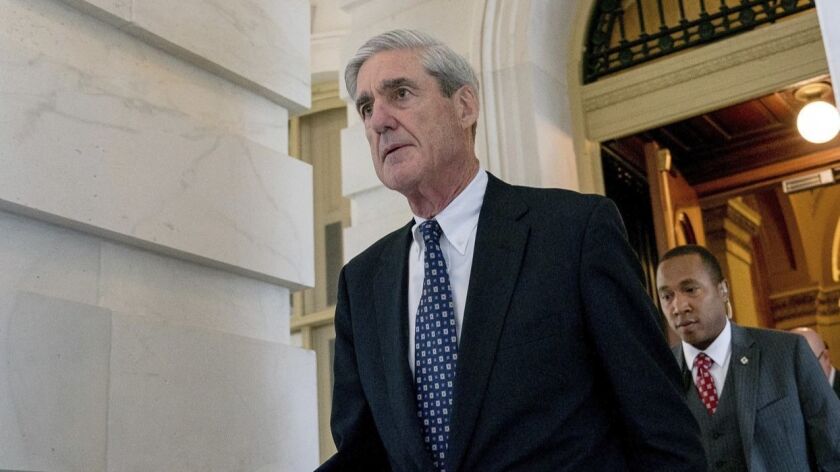 Washington Post
Reporting from Washington —
Special counsel Robert S. Mueller III told President Trump's lawyers in a letter Friday that he will accept written answers from Trump to questions about whether his campaign coordinated with Russia to tilt the 2016 election in his favor, according to two people briefed on the communication.
Mueller did not rule out interviewing the president as part of his wide-ranging inquiry. His letter indicated that he may revisit his long-running request to pose questions to Trump directly about Russia's activities during the campaign after reviewing his answers.
And the special counsel left open the possibility that he may still try to press Trump in person about a second piece of his investigation: whether the president has sought to block the probe since taking office.
On potential obstruction of justice issues, "he said he'd assess it down the road," said one person familiar with Mueller's letter who requested anonymity to discuss private communications. "They're essentially saying, 'We'll deal with this at a later date.'"
Trump's personal attorneys, Rudolph W. Giuliani and Jay Sekulow, declined to comment. Peter Carr, a spokesman for the special counsel's office, declined to comment.
Mueller's decision to accept at least some written responses represents a concession to Trump's legal team, which since December has resisted the special counsel's efforts to interview the president. In March, Mueller raised the prospect of subpoenaing Trump if he refused to be questioned voluntarily.
MORE: Follow the latest news of the Trump administration on Essential Washington »
Some of Trump's advisors viewed Mueller's new letter as a sign of begrudging acceptance that he would lose a legal battle to compel the president to testify. But others saw it as just another volley in a 10-month-long legal tussle.
The White House counsel's office, led by attorney Emmet Flood, has been girding to fight a subpoena for Trump's testimony under oath. The team has argued that the executive has broad powers he is allowed to exercise without fear of prosecution and without risk of being subject to a grand jury investigation.
In his letter, Mueller did not address whether he had ruled out the idea of subpoenaing Trump or might push for a voluntary interview later. The letter was first reported by the New York Times.
Mueller has been seeking to press Trump about two broad topics: what his campaign knew about efforts by Russian operatives to disrupt the 2016 campaign and whether actions he has taken as president, including the firing of FBI Director James B. Comey, were aimed at thwarting the investigation of Russian interference.
Mueller first indicated to Trump's lawyers in December 2017 that he wanted to interview the president in a face-to-face session to complete his investigation. After weeks of back-and-forth, Mueller warned Trump's legal team in a tense March meeting that he could subpoena Trump if he refused to grant an interview voluntarily.
This month, Trump's attorneys rejected Mueller's proposal to ask Trump questions he had about his actions as president and said they would consider having him answer some questions about the campaign period in writing.
Trump's lawyers said that they fear Mueller could accuse Trump of perjury because the president remembers key events differently than other witnesses.
The most important discrepancy relates to a meeting he had with Comey. Giuliani has said Trump does not recall asking Comey to drop an investigation into former national security advisor Michael Flynn, and Giuliani does not want the president to be accused of lying about the episode.
---
Get our Essential Politics newsletter
The latest news, analysis and insights from our politics teams from Sacramento to D.C.
You may occasionally receive promotional content from the Los Angeles Times.