Reality Winner, the ex-NSA contractor accused of leaking secrets, pleads guilty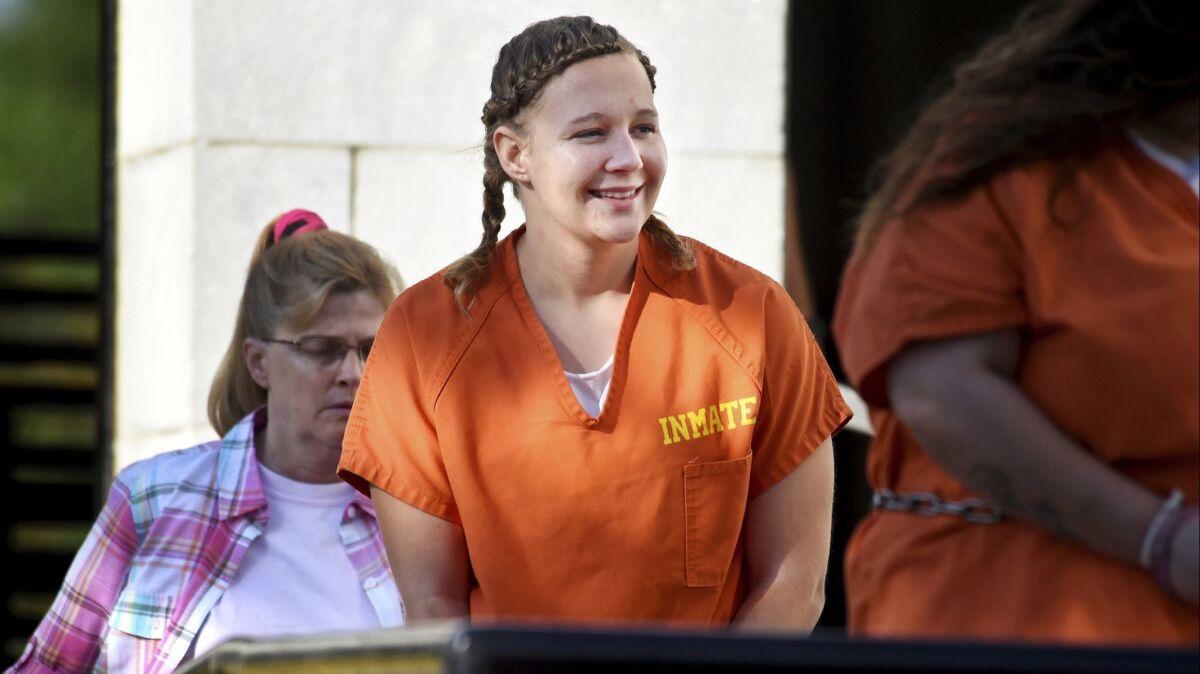 Reporting from Atlanta —
Reality Winner, a former National Security Agency contractor and the first person to be prosecuted during the Trump administration for leaking classified information, pleaded guilty Tuesday to espionage.
As part of the agreement, prosecutors recommended Winner, 26, serve five years and three months in jail and three years of supervised release for sending a news outlet secret information about Russian interference in the 2016 U.S. presidential election.
Winner, who wore an orange prison jumpsuit and handcuffs at the federal district court hearing in Augusta, Ga., has already been detained for more than a year.
"All of these actions I did willfully, meaning I did them of my own free will," she reportedly told the court.
Though the deal allows her to avoid a longer prison sentence — she could have faced up to 10 years if found guilty at trial — she had hoped to challenge the espionage charge on grounds that she acted in the public interest.
Her plea was a legal win for the Trump administration, which has vowed to crack down on people in the intelligence community and White House who leak classified information.
After the hearing, Winner's mother, Billie Winner-Davis, who had traveled to Georgia from her home in Kingsville, Texas, said that she felt a sense of relief that the two sides had come to an agreement, but that she was disappointed her daughter had not been able to challenge the charge.
"You know, I wanted her to fight all the way," Winner-Davis said in a telephone interview. "That's what I really wanted — not just to say whether she did or didn't do this, but to actually fight the espionage charge. It was harsh. I don't feel like she was charged with something that was fair to her."
Winner, a former Air Force linguist, was working as a contractor for the NSA at Ft. Gordon, an Army installation in Augusta, when she was arrested last June and charged with leaking a top-secret report about Russian interference in the election.
Her arrest came days after the Intercept, an online news outlet that covers national security and politics, published an article that said Russian military intelligence launched a cyberattack on at least one U.S. voting software supplier and sent spear-phishing emails to more than 100 local election officials in the run-up to the presidential election. The article said it was based on a highly classified intelligence report.
According to an FBI affidavit, when the Intercept notified the government that it had what it believed was a classified intelligence report, it shared a copy of the document, showing folded or creased pages that suggested it been printed and carried out of a secure space. After conducting an internal audit, the agency determined that only six people had printed the report — and that one of them, Winner, had used her work computer to send emails to the news outlet.
When FBI special agents showed up at her home, Winner repeatedly denied leaking classified documents, before eventually admitting she smuggled a report out of her office by folding it in half and stuffing it in her pantyhose.
She told the agents she believed the report should be made accessible to the public, according to a transcript of the lengthy interview they conducted before her arrest.
"I saw the article and was like, I don't understand why this isn't a thing," she said, according to the transcript, which was filed by prosecutors last year. "It made me very mad.... I just — I guess I just didn't care about, like, myself at that point.
"Yeah, I screwed up royally," she added.
Charged with "willful retention and transmission of National Defense Information," Winner initially pleaded not guilty. Her trial was scheduled to begin Oct. 15.
Many of Winner's supporters said she should not have been charged under the Espionage Act, a century-old law developed in World War I to thwart spies and prevent the spread of information that could harm the United States or help a foreign adversary. The act does not take into account whether leaked information is in the public interest.
"We're talking about an act that's over a hundred years old, and things have changed, you know?" Winner's mother said. "I think the Espionage Act was set up to use against people who were conspiring against the United States. I don't believe that's what Reality did. I don't think she conspired with a foreign agency, a foreign government. I don't think she sold secrets to anyone.… It doesn't fit."
In April, a judge handed Winner's legal team a setback by rejecting all but one of its 41 requests to subpoena the White House and multiple federal agencies, including the U.S. Department of Homeland Security and the CIA, for classified information. The requests, the judge argued, were "overly broad" because they weren't requesting particular books, papers, documents or data.
A sentencing date has not been set.
In a statement, Betsy Reed, editor in chief of the Intercept, said Winner had served the American public by sharing information that highlighted vulnerabilities in the nation's voting system.
"She deserves better from her country, as do all journalistic sources who put themselves at risk for the greater good," Reed said.
Winner is the second American to reach a plea deal with the Trump administration after being charged with leaking top-secret documents. In April, Terry Albury, a former counter-terrorism agent at the FBI, pleaded guilty to two counts — unlawful transmission and retention of national defense information — and prosecutors recommended a sentence of three to five years in prison.
Jarvie is a special correspondent.
Who is Reality Winner, the NSA contractor accused of leaking U.S. secrets to the media? »
View more coverage of Reality Winner »
---
UPDATES:
5:45 p.m.: This article was updated throughout with staff reporting
This article was originally published at 11:50 a.m.
Life is stressful. Our weekly mental wellness newsletter can help.
You may occasionally receive promotional content from the Los Angeles Times.