The Trump agenda has Native American tribes feeling under siege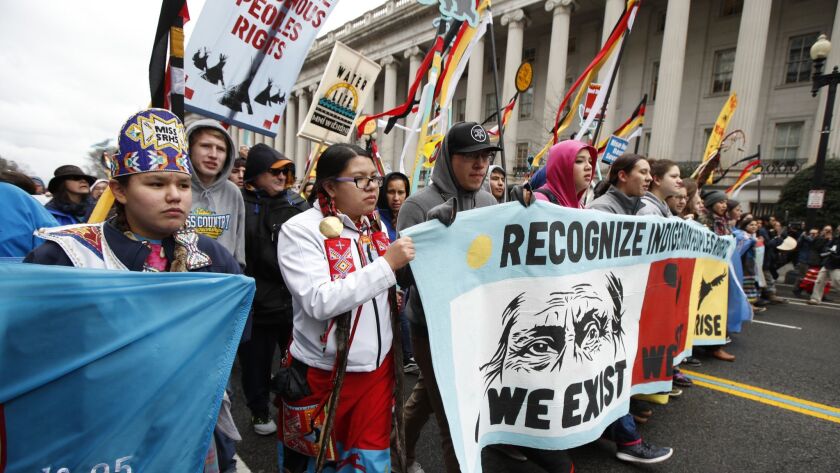 Reporting from Washington —
Every time black dust blows through the windswept Moapa River Indian Reservation about an hour's drive from Las Vegas, residents grow more unnerved.
This tribal community of just 225 has seen more than its share of sickness. Tribal council member Vickie Simmons watched her brother, a former coal plant worker, die at age 31 from cardiomyopathy, the same thing that killed a fellow young plant worker down the street. Nearby, two babies in houses alongside each other were born with brain defects. One died at age 2, the other has had multiple surgeries.

For the record:
8:45 p.m. May 27, 2018An earlier version of this report misspelled Pocahontas as Pocahantas.
In February, Simmons said, a series of infections took the life of the tribe's chairman, who had been fighting to force the cleanup of what he and others contended was discarded toxic ash blowing from the recently shuttered coal plant a few hundred yards away. He was 44.
So the Trump administration's move to scrap federal rules mandating a thorough cleanup of such ash landed in the community like a slap in the face, Simmons said.
"People should not be this sick," said Simmons, who, like others in the community rejects assurances by plant owners that the black dust is unrelated to the facility closed last year. "We are way out here in this rural place. Their thinking seems to be that if nobody is seeing it, it is not happening."
The halting of the coal ash rule comes amid a flurry of early actions by the administration that have tribes on edge. Relationships between tribes and the federal government have always been strained. But some tribal leaders say they are shocked by how little regard this administration has shown, particularly as its agenda of advancing fossil fuel interests collides with efforts to restore Native American lands and rights.
"It feels as though we are going backwards," said Sarah Harris, a member of the Mohegan Tribal Council in Connecticut and a former high level Indian Affairs staffer at the Interior Department. "This is not how it works with most administrations. I can't think of another time in recent history that the relationship has been this bad."
The National Congress of American Indians, the largest bipartisan advocacy group for tribes, has repeatedly rebuked or expressed alarm with the administration. It calls President Trump's plan to eviscerate the 1.35-million-acre Bears Ears National Monument, which is filled with sacred sites, a threat to tribal communities and their freedom to practice religion. It accuses the administration of illegally ignoring the concerns of tribes in its rush to greenlight the Dakota Access oil pipeline. It watched the administration disregard its strenuous opposition to allowing states to force work requirements on Medicaid recipients living in sovereign Indian communities, a move that flouts decades of established law.
The Medicaid move puts at risk other laws protecting Native American rights because it creates a precedent of refusing to recognize that tribes are sovereign political entities empowered to make the same decisions as other state and local governments in how programs are administered, said Kevin Washburn, who headed Indian Affairs under the Obama administration. "Are they going to apply this theory to other federal programs?" Washburn said. "The fundamental conception of Indian law is being questioned by this policy."
Trump's withdrawal from the Paris agreement on climate change drew its own round of condemnation, as dozens of native villages in Alaska face permanent evacuation because of rising seas. Even the package of tax cuts Trump championed was a slight, as it included none of the provisions the alliance of tribes had sought.
And in the short time Trump has been in office, the National Congress of American Indians has twice found itself having to issue public rebukes of the president for his racially charged mocking of Sen. Elizabeth Warren (D-Mass.), whom Trump calls "Pocahontas." One episode took place as World War II veterans of Navajo ancestry were being honored at the White House. Behind them was a giant portrait of former President Andrew Jackson, seen as one of history's most brutal oppressors of Native Americans.
Trump's relationship with Native Americans was tense long before he arrived at the White House. Testifying before Congress in 1993, he accused Native American competitors of fabricating their ancestry and serving as a front for the mafia. He offered no evidence. "They don't look like Indians to me," he said of Native Americans competing against his troubled Atlantic City casinos.
Yet not all tribes are at odds with this administration. For those that have built their economies around fossil fuel industries, Trump's push to roll back regulations is welcome. The administration is working with tribal leaders trying to keep open the hulking Navajo Generating Station coal plant near Page, Ariz., and it wants to lift a myriad of environmental and workplace rules that add to the cost of mining and drilling.
"Vast amounts of deposits of coal and other resources have, in a way, been taken out of your hands," Trump said at a roundtable with tribal leaders last June. "We're going to have that changed. We're going to put it back in your hands." When the media was not in the room, according to a report in Axios, the president advised tribal leaders frustrated by restrictions on drilling to ignore those rules and drill anyway.
"If I were the leader of an oil or gas tribe, I would be excited about where this administration might go," said Bryan Newland, chairman of the Bay Mills Indian Community in Michigan who was a policy advisor on Native American affairs to the Obama administration. "If I were in their shoes, I would say this administration can be helpful. But to make them the centerpiece of an Indian affairs policy leaves a lot of people on the outside looking in."
Few of the country's 573 tribes are engaged in drilling and mining. Many have grown frustrated by this administration's neglect of its broader obligations to tribes. Among their biggest grievances is that the return of hundreds of thousands of acres of land to tribal control — which had been proceeding apace under the last administration — has come to a near halt.
A reorganization plan being pursued at the Department of the Interior, some tribal officials complain, has only created more challenges for tribes. "We have an administration streamlining and eliminating regulations in many areas, but it seems to be taking the opposite approach with respect to Indian tribes," said Newland. "They are adding layers of red tape, making it difficult for us to carry out our basic functions as local governments."
Some of it has been caused by management neglect. Seventeen months into the Trump presidency, for example, there is still no permanent assistant secretary for Indian Affairs at Interior.
An appointee leading economic development and policy programs for tribes was given the job despite his work as a consultant orchestrating a $20-million federal loan guarantee that government investigators said never should have been made. The official then used his position in the administration to pressure government employees to reverse their decision not to pay out the guarantee, according to the Interior Department's Office of Inspector General. He resigned while investigators were probing the ethics complaints against him.
The Trump nominee to lead the Indian Health Service withdrew following news reports alleging he vastly inflated his resume.
More stories from Evan Halper »
At the Moapa River Indian Reservation, tribal members just want the coal plant cleaned up. They are demanding restoration of a 2015 cleanup rule meant to prevent a repeat of recent tragic coal ash spills that have left behind dangerously polluted air and water.
The rule was a major victory for the tribe, after years of crusading for cleanups at a coal plant in its backyard that expanded four times over its 52-year life. In 1999, it was the target of what was then the biggest-ever fine from the Environmental Protection Agency for pollution violations.
Other tribes are also affected by the annual disposal of 100 million tons of coal ash, which is contaminated with arsenic, mercury, lead and radium. The administration says rolling back the rule would give states the flexibility to manage the cleanups in the most appropriate and effective ways for local communities, and would save utilities $100 million.
Simmons is among the many tribal leaders and environmentalists who worry the cost of weakening the rule will be much higher.
"I just can't believe this is happening in America," she said.
Twitter: @evanhalper
---
UPDATES:
7:20 a.m.: This story was updated with an additional quote from Bryan Newland.
This story was originally published at 3 a.m.
---
For reporting and exclusive analysis from bureau chief John Myers, get our California Politics newsletter.
You may occasionally receive promotional content from the Los Angeles Times.