Amid efforts to combat opioid crisis, Trump is still pushing to cut insurance protections for addicted Americans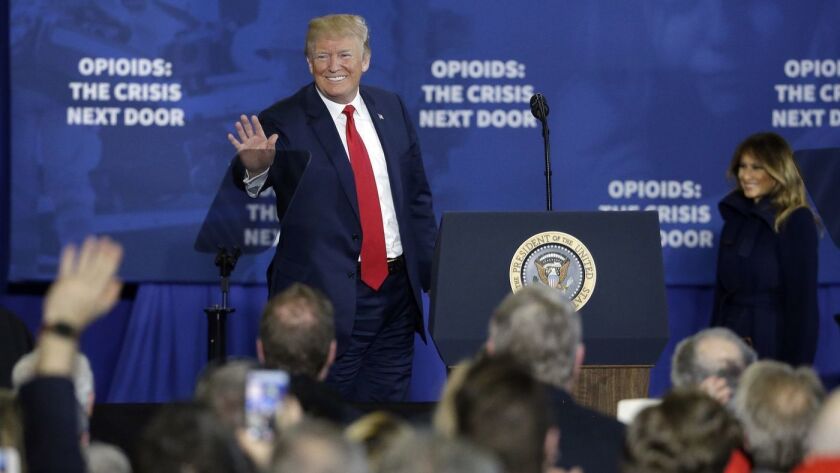 Reporting from Washington —
A year after President Trump called for a public health emergency to control the opioid crisis, the administration is working to roll back health insurance coverage that public health experts say is critical to reining in an epidemic that killed nearly 50,000 Americans in 2017.
The White House is calling — in its 2019 budget — for more than $1 trillion in cuts over the next decade in federal aid to state Medicaid programs, which are a leading source of insurance coverage for people suffering from addiction.
The U.S. Justice Department is backing a sweeping legal challenge to the Affordable Care Act that would eliminate a requirement in the law that insurers cover people with preexisting medical conditions. That would effectively allow insurers to once again deny coverage to people seeking addiction treatment.
And just this week, the Trump administration took new steps to loosen rules on commercial health insurers to allow for skimpier health plans that don't have to cover a full range of benefits, including treatment for substance use disorders such as opioid addiction.
"What has really worked here is Medicaid expansion," said Linda Rosenberg, president of the National Council for Behavioral Health. "Yet this administration is continually attacking entitlements because of the deficit. That really concerns us."
The Trump administration's health insurance moves come amid some promising signs that the sharp increase in opioid overdose deaths in recent years may be slowing. Preliminary data reported by the Centers for Disease Control and Prevention suggest that the number of deaths flattened in late 2017 and early 2018.
At the same time, lawmakers from both parties were at the White House on Wednesday to celebrate a large opioid bill they passed earlier this fall.
"We have mobilized the entire federal government to address this crisis," the president said at the ceremony. "Together, we are going to end the scourge of drug addiction in America."
But rolling back insurance coverage or weakening rules on health plans threaten to undercut public health initiatives around the country to boost treatment, according to healthcare leaders.
"The expansion of Medicaid covered more people, and those people are accessing addiction treatment," said Dr. Kelly J. Clark, president of the American Society of Addiction Medicine. "Prior to that, they simply weren't able to."
Clark works in Kentucky, which expanded Medicaid coverage through the 2010 healthcare law, often called Obamacare.
Medicaid expansion has allowed states to extend coverage to millions of previously uninsured working-age adults, many of whom suffer from substance use disorders.
The program is now the largest source of funding for treatment of behavioral health, including substance use disorder.
Medicaid, which insures some 70 million low-income Americans, historically covered primarily poor children, pregnant mothers and the low-income elderly — populations that have not been as affected by the opioid epidemic.
In recent weeks, however, Trump administration officials and GOP congressional leaders have signaled renewed interest in rolling back the 2010 health law and cutting federal spending on healthcare programs such as Medicaid and Medicare.
Senate Majority Leader Mitch McConnell (R-Ky.) said in an interview last week that Republicans could make another attempt to repeal the healthcare law if they win enough seats in next month's midterm elections.
Trump, who cheered on the repeal campaign last year, signed the recently passed opioid legislation during Wednesday's ceremony.
The bill, which had strong bipartisan support, takes a series of steps to bolster addiction treatment and clamp down on drug trafficking.
Among other things, the legislation will make it easier for patients to get inpatient treatment for substance use disorders and will allow more nurse practitioners and other medical providers to prescribe buprenorphine, a commonly used drug used to treat opioid addiction. It also takes aim at the illicit trade in fentanyl, a deadly synthetic opioid.
Many of these steps have drawn praise from Republicans and Democrats alike.
"This bipartisan legislation gives communities and families the support that they need," Sen. Maggie Hassan (D-N.H.) said after the Senate approved the final bill last month.
At the same time, National Institutes of Health is increasing research into non-addictive pain treatments, and the Trump administration has stepped up efforts to track opioid prescribing in Medicare.
Across the country, governors from both parties are also mobilizing major state efforts to tackle the epidemic with new initiatives to bring together healthcare leaders, law enforcement officials and other state agencies.
Many of these efforts have been made possible by the expansion of insurance coverage for addiction through Medicaid, according to state health officials in red and blue states alike.
In Ohio, for example, more than a third of the approximately 700,000 people who enrolled in Medicaid after the expansion began in 2014 reported some drug or alcohol dependence, according to a recent study by the state.
The vast majority did not previously have health insurance.
"Medicaid has played a key role for us," said Dr. Mark Hurst, director of the Ohio Department of Mental Health and Addiction Services.
Before expansion, Ohio, like most states, had to rely on a patchwork system of treatment programs funded by a mix of government grants, private donations and charitable efforts.
The system was poorly coordinated, funding was unpredictable and patients were often left on waiting lists to get methadone, buprenorphine and other medication-assisted treatments recommended for patients seeking to end their dependence on heroin or prescription painkillers.
Medication alone typically costs at least $300 a month. A year of treatment, including medications, medical appointments and counseling, can cost tens of thousands of dollars or more.
Such high costs once discouraged many patients from even seeking care.
Those costs remain a huge barrier for low-income addiction patients in states that have not expanded Medicaid coverage through the Affordable Care Act, according to physicians and others healthcare leaders around the country.
Obamacare 101: A primer on key issues in the debate over repealing and replacing the Affordable Care Act. »
More stories from Noam N. Levey »
Twitter: @noamlevey
---
UPDATES:
12:45 p.m.: This article was updated with comments from President Trump and additional detail about the opioid legislation signed by the president.
This article was originally published at 12:05 p.m.
---
Get our Essential Politics newsletter
The latest news, analysis and insights from our politics teams from Sacramento to D.C.
You may occasionally receive promotional content from the Los Angeles Times.