White House opens door to military cooperation with Moscow, but it would be illegal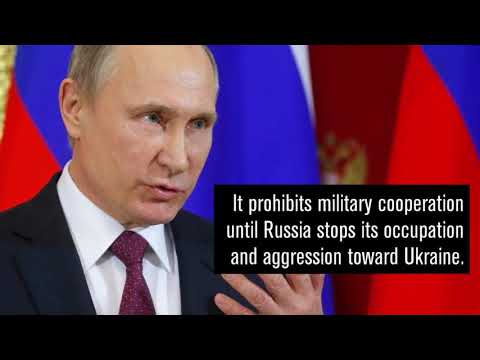 A National Defense Authorization Act provision prohibits military cooperation until Russia stops its occupation and aggression toward Ukraine. (Jan. 24, 2017)
Reporting from Washington —
The White House indicated Monday that President Trump would be open to military cooperation with Russia to fight Islamic State, a move that would be a big policy change for the U.S. government, and one that would run afoul of current law.
"I think if there's a way that we can combat ISIS with any country, whether it's Russia or anyone else, and we have a shared national interest in that, sure, we'll take it," White House spokesman Sean Spicer told reporters, using an acronym for the militant group.
U.S. military cooperation with the Russians would upend the relationship between the two former Cold War adversaries, which have been on the opposite sides in the Syrian conflict since the beginning of Russian military involvement more than a year ago.
But a provision of the National Defense Authorization Act first passed by Congress late in 2014 and renewed since then strictly limits the Pentagon's ability to work with Russia. The law was passed in response to Moscow's annexation of Crimea in 2014 and its continued involvement in the Ukrainian civil war.
Talks between the two countries' militaries have been severely limited since Congress passed the law, which prohibits military cooperation until Russia has "ceased its occupation of Ukrainian territory and its aggressive activities that threaten the sovereignty and territorial integrity of Ukraine and members of the North Atlantic Treaty Organization."
The Pentagon and the Russian military established an emergency communications line in October 2015 to ensure that the two nations' pilots do not mistakenly run into — or fire on — each other in their bombing runs over Syria. The two sides speak three times a week, U.S. officials said.
U.S. planes have carried out thousands of airstrikes in Syria against Islamic State as part of a coalition that has involved NATO and Arab air forces. The coalition's strikes in Syria and in Iraq are coordinated each day by a U.S. command center in Qatar, where officials from dozens of countries are represented so each knows where others are operating.
Russian aircraft have been conducting a separate air campaign to support Syrian President Bashar Assad in the country's blood-soaked six-year civil war. Russia began bombing Syrian rebel positions in September 2015.
When U.S. and Russian diplomats announced a temporary Syrian cease-fire agreement late last year, there was hope of additional communication between the two militaries. But that truce effort quickly collapsed after a U.N. aid convoy was bombed by Russia and a U.S. airstrike hit a Syrian army base. Each side accused the other of bad faith.
The Kremlin has repeatedly angled to collaborate further with the U.S. to share intelligence and targeting information in the Syrian war. Pentagon officials have been uneasy about any such arrangement because coordinating with Moscow would mean the U.S. would share responsibility for Russian actions.
The Russian military has routinely bombed Syrian hospitals, schools, and civilian centers in addition to dropping cluster and incendiary weapons with impunity, according to U.S. officials, rebel groups in Syria and independent observers. Russia has hit few Islamic State targets, according to senior Pentagon officials.
"I think their activities in Syria have been backwards and counterproductive," former Defense Secretary Ashton Carter said in his final news conference Jan. 10. In a Senate hearing this month, Sen. Marco Rubio (R-Fla.) accused the Russians of having committed "war crimes" in Syria.
On Monday, the Russian defense ministry said warplanes from the U.S.-led coalition had participated in a strike alongside Russian aircraft and that the U.S. had relayed coordinates of Islamic State positions.
The Pentagon quickly denied the claim.
"The Department of Defense is not coordinating airstrikes with the Russian military in Syria," Pentagon spokesman Eric Pahon said in a statement.
Twitter: @wjhenn
ALSO:
Climate change is real: Just ask the Pentagon
Overweight, tattooed, stoned? The Pentagon may still want you
Captured battlefield cellphones, computers are helping the U.S. target and kill Islamic State's leaders
Get our Essential Politics newsletter
The latest news, analysis and insights from our politics team.
You may occasionally receive promotional content from the Los Angeles Times.