L.A. City Councilwoman says she asked Assemblyman Raul Bocanegra if there have been accusations from other women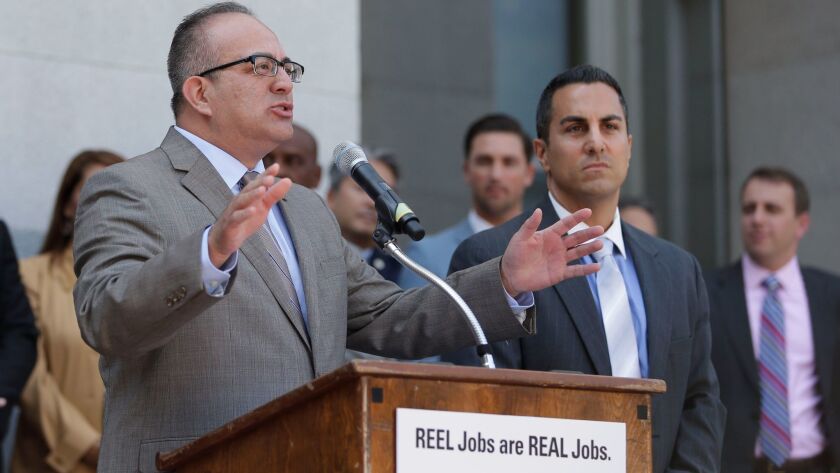 Los Angeles City Councilwoman Nury Martinez said she confronted Assemblyman Raul Bocanegra after learning last month that he had been disciplined as a legislative staffer in 2009 following a groping allegation.
Martinez, who endorsed Bocanegra in all three of his Assembly races, called the report in The Times "very troubling" and said she questioned him on whether there are any accusations from other women. She described her conversations with her longtime political ally as "very tough" and "difficult."
"I asked him to his face if there are any other of these types of allegations," Martinez said in an interview. The councilwoman, whose northeast San Fernando Valley overlaps with Bocanegra's Assembly District 39, said Bocanegra told her he did not know of any.
A spokesman for Bocanegra did not respond to a request for comment.
The Times reported Oct. 27 that Elise Flynn Gyore filed a complaint accusing Bocanegra of reaching under her blouse at a Sacramento nightclub. At the time, Bocanegra was working as chief of staff to then-Assemblyman Felipe Fuentes. Gyore is now the chief of staff for Sen. Richard Roth (D-Riverside).
"It surprises me. It disappoints me," Martinez said of Gyore's claim.
Bocanegra and Martinez grew up in San Fernando Valley and are longtime political allies who have supported each other's campaigns and policy initiatives. Bocanegra, for instance, wrote a bill this year sought by Martinez that targets sex traffickers and johns. In 2014, the councilwoman backed Bocanegra's legislation to renew tax breaks for the film and television industry.
Martinez's husband, Gerardo Guzman, also works for Bocanegra in the Assembly as his district director.
Martinez said she was unaware of the allegation before The Times story. She said she had heard rumors about such a claim but that no proof had materialized, during Bocanegra's 2012 bid for Assembly, a race rife with "mud-slinging."
"No one has ever come to me with any issues regarding this type of behavior from Raul," Martinez said.
Meanwhile, one California Democrat said last week that Bocanegra should step down from his post.
Silicon Valley Rep. Ro Khanna tweeted that the San Fernando assemblyman "must resign." He was responding to California Democratic Party chair Eric Bauman's suggestion that Bocanegra should "look into his heart" in determining his political future.
Martinez said "someone resigning or not resigning" isn't going to end the larger problem of how men treat women. It's an issue that has surfaced in the political conversation in recent weeks after 140 women signed an open letter saying a "pervasive" culture of sexual harassment and misconduct in California's state Capitol must change.
"Sexual harassment and women being put in these situations [isn't] an isolated issue in Sacramento," Martinez said. "I don't think it's an isolated issue in politics or the entertainment industry or in corporate America. This is a societal problem that we have got to deal with."
"We need to have our men stand up and do the right thing by women," she added.
Times staff writer Melanie Mason contributed to this report.
Twitter: @dakotacdsmith
ALSO
California Assemblyman was disciplined after woman claimed he groped her
Female lawmakers, staffers and lobbyists speak out on 'pervasive' harassment in California's Capitol
Graphic allegations about California legislator show there are few protections for female lobbyists in the Capitol
California Assembly to hold public hearings to address sexual harassment
California Senate hires lawyers and a consultant to examine sexual harassment allegations
Sexual harassment becomes focus in Sacramento
---
Get our Essential Politics newsletter
The latest news, analysis and insights from our politics teams from Sacramento to D.C.
You may occasionally receive promotional content from the Los Angeles Times.