Female lawmakers, staffers and lobbyists speak out on 'pervasive' harassment in California's Capitol
Reporting from Sacramento —
A state legislator who was groped by a male lobbyist weeks after she was sworn into office. A legislative staffer-turned-lobbyist who for years would only wear pantsuits in order to project a "business-only" air. A government affairs director who faced inappropriate advances from an associate in full view of male colleagues who seemed oblivious as it happened.
As Hollywood takes a hard look at itself in the wake of the spiraling Harvey Weinstein sexual misconduct scandal, the women of California politics are publicly declaring: Us too.
More than 140 women — including legislators, Capitol staff, political consultants and lobbyists — signed a letter calling out the "pervasive" culture of sexual harassment and mistreatment that plagues their industry.
The signatories include six of 26 women in the Legislature, two retired lawmakers, a Board of Equalization member and officials from the state Democratic and Republican parties.
"As women leaders in politics, in a state that postures itself as a leader in justice and equality, you might assume our experience has been different. It has not," read the letter, seen by the Los Angeles Times before its publication Tuesday. "Each of us has endured, or witnessed or worked with women who have experienced some form of dehumanizing behavior by men with power in our workplaces."
Among the behaviors listed in the letter: nonconsensual touching, inappropriate comments and sexual innuendo.
"Why didn't we speak up? Sometimes out of fear. Sometimes out of shame," it reads. "Often these men hold our professional fates in their hands. They are bosses, gatekeepers, and contacts. Our relationships with them are crucial to our personal success."
The letter joins a growing public conversation about sexual harassment and violence that affect nearly all women, regardless of industry, age or status. On social media over the weekend, women across the globe chimed in with their own "me too" stories of impropriety in an attempt to demonstrate the scope of the problem.
This California-centric missive had its start in text messages — as Adama Iwu, head of government relations in the western states for Visa, aired her anger to a friend over a recent "unpleasant situation" at a public event. Her male colleagues, who witnessed what happened, told her they thought it was fine because she knew the person.
Their venting soon included a handful of people — and then dozens more, as Iwu and her friends crafted a public statement of exasperation. Their goal is to prompt changes in how harassment is handled and to force some soul-searching among Capitol denizens.
"Each of us who signed this op-ed will no longer tolerate the perpetrators or enablers who do," it reads.
The statement does not levy specific accusations or name names — a deliberate decision by the letter's signatories.
"Even if I was to say, 'Here's five men that everybody knows are a problem,' that doesn't actually fix the problem," Iwu said. Instead, she said she's hoping for a "chilling effect" on the Capitol's culture, where after-hours fundraisers and boozy social events often are essential for doing business.
"It's almost as if it's a different world in the state Capitol," said Christine Pelosi, chair of the Women's Caucus of the California Democratic Party and the daughter of House Minority Leader Nancy Pelosi (D-San Francisco). "They're not at home. This is not behavior by and large that they would engage in at home. They're almost at camp or something."
Jodi Hicks, who for years stuck with a pantsuits-only wardrobe, recalled how once as a young lobbyist in Sacramento more than 15 years ago, she was encouraged by a legislator to take a work conversation out of the office. The implication, she said, was "it was not going to be professional."
Hicks, now a principal in a lobbying firm, said she responded head-on, asking the lawmaker if it was really necessary to speak in private and reminding him that private meetings with women could be misconstrued. The conversation, she said, was "gut-wrenching," but effective — they ended up meeting at a bar's public patio. (The lawmaker, whom she declined to name, is no longer serving in the Legislature.)
Sexism is not exclusive to politics, but it can be particularly potent, many of the letter's participants said, because of an imbalanced dynamic in which legislators and top lobbyists — predominantly men — hold much of the decision-making power.
"This is not a partisan issue," said Beth Miller, a Republican public affairs consultant who signed the letter. "It is a societal problem that manifests itself in a very unique way in an industry that has for decades and decades been male-dominated."
Assemblywoman Cristina Garcia (D-Bell Gardens) said being an elected official did not shield her from sexual harassment. Soon after she took office in 2012, she was groped by a lobbyist, she says. A male legislator advised her not to speak out publicly, given that lobbyist's clout in the Capitol.
"I was really disgusted by both of them," Garcia said. She said she has not named her groper because "I'm insulated, but only to a certain point. There's only so much pushback I can take in a given day."
The consequences of speaking up, Garcia said, can be severe.
"They think you're crazy or you asked for it or you're too hypersexualized," she said. "Or people just stop talking to you or coming to your events."
Legislative leaders, when asked for comment on the letter, uniformly condemned sexual harassment.
"It is widespread, in politics, in journalism, in academia, in entertainment and in too many places," said Assembly Speaker Anthony Rendon (D-Paramount). "And it has to stop."
Assembly GOP leader Brian Dahle (R-Bieber) said he was "sickened by the recent scandal in Hollywood and am sadly aware that politics has a similar reputation. ...There is no room and no excuse for the mistreatment and abuse of women in any workplace environment."
Senate leader Kevin de León (D-Los Angeles) applauded "the courage of women working in and around the Capitol who are coming forward and making their voices heard," and his Republican counterpart, Sen. Patricia Bates (R-Laguna Niguel) said she supports "efforts to stop perpetrators of sexual harassment and their enablers." She encouraged people who have been harassed to come forward.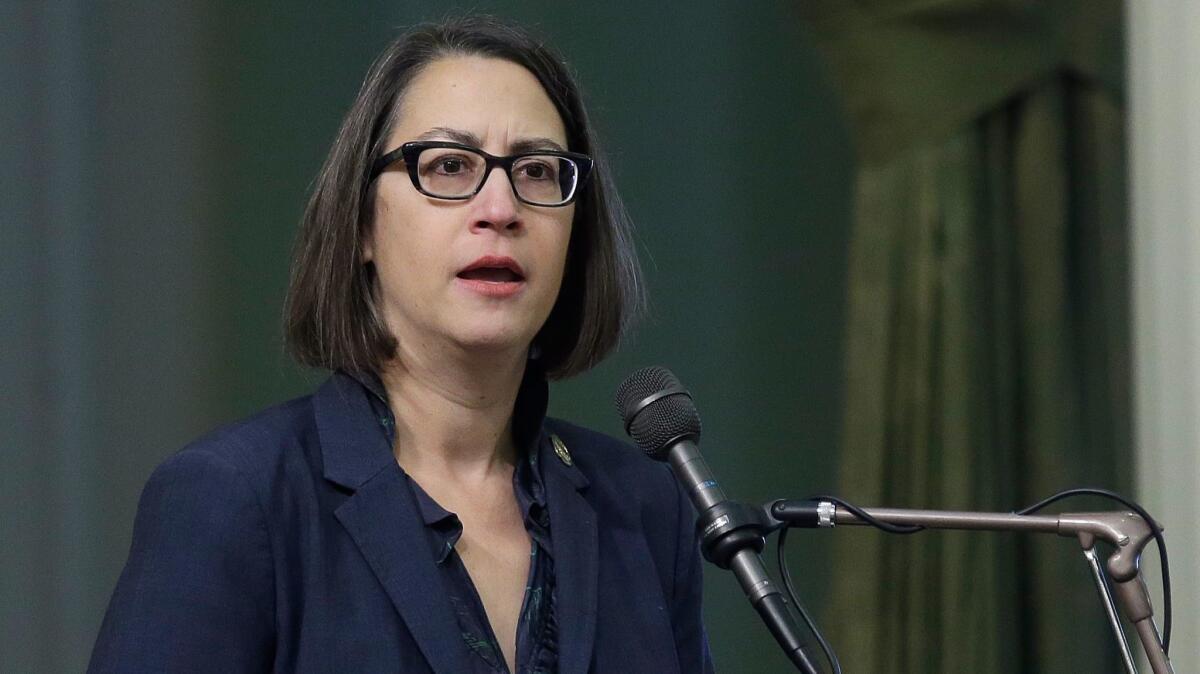 Both the Senate and Assembly Democratic leaders touted their chambers' protocols for handling harassment, such as mandatory prevention training and mandatory investigations.
Still, "there's always more employers can do to protect their employees," De León said. The Senate is reviewing its policies as such to "protect victims who come forward and to demand accountability from those who violate these policies," he said.
The letter's authors hope their public stand leads to increased dialogue in the issue, including on a website where they invite other people to share their stories. They ask anyone submitting to leave names out of it because the purpose is to be a forum where women can learn to identify inappropriate behavior.
Samantha Corbin, a lobbyist and former staffer, said the letter should also spark a thorough examination of how current complaint protocol, in which the Legislature handles the matter internally, falls short. She says an independent body to field complaints is the best way to ensure victims, not the institution of the Legislature, are protected.
"We're the arbiters and crafters of public policy for the state. ...This Capitol is a huge glass house," Corbin said. "We need to make sure that we address these issues and start finding some solutions to any systemic harassment and sexism in our own community."
Follow @melmason on Twitter for the latest on California politics.
ALSO:
In saying #MeToo, Alyssa Milano pushes awareness campaign about sexual assault and harassment
Producers Guild expels Harvey Weinstein and creates task force to combat sexual assault in Hollywood
Weinstein criminal probes growing in New York and London, but so far no cases in L.A.
The accused: 26 newsmakers accused of sexual harassment, assault or related behavior
Despite efforts on equal pay, the gender salary gap in California government jobs persists
Get our Essential Politics newsletter
The latest news, analysis and insights from our politics team.
You may occasionally receive promotional content from the Los Angeles Times.