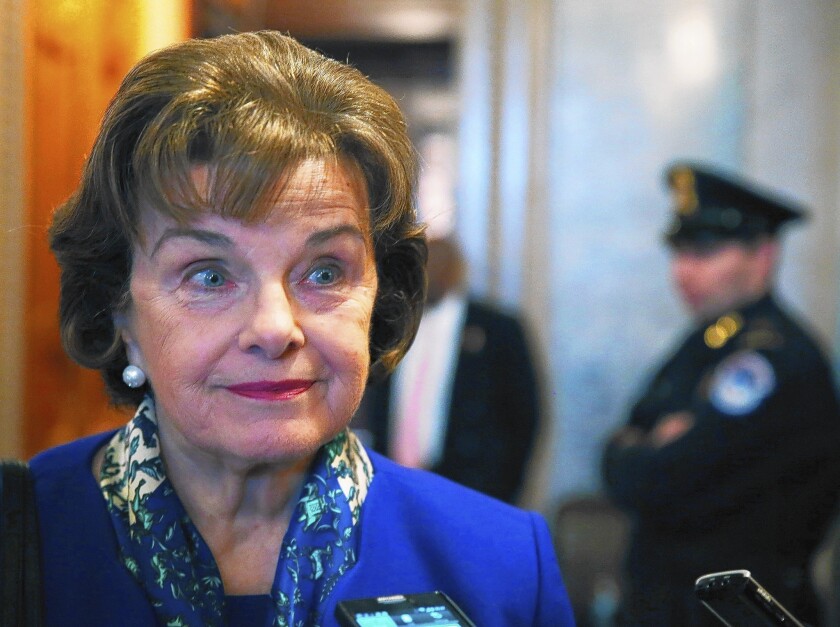 California Democratic leaders will consider making it harder for incumbents to win the state party's endorsement, a move that could throw a kink in the intraparty race between Sen. Dianne Feinstein and state Senate Leader Kevin de León.
Under a proposal written by members of the party's liberal wing, incumbents must secure votes from 60% of the delegates to win an endorsement — the same amount a challenger would need. Currently, incumbents need a simple majority. The issue will be debated and voted on this weekend at the state party's executive board meeting in Millbrae.
Christopher P. Robson, a delegate from Long Beach and a co-author of the proposal, said the move would level the playing field.
"We think everybody running for office should stand on the merits of their campaign," he said.
Endorsements are voted on during the party's spring convention, and can be expensive, divisive battles. A statewide candidate can spend $50,000 to secure an endorsement — paid organizers, luxe cocktail parties, campaign swag, phone banks, onsite war rooms and registration fees and travel costs for delegates are among the possible expenses.
Follow California politics by signing up for our email newsletter »
Party officials believe the measure has the votes needed for approval. The open question is of timing — whether the rule change should go into effect immediately, or before the 2020 election cycle.
"The only question is when the effective date is," state party chairman Eric Bauman said. "The big back-and-forth argument is about whether changing the rules in the middle of the game is fair."
If the rule change goes into effect immediately, it will affect several 2018 races, the most notable being Feinstein's reelection bid against De León.
Feinstein, who has represented California in the Senate for a quarter-century, is the overwhelming favorite in the race. She has the support of more than 58% of registered voters who say they plan to vote, compared with De León's 31%, according to a recent USC Dornsife/Los Angeles Times poll.
But she has angered some liberals with her call for "patience" with President Trump's presidency, and her statement that he could be a "good president" if he learned and changed.
Longtime party observers say that even if the rule goes into effect immediately, they are skeptical it would harm Feinstein's reelection prospects.
Christine Pelosi, the daughter of House Minority Leader Nancy Pelosi and the chair of the state party's women's caucus, noted that Feinstein was booed at a California Democratic Party convention in 1990 for flaunting her support for the death penalty.
But the resulting image of a defiant Feinstein staring into a camera as her party denounced her — captured by her campaign team — was beamed around the state as a testament to her independence. She won her Senate seat two years later, and hasn't faced a competitive race in two decades.
"Frankly, I think if the Democratic Party decides it's too left for Dianne Feinstein, we're going to see that in advertisements. I don't know how that hurts her," Pelosi said.
She added that an anti-Feinstein faction may want to pass the endorsement change "because it pokes her in the eye."
"But they might end up poking themselves with the other three fingers," she said.
For the latest on national and California politics, follow @LATSeema on Twitter.
It's a tightening race for governor and Sen. Dianne Feinstein holds strong lead for reelection
Sen. Feinstein called for 'patience' with Trump. Now she faces a liberal backlash as she ponders reelection
---