Billions from gas tax and vehicle fees will go to transit projects, California officials announce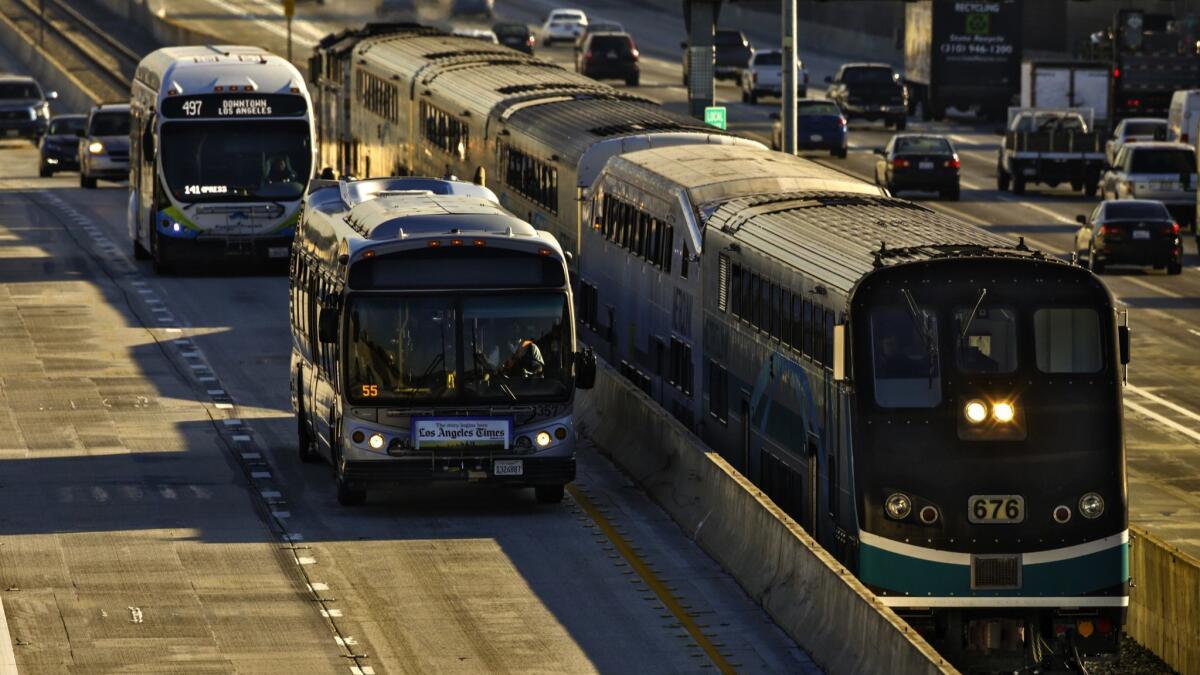 Reporting from Sacramento —
State officials announced Thursday that $2.4 billion from increases in the gas tax and vehicle fees will be spent on dozens of transit projects, including work to prepare Southern California for the 2028 Summer Olympics.
The announcement came just before Republican activists plan to file signatures for a ballot initiative to repeal the increases.
An additional $1.9 billion for the projects will come from funds collected by the state's landmark climate change program, which requires polluters to buy carbon emission credits, the officials said.
The money will go to six Metropolitan Transit Authority expansion projects, including light-rail extensions to Torrance and Montclair, and additional rapid transit service along congested corridors, according to the California State Transportation Agency, which allocated the money.
Officials said money will also go toward making the Amtrak Pacific Surfliner and Metrolink commuter lines faster and more reliable by improving tracks and signals at locations such as Los Angeles' Union Station.
In the San Francisco Bay Area, it will help complete the funding for a Bay Area Rapid Transit line to San Jose and the creation of new SamTrans express bus routes along the U.S. 101 corridor.
"These zero-emission bus and rail projects mean millions of tons less pollution in the air we breathe," Gov. Jerry Brown said in a statement.
The money is part of the $5.4 billion expected to be raised annually for road and bridge repairs and mass transit improvements through increases in the gas tax and vehicle fees approved last year by the Legislature and Brown.
The rail and transit money announcement was made as Republican activists prepare to file more than 830,000 signatures in an effort to qualify a measure for the November ballot that would repeal the 12-cents-per-gallon gas tax increase, 20-cent diesel fuel excise tax increase and new annual vehicle fees.
Brown lobbied lawmakers hard for their votes on the tax measure, SB 1, citing a large backlog of repairs and improvements.
But Republican critics and lawmakers who are pushing the ballot initiative said the state could pay for the work by tapping budget surpluses and abandoning the high-speed rail project being pushed by the governor.
Republican activists predict the initiative will drive turnout by more conservative voters upset with Democrats for raising the gas tax. The ballot measure drive has received significant funding from the California Republican Party and Republican gubernatorial candidate John Cox, as well as GOP lawmakers such as House Majority Leader Kevin McCarthy of Bakersfield.
State officials hope to show voters evidence of progress from the higher taxes and predict the initiative will be rejected.
"The real-life ways SB 1 benefits drivers and commuters will make their own compelling case, especially where long-needed projects are already underway," said Assembly Speaker Anthony Rendon (D-Paramount). "Local Republican leaders around the state were an important part of the SB 1 coalition, so I'm not sure how the more radical members of the party will be reconciling that in their attacks."
The transit projects funded Thursday also help the state meet climate and air quality goals, reducing greenhouse gas emissions by more than 32 million tons, said Brian Annis, secretary of the California State Transportation Agency.
The funding includes $36 million of the $102-million cost to the city of Los Angeles for 112 zero-emission buses to replace existing propane-powered vehicles and expand the DASH bus fleet so it will run more often and in more areas.
This month, Los Angeles officials proposed adding 10 routes to the local, shuttle-style bus network, extending service to North Hollywood, Boyle Heights, Canoga Park, Glassell Park and other neighborhoods. Additional buses will help the agency run more evening and weekend service, and decrease wait times to less than 15 minutes during peak hours.
Los Angeles' successful bid to host the 2028 Summer Olympics touched off an effort to accelerate improvements to mass transit in the region.
More than $1 billion in state grants will be matched with local tax revenue to help fund the $5.7-billion plan to extend the Gold Line to Montclair, the Green Line to Torrance, and a rapid bus route between rail stations in North Hollywood and Pasadena, among other projects.
"This is a good, broad set of projects across the county," said Michael Turner, Metro's deputy executive officer for government relations. He said the agency strongly supports the gas tax, which he said is providing a "vital infusion" to transit, highway and road projects.
Coverage of California politics »
The $290 million allocated for the Gold Line will close the estimated funding gap for the $1.5-billion, six-station project from Glendora to Montclair, transportation officials said. Planners had long hoped to extend the Gold Line to Montclair, which is in San Bernardino County, but L.A.'s sales tax revenue cannot be spent in other counties.
Eventually, the two counties submitted a joint application for the project grant, Turner said. It's the kind of uncommon arrangement that can benefit from state funding programs, he said.
Another $874 million will go toward the $2-billion project to provide run-through tracks at Union Station as well as other improvements. The money will improve the frequency and performance of Metrolink services to Moorpark, Santa Clarita, San Bernardino, Riverside and Orange County.
Another project will increase Pacific Surfliner service to Santa Barbara by five to six round trips.
Meanwhile, the staff of the California Transportation Commission on Wednesday released recommendations for competitive grants that would use the gas tax funds for local projects that include relieving traffic in congested freeway corridors. The commission will finalize those grants in May.
Twitter: @mcgreevy99
Twitter: @laura_nelson
---
UPDATES:
6:15 p.m.: This article was updated with details about route expansions in Los Angeles.
This article was originally published at 12:30 p.m.
Get our Essential Politics newsletter
The latest news, analysis and insights from our politics team.
You may occasionally receive promotional content from the Los Angeles Times.