Issa becomes second California Republican to announce retirement as Democrats look to reclaim House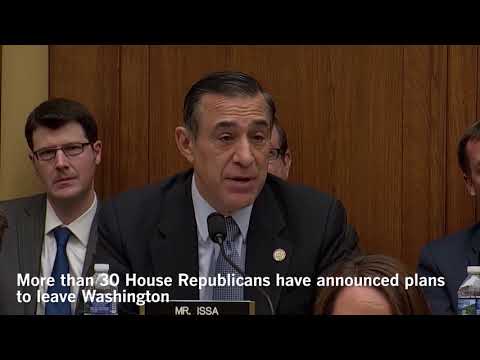 Issa becomes second California Republican to announce retirement as Democrats look to reclaim house.  
Reporting from Washington —
Rep. Darrell Issa (R-Vista) will not run for a 10th term in Congress, he announced Wednesday morning, becoming the second California Republican to retire this week as Democrats strive to retake control of the U.S. House.
On Monday, Republican Rep. Ed Royce of Fullerton also announced he would not seek reelection.
Beyond shaking up the California political landscape, the two retirements are a signal that the GOP fears a Democratic wave election that could sweep them from power this fall.
Royce and Issa represent districts that are changing, with more Latino and Asian voters, and where Hillary Clinton defeated Donald Trump in the 2016 presidential election.
Democrats have made clear their path to reclaiming the U.S. House majority must pass through Southern California, and open-seat races could make that task a bit easier. On the other hand, Republicans could recruit strong and experienced candidates who might fare better against a crowded field of Democratic hopefuls, many of whom are seeking office for the first time.
With Issa's announcement, more than 30 House Republicans have announced plans to leave Washington, and Democrats need to secure just 24 more seats to retake control.
Without incumbents in those races, it also will be more difficult for the Democrats to deploy their national strategy of tying the Republican candidate to Trump, who is widely unpopular in California.
In contrast to most of his California GOP colleagues, Issa showed a willingness to moderate his stances to placate invigorated Democrats, but perhaps found it wasn't enough to offset his reputation as a conservative bulldog in an increasingly liberal district.
Issa, former chairman of the House Oversight Committee, won reelection in 2016 by just over half a percent — about 1,600 votes — and was widely considered the most vulnerable Republican in the House going into this year's election. In Issa's northern San Diego and southern Orange County district, nearly 38% of registered voters are Republicans, with 31% registered as Democrats and 26% not registered with any political party, who often lean Democratic at the polls in California.
Still, the announcement was a surprise. A source close to Issa said he was talking about his reelection campaign with friends as recently as Tuesday night. Issa's statement on Wednesday did not say why he decided to retire, just that he had the support of family in making the decision.
"I am forever grateful to the people of San Diego, Orange and Riverside counties for their support and affording me the honor of serving them all these years," Issa said. "Representing you has been the privilege of a lifetime."
The richest man in Congress, Issa, 64, already had drawn a handful of well-funded Democratic opponents, including his 2016 challenger, Doug Applegate, Orange County environmental lawyer Mike Levin, San Diego real estate investor Paul Kerr and Sara Jacobs, who has drawn the endorsement of Emily's List. Issa had $852,028 in cash on hand as of September. Levin has led in fundraising with $530,326 in the bank. Applegate and Kerr each had a bit more than $200,000.
The Democratic Congressional Campaign Committee said Issa's retirement "means we are in a strong position to elect a Democrat to the 49th District this fall."
But the National Republican Congressional Committee said Democrats are setting themselves up for an internal fight in Issa's 49th District, adding, "We look forward to facing whoever limps out of the Democrats' battle royale: black and blue, and broke."
Hours after Issa's announcement, GOP Assemblyman Rocky Chavez of Oceanside announced he would run for the seat. Other Republicans who could run in Issa's place include Diane Harkey, chair of the state Board of Equalization and a former assemblywoman, and GOP Senate leader Pat Bates. All three represent significant portions of Issa's district.
Analysts for Larry J. Sabato's Crystal Ball at the University of Virginia Center for Politics quickly changed their appraisal of the race from a toss-up to the "leans Democratic" category, saying Issa's close 2016 win showed voters may be more willing to consider a Democrat. The 39th District remains a toss-up because Royce won by 15 percentage points in 2016, Crystal Ball managing editor Kyle Kondik said. At least one other prognosticator moved Royce's district to "leans Democratic" as soon as he announced his retirement on Monday.
As chairman of the committee charged with overseeing the executive branch, Issa was known as President Obama's toughest critic because of his aggressive pursuit of alleged fraud and abuse by the administration. It made him a hero in conservative circles, and before his narrow 2016 win, Issa had gotten at least 58% of the vote in his eight previous campaigns.
But Issa walked a shakier line with the new administration. He appeared to moderate some of his rhetoric last year. Though he insisted he had not changed, he was more willing to buck his party on important votes. He voted against the tax bill in December, saying it would harm his constituents.
For a year, hundreds of activists have appeared weekly outside Issa's Vista office to protest. At first, Issa regularly engaged with them on the street and in town halls, but his frustrations with the ongoing protests grew and he stopped talking with them.
On Tuesday, activists with a local Indivisible group huddled under umbrellas outside Issa's office for a premature "retirement party" for the congressman, complete with festive signs and a cake shaped like a Hawaiian shirt. The song they sang seem ominous in retrospect: "Issa, you'll retire, your situation's dire, we will soon replace you, never fear. Now we must report, now your time is short, Issa you'll retire this year."
Born in Cleveland as the second of six children in a Lebanese American family, Issa dropped out of high school at 17 to join the Army. While there, he got his GED and went on to earn degrees from Kent State University and Siena Heights College before returning to the Army as an officer.
Issa bought a struggling Cleveland electronics business in 1980 and within a decade transformed it to produce the popular Viper automobile anti-theft device, with Issa's famous voice as the warning to would-be thieves to "stand back." In 1986, he and his wife, Kathy, moved the business to Vista, where it continued to grow. His net worth was estimated at more than quarter of a billion in 2015, according to financial disclosures.
After years participating behind the scenes in local politics, Issa's first foray as a candidate came in 1998 when he spent $9.8 million in the Republican primary for the chance to challenge Barbara Boxer for her Senate seat, but lost to Matt Fong. He was elected to the House in 2000 with 61% of the vote, and three years later, he spent $1.7 million to get signatures for the recall election of then-Democratic Gov. Gray Davis. He had hoped to replace Davis himself, but abruptly quit during a tearful news conference when Arnold Schwarzenegger entered the race, saying he had been assured a quality candidate was running.
Assistant managing editor Christina Bellantoni contributed to this report.
Follow @sarahdwire on Twitter
Read more about the 55 members of California's delegation at latimes.com/politics
ALSO:
California could flip the House, and these 13 races will make the difference
Updates on California politics
---
UPDATES:
2:50 p.m.: This article was updated with Assemblyman Rocky Chavez's announcement that he will run for Issa's seat.
1:30 p.m.: This article was updated with additional biographical details.
11:15 a.m.: This article was updated with more information about Issa's district.
9:40 a.m.: This article was updated with additional information about Issa and the battle for control of the House.
This article was originally published at 8:20 a.m.
Get our Essential Politics newsletter
The latest news, analysis and insights from our politics team.
You may occasionally receive promotional content from the Los Angeles Times.