Lobbyist lodges complaint alleging that California lawmaker threatened to hit her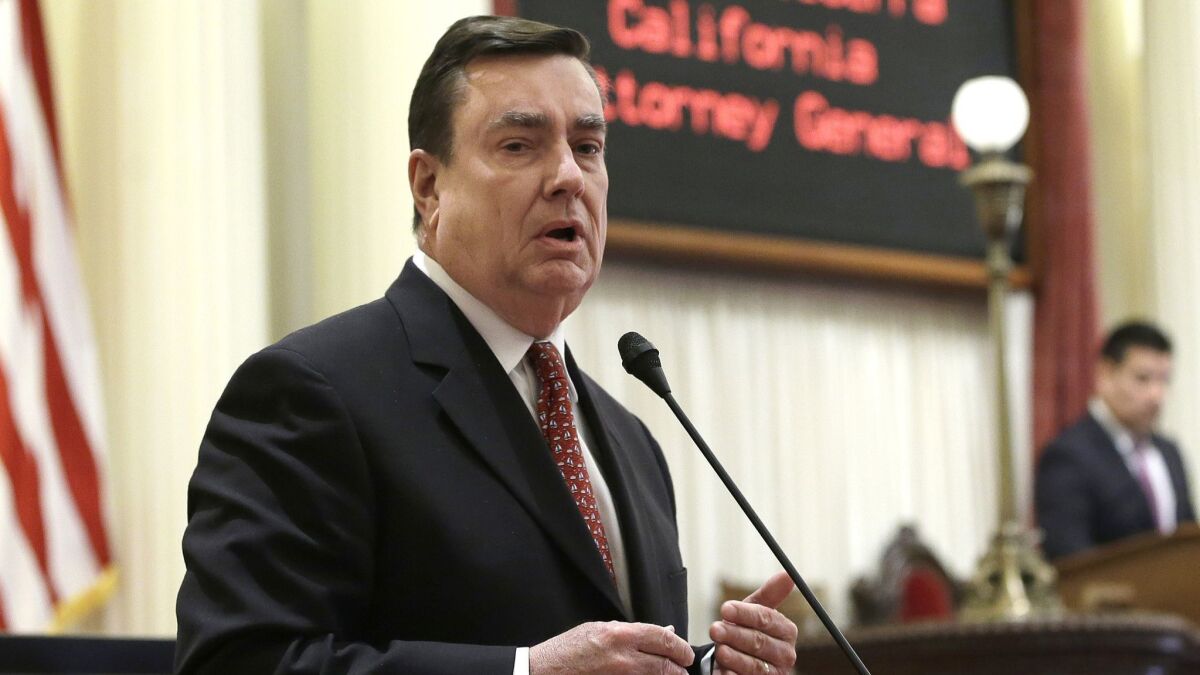 Reporting from Sacramento —
State Sen. Joel Anderson is facing a legislative investigation after a female lobbyist accused him of threatening to "bitch slap" her and harassing her at a Capitol-area bar last week, sources say.
Stephanie Roberson, a lobbyist with the California Nurses Assn., filed a complaint with the Senate Rules Committee on Friday.
Anderson, a San Diego County Republican who is termed out this year, is running for a seat on the Board of Equalization, the state's tax board. He released a statement Tuesday morning regarding the complaint.
"I have the utmost respect for Stephanie and I sincerely regret my word choice that was not directed at her," Anderson said. "I welcome the Rules Committee investigation to clear up this misunderstanding."
According to a lobbyist who witnessed the encounter, Anderson first approached Roberson at another legislator's fundraiser last Monday evening at the Diplomat Steakhouse, a restaurant and bar across the street from the state Capitol.
The lobbyist, who requested anonymity to describe the incident, said Anderson brought up the fact that Roberson's organization never endorsed him. During the conversation, Anderson made comments about Roberson's appearance, the witness said, and then threatened to hit her.
"You better shut up before I bitch slap you," Anderson said to Roberson, according to the lobbyist, adding that the lawmaker repeated the threat multiple times. Another person present confirmed that account.
Restaurant staff ultimately intervened and removed him from the bar, a spokesman for the eatery said in a statement.
"On Monday, August 13, a male patron threatened to strike a female patron," said the spokesman, Patrick Harbison. "This threat was observed by restaurant staff who immediately intervened and escorted the male out without further incident."
Harbison said the restaurant would participate in any investigation if asked.
Two people present that night, who requested anonymity to discuss the incident, said they saw Anderson being removed from the restaurant.
Bonnie Castillo, executive director of the union where Roberson works, called on the senator to resign and end his Board of Equalization campaign, citing his "outrageous and unacceptable behavior."
"No one should ever be subject to sexual harassment or threats of violence in the Capitol, or anywhere else in our society," Castillo said in her statement. "Sexual harassment and violence against women can never be treated as business as usual or swept under the rug. CNA stands fully behind Ms. Roberson, and we will never be silent in standing up for justice."
Anderson has represented the San Diego area in the Legislature since being elected to the Assembly in 2006. He moved to the state Senate in 2010.
While a reliable Republican vote, Anderson has shown an individualistic streak, choosing for a time not to caucus with his party. He also has partnered with Democrats on criminal justice reform efforts, such as co-authoring a bill to change California's felony murder law, under which a defendant may be convicted of first-degree murder if a person dies during the commission of a felony, even if the defendant did not intend to kill.
Senate Republican leader Patricia Bates (R-Laguna Niguel) declined to comment, citing a pending investigation.
The Legislative Women's Caucus issued a statement Tuesday afternoon saying the allegations against Anderson warranted a full investigation and are "deeply disturbing."
"All legislative staff, lobbyists, visitors to the Capitol, and legislators deserve to be treated with respect," said the statement from Assemblywoman Susan Talamantes Eggman (D-Stockton) and state Sen. Connie M. Leyva (D-Chino), the caucus' chairwoman and vice-chairwoman, respectively. "Sexual harassment and threats of violence are never acceptable and those who engage in that type of behavior must be held accountable."
The complaint against Anderson comes as the #MeToo movement has brought more attention to allegations of misconduct in the Capitol. Since last fall, three state legislators have resigned over accusations of sexual harassment. The Times reported last week that a fourth ex-lawmaker, Assemblyman Sebastian Ridley-Thomas (D-Los Angeles), was the subject of two sexual harassment complaints when he stepped down in December, citing health reasons.
Coverage of California politics »
Follow @melmason on Twitter for the latest on California politics.
---
UPDATES:
1:29 p.m.: This article was updated with a statement from the Legislative Women's Caucus.
8:15 a.m.: This article was updated with a statement from Anderson.
This article was originally published at 9:15 p.m.
Get our Essential Politics newsletter
The latest news, analysis and insights from our politics team.
You may occasionally receive promotional content from the Los Angeles Times.