What to watch for in tonight's U.S. Senate debate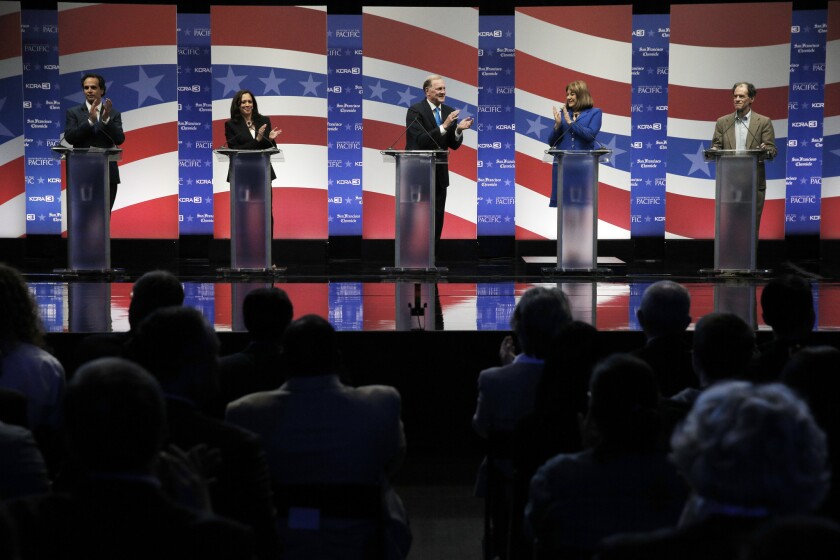 Reporting from San Diego —
Tonight's U.S. Senate debate at San Diego State provides the last televised chance for the five top candidates to win over California voters or rip apart their rivals before the June 7 primary election.
And the candidates will have to be quick about it. The debate, which will be the second of just two held in this largely overlooked contest, lasts just an hour. There will be scant time to deliberate the intricacies of California's water problems or discuss how to fix the nation's immigration system.
The 7 p.m. event is sponsored by KPBS Public Broadcasting and will be aired by public radio and public television stations around the state, including KCET-TV Channel 28 and KPCC-FM (89.3) radio in Los Angeles. The debate will be live-streamed at KPBS.org and the Los Angeles Times will cover it live on the Essential Politics news feed.
There are 34 candidates seeking the seat. But on stage will be the top two Democrats in the race, state Atty. Gen. Kamala Harris and Rep. Loretta Sanchez of Orange. The three Republicans appearing are Tom Del Beccaro and George "Duf" Sundheim -- both former chairmen of the California Republican Party -- and Silicon Valley software millionaire Ron Unz. This group registers best in public opinion polls. The most recent USC Dornsife/Los Angeles Times poll found 32% of voters undecided.
The Trump effect
Now that Donald Trump has emerged as the presumptive GOP nominee for president, expect Del Beccaro, Sundheim and Unz to be pressed on whether they'll be supporting their fellow Republican.
Unz says that while he's not a big fan of Trump, and in fact calls some of his ideas "nonsense," he is leaning toward voting for the New York billionaire. "If Donald Trump simply represents a wrecking ball aimed at the Republican Party establishment, it's fine with me," Unz said in an interview.
Del Beccaro said he is withholding judgment until he sees where Trump stands on some critical policy issues, namely, adopting a federal "flat tax," one of Del Beccaro's top priorities. Del Beccaro wants it to replace what he says is a byzantine tax code that unfairly favors corporations and others with influence in Washington.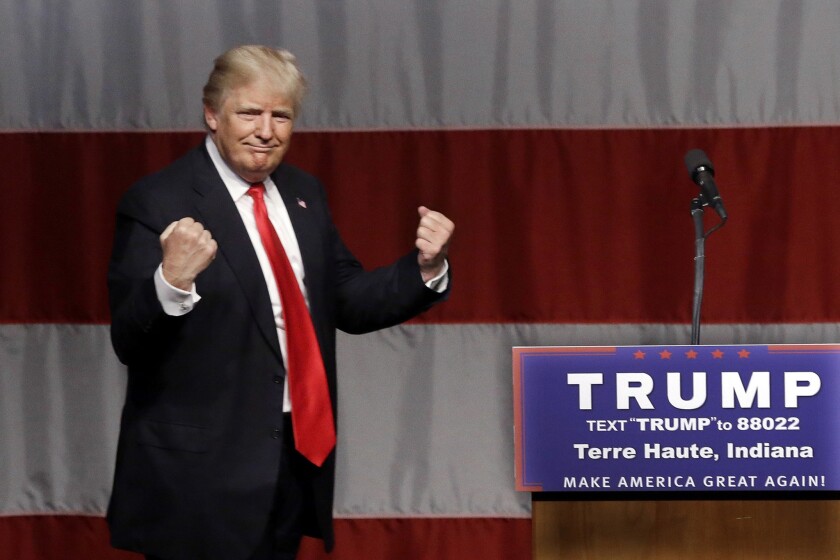 Sundheim makes it clear that he has not endorsed Trump. He said he will "see how things play out" over the next few months before he decides whether to back him in November.
All three Republicans say that under no circumstances would they support Democratic presidential candidate Hillary Clinton.
Harris also may be pulled into the Trump fray and be asked about the $6,000 in campaign contributions she accepted from him during her 2014 reelection campaign for attorney general.
The dwindling water supply
Water has always been a critical issue in San Diego, so expect to see the debate moderators quiz the candidates on the topic.
Sanchez says the state needs to increase water storage to help alleviate prolonged periods of drought. She supports legislation by California Sen. Dianne Feinstein that could provide some federal funding for the state's two largest proposed storage projects -- Sites Reservoir in the Sacramento Valley and Temperance Flat Dam on the San Joaquin River.
Harris told the Sacramento Bee editorial board recently that she was "not familiar" with the projects -- a response that might lead to a jab from one of her rivals tonight. Harris opposes amending federal endangered species laws in order to increase the state's water supply, while Sanchez has said everything must be "on the table."
Both Sundheim and Del Beccaro said they support both the storage projects. Sundheim also wants to see an increased focus on desalination, and Del Beccaro wants more infrastructure investment to repair leaking city water pipes, especially in places such as Los Angeles.
Unz generally supports updating California's water infrastructure, but has not taken a position on the two proposed water projects. He blames California's water woes on the state's increasing population.
Those front-runner blues
Harris, a former San Francisco district attorney, escaped from the first debate relatively unscathed. That was a surprise given she has been the solid front-runner in the Senate campaign, launching her bid in January 2015, a week after Democratic Sen. Barbara Boxer announced she was retiring.
With the stakes so high and just four weeks until the primary, Harris will likely face more pointed attacks from her opponents and more biting questions from the moderators.
Del Beccaro and Sundheim went after Harris in the first debate, held last month at University of the Pacific in Stockton, so expect them to try again on the following:
Harris' support for San Francisco's status as a "sanctuary city," which limits the city's cooperation with federal authorities on immigration investigations. The policy came under harsh criticism after Kate Steinle, 32, was shot and killed on the San Francisco waterfront in 2015, allegedly by a Mexican national who had been deported five times.
The attorney general's investigation of David Daleiden, the anti-abortion activist whose controversial hidden camera videos last summer accused Planned Parenthood doctors of selling fetal tissue. Abortion foes said Harris was biased since Planned Parenthood officials have contributed to her Senate bid and, on her campaign website, she asks voters to sign a petition in support of Planned Parenthood.
The attorney general's investigation into a $4.7-billion settlement reached between the California Public Utilities Commission and Southern California Edison over the San Onofre nuclear power plant. San Diego's KPBS Public Broadcasting reported that Harris' office allowed the statute of limitations to lapse for filing charges regarding a secret meeting in Poland between Edison officials and then-PUC President Michael Peevey.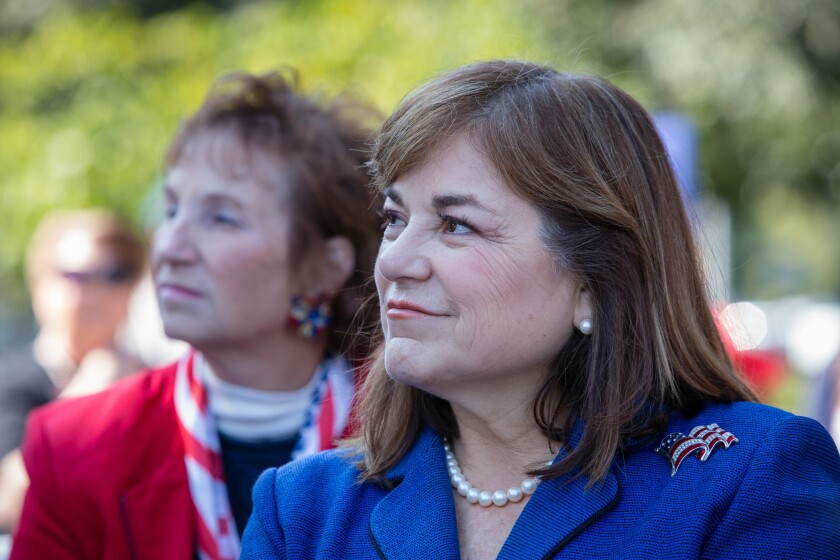 The yin and yang of Sanchez's congressional record
While Harris has won two statewide elections, none of the candidates in tonight's debate are exactly household names.
The Sanchez campaign has been especially focused on making voters outside Orange and Los Angeles counties more familiar with the congresswoman and her 20-year record in Washington. For the most part, she has avoided attacking Harris or her Republican rivals, and that will likely be her game plan in the debate.
As she did in the first debate, Sanchez is expected to emphasize her position as second-ranking Democrat on the House Armed Services and Homeland Security committees, and her expertise in foreign affairs and national security that the other candidates lack.
Sundheim used those lines to criticize Sanchez for missing 13 of 18 Homeland Security meetings from January through early November, tied for the second-worst attendance on the committee. Sundheim attacked Sanchez on the topic both at the last debate and when addressing the California Republican Party convention on May 1, so the odds of it surfacing again are high.
Immigration and a 'pathway to citizenship'
With the debate being held about 20 miles from the U.S.-Mexico border, expect the candidates to be asked about their positions on mending the nation's broken immigration policies.
Harris and Sanchez each support comprehensive immigration reform legislation that creates a pathway to citizenship for undocumented immigrants, as well as President Obama's executive order shielding many immigrants from deportation.
Unz, who championed a 1998 initiative to end bilingual education in California public schools, will be the most interesting candidate to watch. He believes the most effective way to reduce illegal immigration is to raise the federal minimum wage. That, he says, would make low-wage jobs more appealing to U.S. citizens. He also wants to reduce legal immigration by 60%.
In the last debate, Sundheim called for increasing border security with the use of advanced technology -- not the giant wall suggested by Trump -- and supports a "pathway to legal status" for qualified immigrants already in the country. Del Beccaro wants U.S. immigration policy to focus on those who overstay their visas, a group that he says accounts for the majority of the people in the country illegally and that poses the greatest national security threat.
ALSO:
Harris in driver's seat at California's first U.S. Senate debate
There are 34 people running for Senate. Here they are in all their glory.
32% undecided on Senate race in USC Dornsife/Los Angeles Times poll
Follow @philwillon on Twitter for the latest on California politics.
---
Get our Essential Politics newsletter
The latest news, analysis and insights from our politics teams from Sacramento to D.C.
You may occasionally receive promotional content from the Los Angeles Times.