Capitol Journal: Gavin Newsom says he was 'the first' to take on the NRA and win. Not quite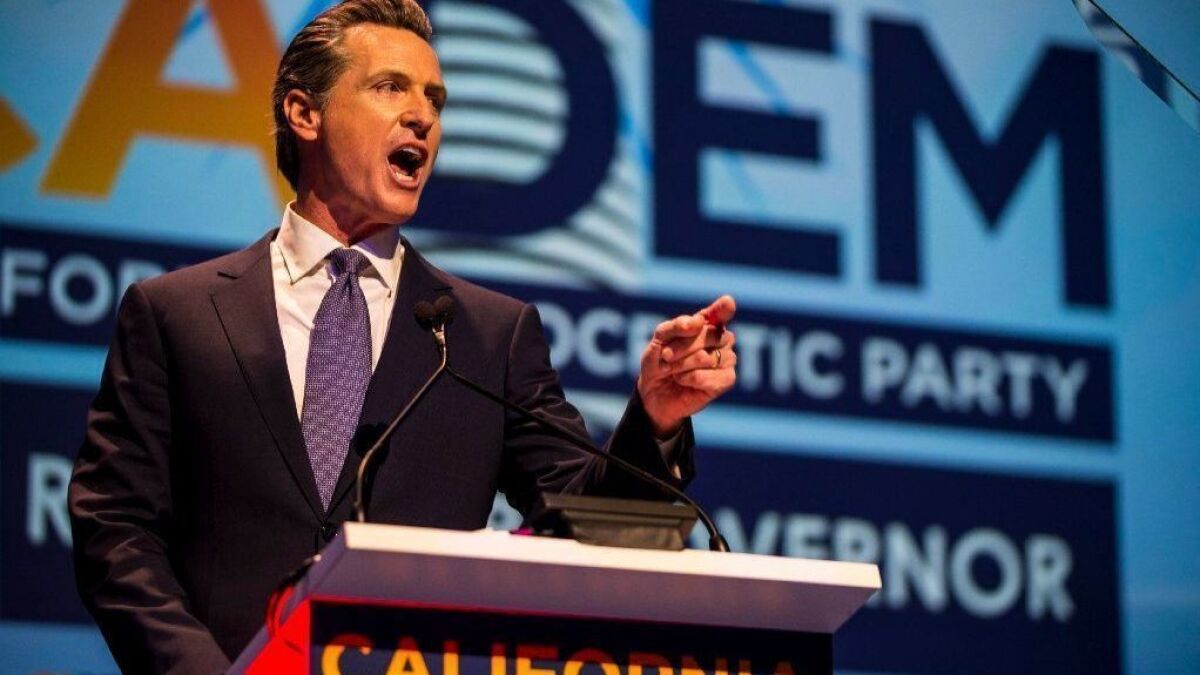 Reporting from Sacramento —
You've got to wonder what goes through a candidate's head when his first TV ad contains an indisputable, major falsehood.
Maybe nothing goes through it. Maybe he doesn't recognize the falsehood and it's not an intentional lie.
Maybe he didn't even see the ad — just overly relied on handlers who got sloppy or thought no one would notice what they regarded as a typical, within-the-bounds political exaggeration.
Whatever. It's not the kind of tactic that builds public confidence in a gubernatorial candidate's credentials to lead the nation's most populous state and, because of his relative youth —50 — and charisma, automatically become a potential contender for president.
Lt. Gov. Gavin Newsom, front-runner in the race to succeed termed-out Gov. Jerry Brown, ran a TV ad claiming he was "the first to take on the National Rifle Association and win."
Hardly.
This is the relevant ad text, read by a pleasant-sounding female narrator: "The L.A. Times called Gavin Newsom 'Ahead of the pack, from gay marriage to gun control.' The first mayor to recognize marriage equality. The first to provide healthcare to every resident. The first to take on the National Rifle Association and win. The one candidate with the record of bold leadership and bold results. ..." Etc.
The Times did publish a column by Cathleen Decker about Newsom under an "ahead of the pack" headline in December 2015. But the article didn't say he was the first to take on the NRA and win.
It's true that in 2016, Newsom sponsored Proposition 63, a ballot initiative that strengthened California's already toughest-in-the-nation gun controls. It passed overwhelmingly with 63% of the vote.
It's also true that the NRA waved a white flag early and didn't spend money fighting the measure. But after the vote, it sued and won a preliminary injunction blocking a key provision that banned possession of large-capacity ammunition magazines.
After Newsom's TV ad was released April 23, it was assailed in several news media outlets. PolitiFact, a nonpartisan organization that referees political ads, rated Newsom's claim of being the first to fight the NRA and win as "false."
There's a long list of California politicians who have triumphed over the NRA.
Start with Sen. Dianne Feinstein. When she was San Francisco's mayor in 1983, the NRA tried to recall her for supporting a failed state initiative to ban handgun sales. She beat back the recall attempt.
Then, after being elected to the Senate, the Democrat pushed through a nationwide ban on assault weapons sales in 1994. She dismissed the counsel of then-Judiciary Committee Chairman Joe Biden that her cause was hopeless. Congress let the ban expire in 2004.
Republican Gov. George Deukmejian, whose narrow election in 1982 was significantly helped by gun owners, bucked the NRA by signing California's first assault weapons ban. He acted after a young, racist drifter armed with an AK-47 shot up a Stockton schoolyard in 1989, killing five Southeast Asian immigrant children and wounding 30 other kids.
Years later, Deukmejian told me: "My thoughts were that regardless of what argument somebody might make about having the right to own and possess a gun, there was no common sense reason for someone to have an assault weapon."
Coverage of California politics »
The legislation he embraced was authored by two Los Angeles Democrats, state Senate leader David A. Roberti and Assemblyman Mike Roos. The NRA tried to recall Roberti, but he survived at great cost. The fight crippled his political future.
The assault weapons ban sprouted loopholes that were tightened in 1999 with a bill signed by Democratic Gov. Gray Davis.
That same year a future L.A. mayor, then-Assembly Speaker Antonio Villaraigosa, used his leadership clout to assure narrow passage of a bill limiting handgun purchases to one a month. Villaraigosa now is running against Newsom for governor.
There's a long list of Sacramento politicians who have triumphed over the NRA, including former state Senate leader Kevin de León (D-Los Angeles), currently running against Feinstein as she seeks a fifth full term.
In 2016, De León pushed through legislation similar to Newsom's initiative and Brown signed it. In fact, De León called Newsom's measure "irrelevant" because "we [legislators] have taken care of business." But De León later endorsed the ballot proposition.
This column would not have been written if the Newsom camp had just admitted "we screwed up" and dropped the ad. But the ad kept running and the candidate's spokesman, Nathan Click, tried to justify the spot.
What the ad intended to say, Click told me, was that Newsom is "the first to take the NRA to the ballot box and win." But that's not what the ad says.
"When you're trying to convey something in 30 seconds," he replied, "you're limited by the format."
Not an excuse.
A separate Newsom ad began running simultaneously that voiced a similar message without claiming he was "the first." But it didn't bump the untruthful ad.
"When you exaggerate in a political commercial, it's always going to come back to bite you," said Democratic consultant David Townsend, who's not involved in the gubernatorial race. "People ask, 'What else is he exaggerating about?' Words matter. You have to be careful not to overreach."
"Sometimes consultants don't even notice it," Townsend continued. "Everyone is running around like chickens with their heads cut off."
Sometimes they act headless and get sloppy.
Twitter: @LATimesSkelton
---
Life is stressful. Our weekly mental wellness newsletter can help.
You may occasionally receive promotional content from the Los Angeles Times.