California lawmakers advance proposals to strengthen state's protections for immigrants facing deportation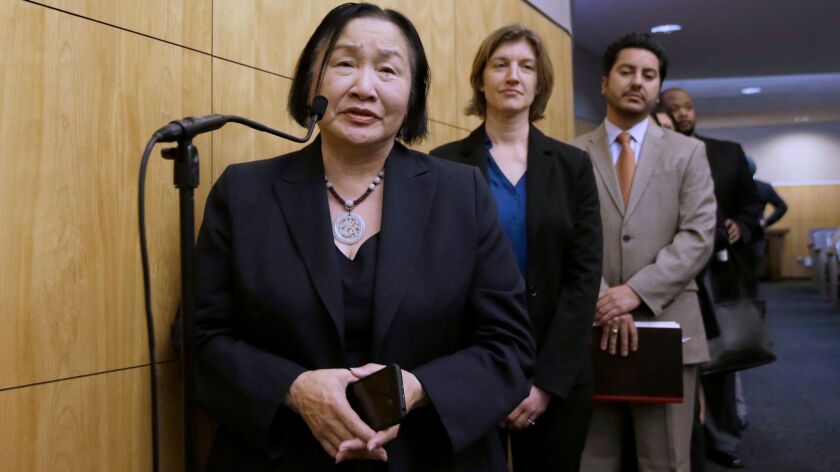 Reporting from Sacramento —
After President Trump signed executive orders last week to ramp up immigration enforcement, Democratic members of the state Senate on Tuesday made good on their promise to speed up legislation meant to strengthen protections for immigrants and religious minorities in California.
In public safety and judiciary committee hearings, lawmakers advanced bills that would protect immigrants' personal information, provide them lawyers and prevent local law enforcement agencies from using resources to enforce federal immigration laws.
The debate over the proposals at the state Capitol came days after protests erupted at airports across the country over Trump's executive orders, which pledged to withhold funding from so-called sanctuary cities and barred refugees and citizens from seven Muslim-majority countries from entering the U.S.
Before lawmakers and at a news conference filled with advocates from across the state, immigrants shared their personal stories of crossing borders and of entanglement with an unwieldy federal immigration system that they said broke apart their families. Democratic legislators stressed what they said was a necessity for the state to act as a bulwark against what they called Trump's "vitriolic" rhetoric and harmful policies toward immigrant communities.
But the day also gave a glimpse into the challenges ahead for Democratic lawmakers hoping to reach across the aisle for support, reflecting a national partisan rift over issues of immigration reform, national security and public safety.
Speaking in favor of one of the immigration bills, Sen. Nancy Skinner (D-Berkeley), chairwoman of the Senate Public Safety Committee, called the divide a "very false dichotomy" because she said Democrats and Republicans share a commitment to public safety and national security.
"All of us want hardened criminals prosecuted under the law," she said. "All of us. But what we are watching now is a pitting of people against each other, a targeting of immigrants."
California ranks among the states with the highest immigrant populations and had the greatest number of unauthorized immigrants in the country in 2014, about 2.3 million, according to the latest data available from the Pew Research Center.
Of the bills presented Tuesday, the one with the most wide-reaching impact on the immigrant community is a proposal by Senate President Pro Tem Kevin de León (D-Los Angeles) that would prohibit state and local law enforcement agencies from using resources to investigate, detain, report or arrest people to help enforce federal immigration laws.
The proposal, dubbed the California Values Act, also aims to protect immigrants' personal data, requiring state agencies to update their confidentiality policies and to ensure that they are only collecting information necessary to their departments.
Before Skinner's committee, De León said the legislation was meant to ensure trust between residents and police and to prevent mass deportations. Trump's executive orders last week confirmed his "worst fears," he said, creating a dragnet that would sweep up criminals and hardworking families alike.
Supporters of the bill said police need immigrants to come forward as victims and witnesses to help solve crimes. And they stressed that many police chiefs do not want to enforce immigration laws.
But opponents were not swayed. They said the proposal's language was too broad and could prevent communication among police agencies at different levels of government, allowing dangerous criminals to escape prosecution.
"I'm concerned that you are basically making the state of California a de facto sanctuary state," Sen. Jeff Stone (R-Murrieta) told De León.
Another bill introduced by state Sen. Ben Hueso (D-San Diego), which was presented Tuesday to the Senate Judiciary Committee, would create a state-funded legal defense program for immigrants facing deportation or removal proceedings.
Lawmakers raised concerns about whether it whittled away at defense services available for detainees convicted of certain crimes — and over how the state would be able to afford such a system amid a looming deficit and budget cuts from the federal government.
But both bills ultimately passed their respective committees with 5-2 votes. The only proposal to pass unanimously and with bipartisan support was legislation introduced by Sen. Ricardo Lara (D-Bell Gardens) that attempts to block the creation of a "Muslim registry," another Trump proposal, by prohibiting state and local agencies from providing or disclosing religious affiliation information to the federal government.
Sen. Joel Anderson (R-San Diego), who voted against De León's bill, requested to serve as coauthor of Lara's bill.
Presenting his bill before the judiciary committee, Lara said floor debates on Monday over Trump's ban on refugees "reiterated not only to me — but to the country — that this is an important fight against injustice at every level."
California's new legislative session begins with a message: We're ready to fight Trump »
Twitter: @jazmineulloa
ALSO:
First of several immigrant protection bills clears state Senate Public Safety Committee
State Senate committee votes in favor of funding legal aid for immigrants in California facing deportation
California lawmakers make full-throated promise of legislative and legal action against Trump's immigration orders
California's new legislative session begins with a message: We're ready to fight Trump
---
Get our Essential Politics newsletter
The latest news, analysis and insights from our politics teams from Sacramento to D.C.
You may occasionally receive promotional content from the Los Angeles Times.