Gov. Jerry Brown is likely to urge caution in his State of the State speech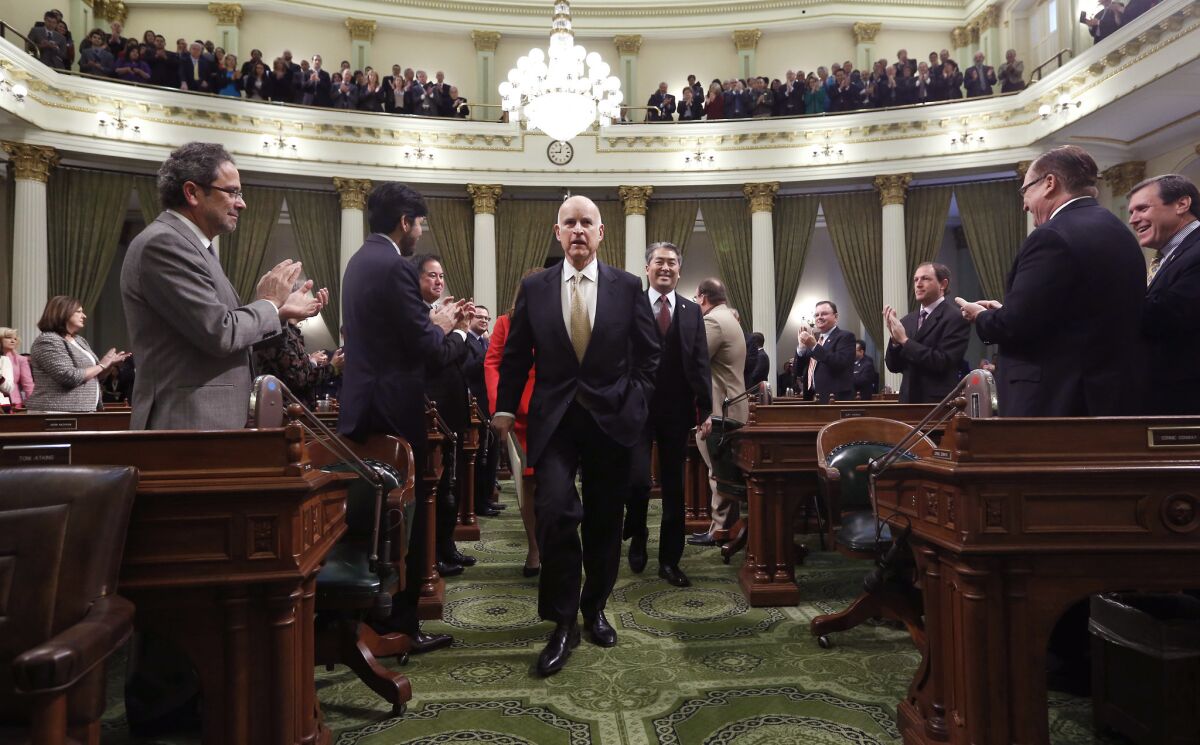 Reporting From Sacramento —
There was a time in the state capital when a governor's advisors would labor to extend the media shelf life of a State of the State speech: issuing early excerpts full of sweeping policy ideas, creating an event that would set the tone for the year to come.
By contrast, all signs suggest Gov. Jerry Brown's comments from the dais of the Assembly chambers Thursday will last slightly longer than a mid-morning coffee break at work.
"He's not really trying to market this across California," said Bill Whalen, a fellow at Stanford University's Hoover Institution who served as a speechwriter for former Gov. Pete Wilson.
WATCH LIVE: Gov. Brown delivers State of the State at 10 a.m. Thursday >>
If recent history is any guide, Brown will deliver a no-frills State of the State that's long on general optimism but short on new ideas.
Unlike governors who brought in teleprompters to scroll through a speech replete with big policy demands, Brown generally has delivered personally written remarks with barely a glance up from his paper copy.
"Jerry Brown has been very bad for the speechwriting industry and the teleprompter industry," Whalen said, joking.
The 10 a.m. speech comes at the outset of the governor's sixth year in office since returning to Sacramento in 2011. And he will deliver it on the heels of a new state budget that shows a $5.9-billion growth in revenue estimates since just last summer -- the fourth consecutive year of an unexpected trend upward.
Few believe Brown will skip the opportunity, however, to preach continued fiscal prudence after years of multibillion-dollar shortfalls.
Arriving to deliver his 2014 address, the governor handed out playing cards with a small budget chart on them and the famous quote attributed to philosopher George Santayana: "Those who cannot remember the past are condemned to repeat it."
That speech clocked in at 17 minutes. Few from Brown have gone much longer -- even his 2015 State of the State address, which was combined with his inaugural for an unprecedented fourth term.
This morning's speech no doubt faces expectations of addressing some of California's biggest problems, including the persistent drought and the gap between the state's richest and poorest residents.
Some also expect the governor to comment on climate change and California's international reputation as a leader on policies to limit greenhouse gas emissions.
Those are familiar topics, not bold new policy proposals. In part, the downsizing of the speech may be due to Brown's singular dominance under the state Capitol dome.
"He has control over this Legislature," Whalen said. "More than legislators would like to admit."
Follow @johnmyers on Twitter and sign up for our daily Essential Politics newsletter
ALSO
Donald Trump's crossover appeal? Most Democrats say he'd be 'terrible'
George Skelton: Why Hillary Clinton and L.A. County supervisors are wrong on gun control
Immigrants in the U.S. illegally have declined to the lowest level in over a decade
Life is stressful. Our weekly mental wellness newsletter can help.
You may occasionally receive promotional content from the Los Angeles Times.