Column: Political Road Map: The rules for how California pays for its schools may lead to a surprising result this year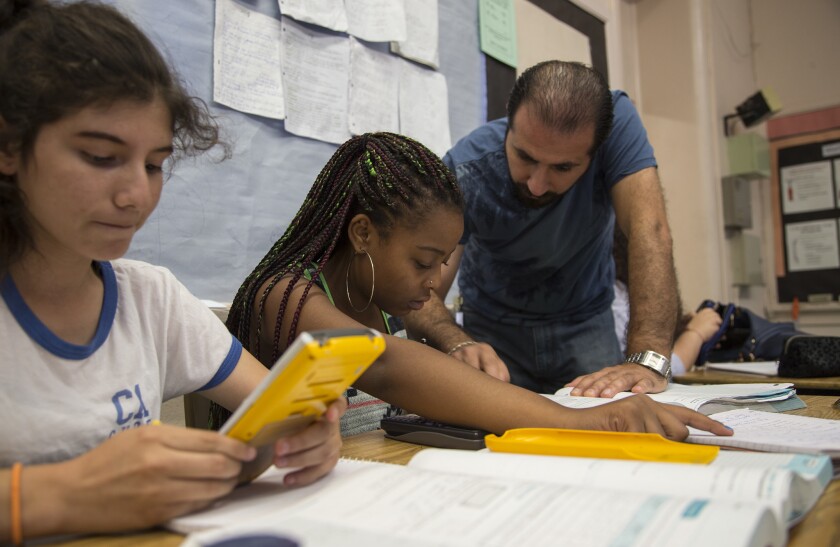 If this sentence leaves you confused, you're not alone: Education spending rises under Gov. Jerry Brown's proposed state budget, but some California schools are bracing for cuts.
That both statements are true is a reflection of the byzantine rules that govern the flow of dollars to K-12 schools and community colleges. Sacramento policy wonks used to joke that only two people understood the rules approved under the landmark Proposition 98 — the man who wrote the law and a veteran legislative staffer. The staffer retired last year, while the law's author died in 2015.
And yet, the voter-approved amendment to the state Constitution lives on.
The shorthand to Proposition 98 is that it sets a minimum level for school funding — one that generally grows with the economy — by using a series of complex formulas for earmarking state and local tax dollars.
That usually results in a mandate that hovers around 40% of the state's general fund, though any honest state budget-watcher will admit the final number — just like the annual prediction of tax revenues — is sometimes subject to political negotiation.
For education groups, some of which helped draft the 1988 ballot measure, the funding guarantee is a blessing and a curse. Proposition 98 is a bulwark for public school funding in times of deep recession, but it also leaves many politicians with the impression that helping some six million students is as simple as using a mathematical formula.
Gov. Jerry Brown projects a potential $1.6-billion budget deficit »
"It just squashes any real consideration of whether those resources are adequate to teach kids," said Kevin Gordon, a longtime education lobbyist. "We spend a good deal of time reminding our friends at the Capitol that Proposition 98 is a minimum guarantee, not a maximum."
Consider Brown's new budget, which boasts of raising school funding by $2.1 billion next year. That number, though, is based on a downward revision of current-year spending by more than $500 million. Revamping tax estimates helps Brown, like other governors before him, restrain growth in the Proposition 98 mandate.
It just squashes any real consideration of whether those resources are adequate to teach kids.
Kevin Gordon, an education lobbyist, on how lawmakers sometimes focus too much on the details of California's school funding mandate
One particularly clever maneuver: The governor is proposing to delay an $859-million payment from late June to early July. That shift of just a few days means the payment won't count in the current budget year but would become part of the base for future school spending.
Education groups also point out that mandatory pension payments for teachers, custodians and clerks will grow larger next year. That comes out of the same pot of cash. And then there's the impact of a sweeping state education plan designed to focus on students who are English learners or from low-income families. Those rules now govern about 90% of education dollars, but they haven't worked out well for some suburban districts.
Put all of this together, Gordon said, and "hundreds of districts" across California are preparing to cut their budgets. How many will win and how many will lose under the governor's budget, if approved by the Legislature, isn't yet clear.
That may shock voters, given Proposition 55 promised last fall to stave off education cuts. It might, but it doesn't kick in until 2019. Regardless, it won't ease the brain freeze that results from trying to make sense of the state's education-funding rules. Designed to give schools some room to grow, they can also leave educators feeling a little claustrophobic.
Follow @johnmyers on Twitter, sign up for our daily Essential Politics newsletter and listen to the weekly California Politics Podcast
ALSO
In California's 2017 state budget, the deficit is back
Affordable housing is too expensive to build in California, says Brown
---
Get our Essential Politics newsletter
The latest news, analysis and insights from our politics teams from Sacramento to D.C.
You may occasionally receive promotional content from the Los Angeles Times.