Trump's budget will hit hard for California's most vulnerable, advocates and state lawmakers warn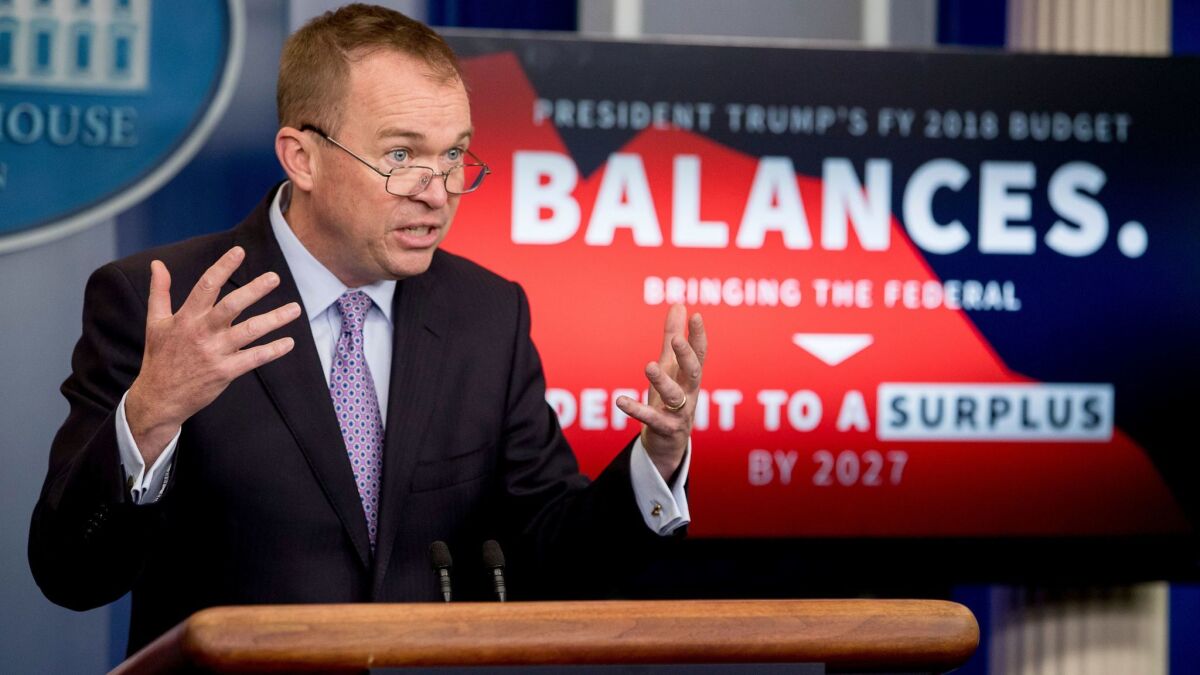 Reporting from Sacramento —
President Trump's proposed budget would likely result in billions of dollars of cuts to vital health and human services programs in California, state Democratic lawmakers and advocates for the poor said Tuesday.
"It's unconscionable and un-American," said Gov. Jerry Brown in a written statement.
The president's plan unveiled Tuesday proposes a number of cuts in domestic spending while boosting funding for defense programs. Critics said those changes, coupled with the early outlines of GOP efforts on a tax overhaul, would result in a major — and unfair — shift in the burden as to who ultimately pays.
"It's a huge tax cut for the rich, and a huge cut on the poor," Assemblyman Phil Ting (D-San Francisco) said.
Chief among the cuts with an impact on California would be a hit to healthcare funding, mostly a reflection of Republican promises to repeal the Affordable Care Act.
Early estimates by Brown's administration warned that a full repeal of the Obamacare subsidies could cost the state $18.6 billion a year by 2027. Most of that is in Medi-Cal, the state's version of Medicaid, which now serves 13.5 million Californians.
California could also be hit hard by proposed cuts to the federal food stamps program. The president's budget calls for limiting current eligibility to receive subsidies for buying food, as well as some new work requirements to receive help. Trump would also shift a portion of the costs for the food stamp program to states.
In the early review of the president's plan, critics also pointed to proposed cuts to welfare assistance and a shift toward more dollars being awarded through "block grants," which can allow new flexibility in spending but would also limit future increases in funding.
"Proposals to shift costs and responsibilities to state governments, masqueraded as giving states greater flexibility, would undermine California's hard-fought-for fiscal health and force state leaders to reduce vital services and supports for millions of Californians struggling to make ends meet," said Chris Hoene, executive director of the California Budget and Policy Center, a nonprofit that advocates for the state's low-income residents.
Winners and losers in President Trump's budget proposal »
An early review by Hoene's organization also noted the Trump administration proposes the elimination of emergency food and shelter programs that provide some $20 million in help to Californians each year. A plan to eliminate the federal Housing Trust Fund could cut $10 million in affordable housing help that the state received last year.
Trump's budget also proposes fewer agriculture subsidies and would impose new limits to the federal earned income tax credit based on a person's immigration status. A similar change would be made to eligibility rules for the federal child tax credit — even when the child is a U.S. citizen, but the parent lacks legal status.
The tightening of the tax breaks comes as state Democrats hope to expand California's version of the earned income tax credit program. Democrats in Sacramento said they can't replace all of the federal cuts in the coming year's state budget, but they do hope to mitigate the impact of the most severe reductions.
"Our budget is fairly robust," Ting said, "but I can't see being able to plug billions of dollars of cuts from the federal government."
Follow @johnmyers on Twitter, sign up for our daily Essential Politics newsletter and listen to the weekly California Politics Podcast
ALSO
Economists say Trump's budget proposal doesn't add up
With his governing legacy on the line, Gov. Jerry Brown dives into Washington's healthcare debate
---
Life is stressful. Our weekly mental wellness newsletter can help.
You may occasionally receive promotional content from the Los Angeles Times.