Mike Trout hits home run for young fan for second straight year in Angels' win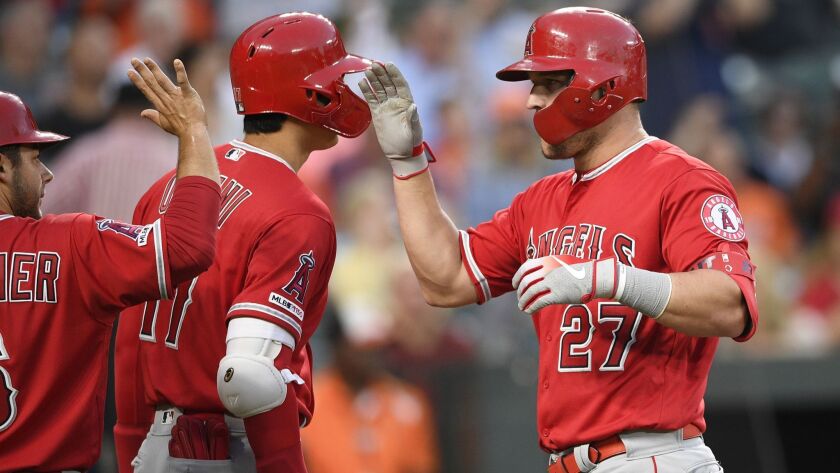 Reporting from BALTIMORE —
Mike Trout's home runs always mean something to the Angels, but in an 8-3 victory over the Baltimore Orioles at Camden Yards on Friday night the center fielder's latest blast held a tad more significance.
It keyed the Angels' third victory in four days. It gave Trout, who had only 11 hits and driven in seven runs in his previous 46 at-bats, some hope that his own work to emerge from a mini-slump was bearing fruit.
It also sent a 7-year-old from the Baltimore area into a frenzy.
A few hours earlier, self-proclaimed super fan Gavin Edelson and his family met with Trout for the second time in two seasons. Trout was supposed to meet with the Edelson family outside, but the rendezvous moved indoors when batting practice was cancelled by rain. Trout spent a few minutes chatting, giving away some gear and taking pictures. Before he left the Edelsons, who met Trout during last year's Angels-Orioles series here, Gavin asked Trout to hit a home run.
Gavin, who caught Trout's eye with a homemade sign and a curious gaze during batting practice nearly a year ago, had done the same thing last summer and Trout delivered, hitting a home run in his first at-bat of the game on June 29, 2018.
Trout, who had homered once in his previous 17 games, told Gavin, "I need to hit a home run tonight."
He did.
With the Edelsons watching from a few rows behind the Angels' on-deck circle at Camden Yards, Trout blistered a3-and-2 fastball from Orioles starter Dan Straily to center field in the third inning.
When it finally deposited over the fence, just out of reach of leaping center fielder Stevie Wilkerson, the Edelsons celebrated in their seats.
"It means a lot," Trout said of his interaction with fans. "We play. Fans come to the game to watch us.
" I always try to give back every chance I can. I look forward to it. You never know what the kid is going through, what the people are going through. They spend money to come watch us play and I gotta give them some time sometimes."
Before lightning lit up the night sky, rain rolled in and home plate umpire Tom Hallion waved players off the field for a nearly two-hour delay, the Angels had built a nice cushion. They trailed only briefly in an interrupted game, and they rarely found themselves in much trouble.
That was not something Angels starter Trevor Cahill could brag about six days ago in Monterrey, Mexico.
In fact, Cahill hadn't been able to brag about avoiding trouble since his last quality start on April 8. Cahill had allowed 19 runs, all of them earned, in 152/3 innings over four starts from April 15 to May 4. Opponents had launched nine home runs against him in that span, more than the eight he allowed in 110 innings last season.
For a month, Cahill fumbled around for a solution. After his previous dud — he departed with one out in the fourth inning after allowing six hits, six runs, two walks and three homers to the Houston Astros — he figured something mechanical had to be at the core of his struggles.
Sign up for our daily sports newsletter »
He made a fix by Friday night. Before he was chased into the visiting clubhouse, Cahill had held the Orioles to four hits and two runs. He struck out five batters and didn't walk anyone.
Cahill gave up a first-inning home run to Trey Mancini, then retired seven in a row. He got four swings and misses and three called strikes on his changeup.
He'd thrown only 78 pitches by the end of the sixth inning and thought he was going to pitch another inning when he noticed his teammates scattering for cover.
"I try not to think about [the homers] too much," Cahill said. "I know they say solo homers never hurt anybody, but they have hurt me this year.
"I try not to think about it because then you lose your aggressiveness. Then you are kind of nibbling. I didn't think about it. I was confident in my stuff and I went out and pitched like every other game. The results were just better."
---
Get the latest on L.A.'s teams in the daily Sports Report newsletter.
You may occasionally receive promotional content from the Los Angeles Times.