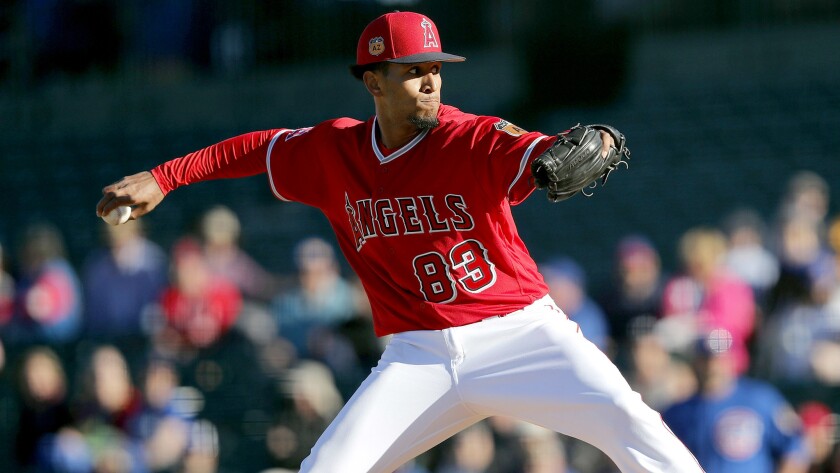 Everyone could see the potential, that was easy. Pitchers who throw in the mid- to high-90s tend to get noticed.
Yet even after he was converted to a reliever last season and excelled at three different minor league stops, Keynan Middleton's spring training results with the Angels this year were something less than eye-opening.
"Keynan's a kid who came into spring with high expectations and never really found himself, never really got comfortable on the mound," Angels manager Mike Scioscia said. "He worked hard on a lot of things, made some adjustments the last couple of weeks down there.
"This guy has a big arm. We feel he's ready for the challenge. There's always a little bit of seasoning that goes into a young pitcher, getting to where he needs to be, but we're ready to start the process."
It began for the 23-year-old Middleton on Friday when he walked into the Angels' major league clubhouse for the first time.
"It's pretty crazy," he said. "Just got a lot of emotions going through me right now. I can't wait to get out there and play."
In the spring, Middleton made seven appearances, allowing six runs and eight hits in seven innings.
But at triple-A Salt Lake the 2013 third-round pick found his bearings. He did not allow a run in his last 9 1/3 innings, earning two saves.
"Just going out there and trying to compete, stop worrying about stuff," Middleton said. "Just going out there and throwing the baseball, playing the game. That's pretty much it."
Scioscia said the rookie initially will be used in lower pressure situations.
"We're going to try to get him where he can feel comfortable and understand the challenge of the big leagues and what he needs to do," the manager said. "His performance will dictate whether he eventually moves to more of a back-end-inning lead holder, or is he just trying to work in the middle somewhere where he might need the two-inning stint. We'll play it by ear and see how he develops."
Middleton made his major league debut Friday night, pitching the eighth inning against Houston. He gave up a double to Carlos Beltran and Brian McCann's RBI single before striking out Jake Marisnick for the final out.
Skaggs frustrated
Five days after left-hander Tyler Skaggs learned his oblique injury would sideline him 10 to 12 weeks, he still could not hide his disappointment.
The setback comes after he missed all of 2015 and much of last season following Tommy John surgery.
"I feel like I was back to the pitcher I used to be in 2014," Skaggs said. "I let my team down, I'm letting myself down because I put a lot of work in this offseason to be ready to go. Kind of a freak thing that happened. I'm not too happy."
Skaggs has started five games this season, going 1-1 with a 3.99 earned-run average before suffering the injury just above a lower right rib.
"It's just one of the more frustrating times in my career," he said.
Short hops
Right-hander Daniel Wright was sent back to Salt Lake to make roster room for Middleton. … Scioscia said right-handed reliever Andrew Bailey (shoulder inflammation) continues to show steady progress: "As we get into early next week, we'll have a much better timeline as to where Andrew is and when he's ready to start a rehab." … Closer Cam Bedrosian (groin strain) said he threw for the fourth or fifth time in the outfield, but is still uncertain when he'll throw off a mound. … Scioscia continued to rest his regulars. One day after giving Mike Trout the day off, Kole Calhoun did not start.
sports@latimes.com
---