José Suarez, Angels bullpen shine in 4-2 win over the Oakland A's
OAKLAND — It was a familiar scene.
An Angels pitcher struggling to find the strike zone. An early lead in sudden peril. A winnable — or in this case, split-able — series on the verge of slipping away.
This time, however, the Angels managed to escape.
After building an early four-run lead, the Angels held on for a 4-2 win over the Oakland Athletics on Sunday at RingCentral Coliseum, getting six scoreless innings from their bullpen to take two of four games in their weekend series against the American League West division leaders.
"A nice intense game, an intense series," Angels manager Joe Maddon said. "I loved it. We got to know that we can win here. That's important."
Not since the legendary Babe Ruth has a player dominated on the mound and at the plate like the Angels' Shohei Ohtani.
The game almost got away from them in the third inning, when shortstop David Fletcher committed a throwing error and starter José Quintana issued three consecutive full-count walks, the latter plating a run.
But then, Quintana struck out Chad Pinder, gave up a sacrifice fly to Sean Murphy and ended the inning by fanning Mitch Moreland with a fastball over the outer half of the plate.
That would be the last pitch Quintana threw, exiting the game early with what Maddon later revealed was discomfort in his left throwing shoulder. The team didn't immediately know how serious the issue might be.
"It's hard when you throw the ball with pain, and that's what I felt throughout the game," Quintana said, explaining that pain started in the first inning, got progressively worse throughout his outing and was especially bothersome on his breaking balls.
"It's frustrating," he added. "But let's see what the doctor [says] when they check me tomorrow."
The Angels (24-29) turned to their relievers the rest of the way.
José Suarez retired the first nine batters he faced, racking up four strikeouts and earning the win with three-plus scoreless innings.
"To me, he was the star of the game," Maddon said of the 23-year-old left-hander, who has given up just two runs in nine innings this year. "I know we had the lead at that point … but there was a lot of game left, and he settled the whole thing down. And then he permitted us again to use the bullpen as we wanted to."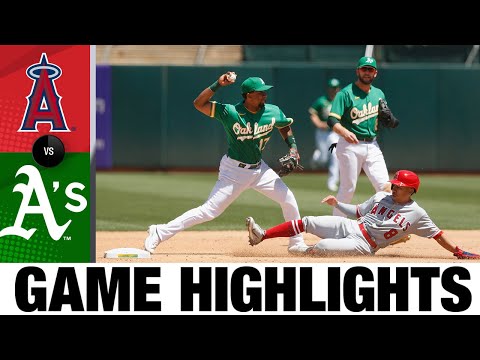 Highlights from the Angels' win over the Oakland Athletics on Sunday.
Indeed, after Suarez walked the leadoff batter in the seventh inning, right-hander Steve Cishek was summoned to the mound and retired the following three batters in order, extending his recent scoreless streak to 121/3 innings.
Right-hander Mike Mayers got the first two outs in the eighth before Pinder bounced a double up the third-base line.
From there, Maddon turned to closer Raisel Iglesias for a four-out save, with the right-hander converting his seventh straight opportunity to give the Angels their first winning week (they went 4-2 since Monday) in almost two months.
"It's started to come together for him," Maddon said of Iglesias, who has nine saves this year. "He can stay like this for a while."
Jared Walsh got the scoring started in the second inning, lacing a solo home run over the right-center-field wall that left his bat at 111.1 mph.
After Kurt Suzuki and Taylor Ward each singled in the next two at-bats, Fletcher pulled a two-run double into left — the first of two doubles for him Sunday — before coming around to score on a Phil Gosselin RBI single.
The Angels had other chances to add on, stranding multiple men on base in the seventh and eighth innings. But those missed opportunities didn't come back to haunt them.
After getting their first shutout of the season on Saturday, the Angels once again followed a pitching-first blueprint that Maddon has been preaching ever since Mike Trout went down with a calf injury, pulling themselves back within six games of the A's (31-24) in the division standings entering Memorial Day.
"To be down 2-0 in a four-gamer here with these guys and their fanbase, it's not easy," Maddon said. "So I give our guys a ton of credit."
Betting lines and odds for Angels vs. Athletics on Sunday
The Angels got a shutout for the first time in 2021 on Saturday and will look to offseason acquisition José Quintana on Sunday to turn around his rocky season.
Quintana is averaging a career-high 6.5 walks per nine innings while posting a 7.92 ERA across eight appearances and a 12.54 ERA in three road starts.
The Angels' bullpen has also fallen on hard times, allowing 2.04 home runs per nine innings over past 30 days. No other team has allowed more than 1.64 home runs per nine innings during that span.
Oakland Athletics starter Cole Irvin has allowed at least three runs in each of his past three home starts, and the team has lost each of his past four starts. The Athletics have a team ERA of 4.30 at home and 3.56 on the road, with Irvin 4.50 at home.
The Athletics have shown an ability to hit in day games, averaging 1.6 home runs and five total runs per game in their 21 day games. The Angels have a 5.70 ERA across 13 day games.
The Angels have scored four runs or fewer in seven of their last eight road games. The Athletics have played five of their last six games under the total and five of the last seven games of this series have been Oakland wins.
VSiN, the Sports Betting Network, offers more expert sports betting content in a free daily email at VSiN.com/email.
Alex Cobb 'first-rate' as Angels earn first shutout in 4-0 win over A's
OAKLAND — Angels reliever Tony Watson spent three innings getting loose Saturday, throwing pitch after pitch in the right-field bullpen at RingCentral Coliseum.
He had to wait his turn. Starter Alex Cobb was pitching too well to come out of the game.
In the Angels' 4-0 win over the Oakland Athletics, Cobb dazzled across seven scoreless innings. He struck out eight batters and walked only two. He gave up just three singles and no extra-base hits. His infield turned three double plays. His outfield didn't have to make a single catch while he was on the mound.
"Everything he did," Angels manager Joe Maddon said, "it was first-rate."
It was a vintage performance from the 33-year-old right-hander, using soft contact and ground balls to silence the A's (31-23), who entered the day in the top 10 in the majors in slugging percentage.
Cobb didn't throw a ton of strikes (only 58 out of his 101 pitches) or get a bunch of whiffs (only 12 on 42 swings). But he mixed his sinker, splitter and curveball to near-perfection, putting batters away when he was ahead in the count and inducing weakly hit balls on the ground when he wasn't.
The Angels have agreed to extend their lease at Tempe Diablo Stadium, their spring training home, through at least 2035.
"When I have days like this when I'm able to manipulate the ball like I want to, get it to do what I want to, then I'm able to play the game and do the thinking game with the hitter and set them up in different ways," Cobb said. "That's when it becomes fun."
By the time Cobb finally did exit, making way for Watson to pitch the eighth and closer Raisel Iglesias to pitch the ninth — combining for the team's first shutout of the season — the Angels (23-29) had already built their four-run lead.
All four of the runs were unearned, scored in a fifth inning during which A's starter Frankie Montas threw two wild pitches and catcher Aramis Garcia committed a crucial error at the plate.
With runners at the corners and one out in the inning, David Fletcher dropped a bunt that A's first baseman Matt Olson quickly fielded. Olson threw to the plate in plenty of time for Garcia to make the tag on baserunner Jose Rojas. But Garcia missed the catch, allowing Rojas to score and a big inning to ensue.
Two at-bats later, Shohei Ohtani sliced a two-run single into left, one of his two singles on the day. Ohtani then stole second and scored on an RBI single by Anthony Rendon — who also had two hits, including a double after previously slumping through the last two weeks after returning from a knee injury.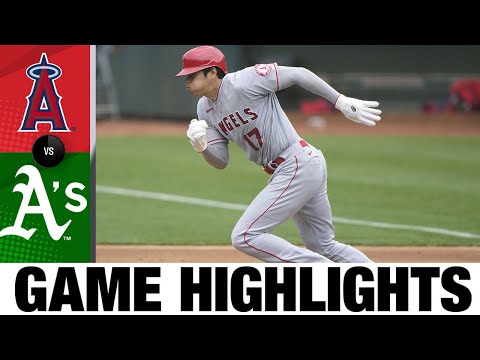 Highlights from the Angels' 4-0 win over the Oakland Athletics on Saturday.
"He's going to keep getting better and better," Maddon said. "In the limited time I've had a chance to work with him last year and this year, I've seen good, then coming off an injury not so good, then he eventually gets his rhythm back."
Before the fifth inning, the Angels had scored only one run in their previous 25 innings. And with the way Cobb was dealing, it would prove to be plenty.
Cobb was sharp from the start, striking out his first two batters and retiring six of his first seven. He issued a leadoff walk in the third but then rolled Garcia into a double play to third. After the first two batters in the fifth inning reached base, Cobb got another tailor-made double-play ball to short to escape the jam.
"It's such a big part of my game to be able to do that," Cobb said of getting double plays, after entering the day with only three in his first six starts this season. "It gives me the ability to stay calm on the mound and continue to be aggressive."
There was another double play in the fourth, though not of the routine variety. After Tony Kemp hit a leadoff single, Olson skied a high popup into foul territory near third base. Rendon, the third baseman, was shifted up the middle on the play but sprinted 113 feet to make the catch.
Shohei Ohtani's cartoon-like feats for the Angels have stunned the baseball world, but it's very similar to the comic book world that influenced him.
Kemp tagged up at first and easily reached second as Rendon one-hopped an off-balance throw toward the bag. Then, Kemp tried to keep going, getting up and initially taking a few strides toward third. He quickly changed his mind, however, slamming on the breaks upon seeing Cobb covering third base. By the time Kemp turned around, it was too late. Shortstop David Fletcher tagged him out to erase the threat.
"I think he predetermined that he was going," Cobb said. "I started to realize it and went over to the bag. I looked at him, he looked at me, and I think that's when he knew it was over."
Watson began warming up in the sixth, with a string of left-handers due up against Cobb. It didn't matter. Cobb, who was making only his second start since returning from a blister, retired his final six with ease to become the first Angels starter to throw seven scoreless innings this year and lower his own season ERA to 3.78.
"He was throwing his best fastballs the last two innings," Maddon said, adding: "You see his demeanor, his calmness when things got hairy. … Great game to build off of. His finger was good. Very nice performance."
Angels call up Kean Wong
OAKLAND — Prior to Saturday's game, the Angels selected the contract of infielder Kean Wong and designated catcher Drew Butera for assignment.
Wong, who was hitting .350 with a .913 on-base-plus-slugging percentage with Triple-A Salt Lake, will play second base on Saturday and will add to the Angels infield depth while shortstop José Iglesias (hamstring strain) remains on the injured list.
Longer breaks between starts? Fewer two-way games? Angels continue to evaluate Shohei Ohtani's optimal usage
OAKLAND — In the ever-evolving process of determining Shohei Ohtani's optimal usage, the Angels learn a little more every time he takes the field.
On Friday night, they might have made a couple key discoveries.
Even after an eight-day break between starts, the right-hander was sharp in a six-inning, three-run performance against the Oakland A's.
Only pitching — and not hitting — for just the third time in seven starts this season, he kept a crisp between-innings routine.
And the next day, he once again was able to go back into the lineup as the Angels' designated hitter Saturday at RingCentral Coliseum.
Angels manager Joe Maddon's takeaways?
"Tonight is an indicator of, I believe, you can give him [extra] time between starts without any lag in performance," Maddon said.
Not since the legendary Babe Ruth has a player dominated on the mound and at the plate like the Angels' Shohei Ohtani.
Another one: "I think he showed tonight that he pitched pretty well, just by pitching."
Since the start of the year, the Angels have been evaluating how to best use Ohtani — adding more to a workload the two-way star has continually proved capable of handling.
Entering the season, they wanted Ohtani to pitch on a normal turn in the rotation and, as long as he felt fresh, take fewer off days between starts. But they didn't expect him to be quite so proficient, playing in 51 of the team's first 52 games either on the mound (where he has a 2.72 ERA and 50 strikeouts) or at the plate (where he has 15 home runs and a .944 on-base-plus-slugging percentage).
Prior to this season, Ohtani had never played both ways in the same MLB game or at any defensive position other than pitcher. Now, he's done both multiple times, and twice in the same contest — an added layer of versatility that has helped him amass the seventh-most wins above replacement (2.3, according to Fangraphs) in the American League.
Maddon said the Angels likely won't have Ohtani start in the outfield during their upcoming two-game National League series against the San Francisco Giants, when the designated hitter won't be available.
But other than that, there have been almost no restrictions to Ohtani's usage. Instead, he and the team have treated his playing time like a double-pan scale, working together to find the right balance between his two roles.
And after Friday, it seems like the weights might be adjusted again.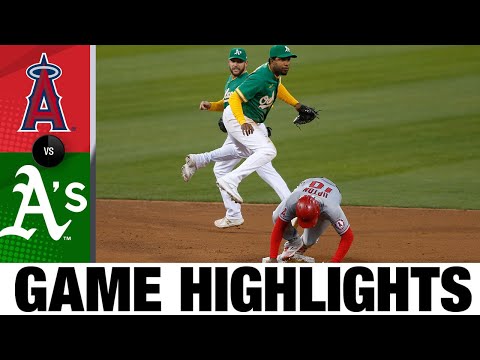 Highlights from the Angels' loss to the Oakland Athletics on Friday.
Even before the game, Maddon said that moving forward, Ohtani might continue to have slightly longer breaks between outings than the Angels' other starters.
So far this season, Ohtani has pitched on the normal five-days' rest only twice.
"By spacing it out, and the fact it doesn't bother him, permits him to pitch more deeply into the year theoretically," Maddon said.
Postgame, Maddon doubled down: "He's not like a normal starter where they've got to go on X number of days or else they don't feel as good. He has his own method of training between starts that I think keeps him able to find the strike zone."
Maddon also noticed on Friday the impact of having Ohtani only focus on pitching in a start, rather than play both ways as he had done in four of his first six outings.
"It's just routine," Maddon said. "He doesn't have to worry about when he's coming up. He doesn't have to worry about picking up the bat. … It permits him to just be 'pitcher Ohtani,' and I think he just shifts gears a little bit and does something a little bit differently."
Ohtani said through his interpreter that there isn't "too much difference" between pitching-only and playing both ways in a game, but did acknowledge he can get "a little more tired" after taking at-bats and running the bases.
The Angels announce they are 'ending Mickey Callaway's employment' following an MLB investigation into sexual harassment claims against him.
Catcher Kurt Suzuki, who has caught Ohtani's past six starts, said the only big change is that there is more opportunity for between-innings communication.
And Maddon made sure to note that Friday didn't "shut the door in any way on doing both things in the same game" again in the future.
But it did leave another impression on Maddon too, giving him a little more information to consider when the next playing time decision needs to be made.
"Not many managers have had the fortune of working with somebody of his abilities," Maddon said. "We've talked about it. In spring training, the big thing was to really communicate and put him in charge of his own career. Of course, we don't just acquiesce to everything. It's a nice conversation. He's so respectful. And we go back and forth until we might conclude something. I like it. I like it a lot."
Angels lose to A's 3-1 despite solid start from Shohei Ohtani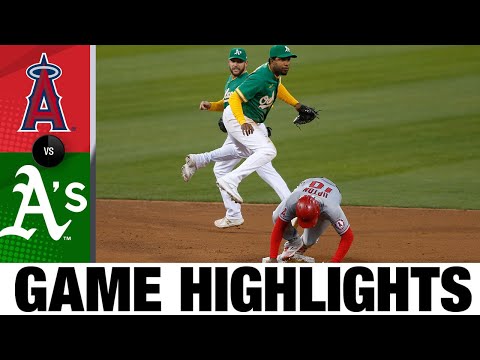 Highlights from the Angels' loss to the Oakland Athletics on Friday.
OAKLAND — Shohei Ohtani's fastball velocity rebounded. He weathered a couple of dramatic moments with Mark Canha. Whatever concerns followed him into the night were largely erased by the end.
In the Angels' 3-1 loss to the Oakland Athletics on Friday night, the right-hander gave up just three runs in six-plus strong innings, an encouraging return to the mound after an eight-day break made one day longer following his transportation mishap the evening before.
Ohtani gave up three hits and four walks. He struck out five and threw 93 pitches. His fastball velocity, which had dipped to an average of 91.3 mph in his previous start last Wednesday, jumped back up to an average of 94 mph and topped out at 97.9 mph.
"I thought Shohei once again showed you the brilliance of his athleticism," Angels manager Joe Maddon said. "The variety of different ways he can maneuver a batting order, you don't see that very often."
The highest drama of Ohtani's outing came in two at-bats against Canha.
The first occurred in the third inning, after Ohtani threw an up-and-in fastball that forced Canha to duck away. Immediately, Canha glared out to the mound, then got in a shouting match with Angels catcher Kurt Suzuki as both dugouts cleared.
The two were separated before any altercation occurred, however, and the at-bat ended six pitches later when Ohtani struck out Canha with a 97.9 mph heater.
"The thing I loved," Maddon said, "is how Shohei just got the ball back and went after him."
In the bottom of the sixth, with the game still scoreless, Ohtani and Canha met again.
This time, Ohtani actually hit Canha in the back, though again by accident. Ohtani landed awkwardly as he delivered the pitch and crumpled to the ground, prompting a trainer to come out and check on him.
Ohtani stayed in the game but couldn't keep the A's off the board. A sacrifice bunt and sacrifice fly in the following two at-bats led to the A's first run in the sixth. Then in the seventh, Ohtani issued back-to-back walks and a run-scoring single (aided by an error by Justin Upton in left) before being removed from the game.
The Angels have agreed to extend their lease at Tempe Diablo Stadium, their spring training home, through at least 2035.
Still, it was enough to produce his second quality start in his last three appearances. His season ERA rose only slightly to 2.72.
"I definitely felt a lot more comfortable throwing this time than my last outing," Ohtani said.
Ohtani didn't hit Friday night in part because the Angels had a short bench (shortstop José Iglesias was placed on the 10-day injured list with a hamstring strain before the game) and also because Maddon wanted to give him "an opportunity to just pitch" after his previous velocity dip.
As it turned out, it was the Angels' offense, a night after being shut out in the series opener, that didn't have any gas.
Three times, the Angels failed to score after putting a runner on second with no outs. Their lone run came in the seventh on an RBI single by David Fletcher. And after the A's retook the lead a half-inning later, the Angels made six straight outs to end the game.
"Good pitching," Maddon said. "It's not more complicated than that."
Shohei Ohtani only pitching in start against A's
OAKLAND — A day after having his originally scheduled start pushed back because of transportation issues to the stadium, Shohei Ohtani will take the mound Friday night as the Angels (22-28) try to even their series with the Oakland A's (30-22).
Ohtani will not hit in the game — something he has done in four of his previous six pitching starts this year — primarily because of the Angels' short bench. Phil Gosselin will instead serve as designated hitter.
With shortstop José Iglesias out with a hamstring strain — he was placed on the 10-day injured list prior to Friday's game, after manager Joe Maddon had earlier said Iglesias might be able to return this weekend — the Angels only have two fully healthy bench players, including their backup catcher Drew Butera.
"If there's not enough guys on the bench that are able to play, then I can't really do it," Angels manager Joe Maddon said Thursday when asked if Ohtani would play both ways on Friday. "It could be problematic ... I like a three-man bench, minimum, when he does go [both ways]."
Maddon also said he wanted to give Ohtani "an opportunity to just pitch" after the right-hander's fastball velocity was down more than 5 mph in his most recent start on May 19 against Cleveland.
"If there was any reason the velocity was down based on double-duty last time, I want to make sure," Maddon said.
Both Maddon and Ohtani said the velocity dip wasn't injury related, and Maddon said it wasn't much of a topic of conversation entering Friday's game either.
Even with diminished pitch speeds, Ohtani gave up only two runs in 4 2/3 innings in that game against Cleveland.
"I will watch [his velocity], I cannot deny that," Maddon said. "But even if he's not getting to certain numbers and he's getting hitters out, I'll take that too."
As a pitcher, Ohtani enters Friday's game with a 2.37 ERA and 45 strikeouts in six starts this season.
In other roster news: Reliever Aaron Slegers was optioned prior to Friday's game and replaced by José Suarez to give the bullpen more length ... Chris Rodriguez will need "more than one" rehab appearance with Triple-A Salt Lake, starting with an outing Friday ... Catcher Max Stassi, also on a rehab assignment with Salt Lake, will catch a couple times this weekend, after which the Angels will re-evaluate his status ... Catcher Anthony Bemboom was recalled after Iglesias was placed on the IL. Iglesias' stint is retroactive to May 26.
Here's the Angels full lineup for Friday:
Angels to get spring training upgrade, agree to stay in Tempe through 2035
The oldest ballpark in the Cactus League is getting a facelift beneath its halo.
The Angels agreed to extend their lease at Tempe Diablo Stadium in Arizona through at least 2035, part of a memorandum of understanding approved Tuesday by the Tempe City Council. The memorandum outlines the framework for a lease extension.
The extension would include a $50.9-million renovation of Diablo Stadium, which opened in 1968. The Angels would pay $10 million, with the city responsible for $40.9 million and the team liable for any cost overruns. The city also would pay up to $700,000 to upgrade lighting so the Angels can play night games.
The renovation includes a three-story team headquarters, including a major league clubhouse and team store, which could open as soon as next spring. The plans also include improvements to the cramped seating bowl and the installation of a 360-degree walkway around the ballpark.
Patrick Sandoval pitches well, Chris Bassitt is even better as Angels lose 5-0 to A's
OAKLAND — Chris Bassitt threw a complete-game shutout and the Athletics exploded for five runs in the sixth inning against the Angels' bullpen to earn a 5-0 win in the series opener at RingCentral Coliseum.
Here are three observations from the game:
Chris Bassitt shuts down Angels: The Angels' lineup had been heating up entering Thursday, scoring 26 runs during the team's three-game winning streak.
But then they ran into Bassitt, mustering just two hits and one walk against the A's right-hander.
In what was his first career complete game and shutout, Bassitt struck out nine batters and gave up only two hits: an infield single by Juan Lagares in the second and a double by Justin Upton in the ninth.
Shohei Ohtani, batting second as the designated hitter after his pregame travel adventures, drew one walk.
Other than that, the Angels failed to make much solid contact against Bassitt, recording only three hard hit balls (those with exit velocities greater than 95 mph) on the 20 they put in play.
"It was all their pitcher," Angels manager Joe Maddon said. "That kid there, I'm a big fan. He's kind of like a [Max] Scherzer type. He's got a funk in his delivery.
"This guy is really good. That is not a fluke. He's going to be someone to reckon with. And he's the kind of guy we have to learn how to beat in our division."
A's batter Angels bullpen in the sixth: Despite Bassitt's domination, the game was still scoreless when the A's came to the plate in the bottom of the sixth.
To that point, Patrick Sandoval had thrown five scoreless innings in his spot start in place of Ohtani. But once he was removed, the A's came to life.
Aaron Slegers began the inning out of the Angels' bullpen and got several softly hit balls. All of them, however, found a hole.
With one out, Matt Olson bounced a double up the third-base line. Then, after a Jed Lowrie walk, Matt Chapman came to the plate and hit a chopper to the right of shortstop David Fletcher.
Fletcher tracked it down, but tried to make an off-balance throw to third base. It sailed wide of Anthony Rendon, who was running back to cover the bag, and went to the backstop. Olson was able to score, while Chapman and Lowrie moved to second and third. Sean Murphy drove them both home with a bloop single in the next at-bat.
"If you play back the tape, my God, he gave up a ball down the left field line, a walk and a couple ground balls that could've been out of the innings," Maddon said.
Instead, the A's tacked on a couple more runs after Alex Claudio entered with one out. Elvis Andrus hit an RBI single and Tony Kemp lifted a sacrifice fly. In all, the A's sent 10 batters to the plate in the sixth and had five hits and two walks.
Sandoval shines in spot start: Before all that, Sandoval had perhaps his sharpest outing of the season, working around five hits and two walks in his five scoreless innings.
Sandoval was first told he might start while going through his pregame throwing program before batting practice.
Angels pitching coach "Matt Wise told me, 'Hey you might be starting today. Shohei is held up. Just stay ready,'" Sandoval said. "He couldn't really tell me how likely it was, and then I don't even know how long before the game they told me, 'You're in there.'"
Once on the mound though, Sandoval found success with his go-to fastball-changeup combination while also mixing in more sliders and curveballs in a four-strikeout performance.
He also benefitted from a couple double-plays, including one to stifle a bases-loaded situation in the third inning.
"I thought he was outstanding," Maddon said. "Short notice, went out there, he settled into that first inning well and that really got him on a roll. He was able to escape some situations."
After throwing 84 pitches in his five innings, Sandoval said he felt like he had enough in the tank to get at least three more outs.
Maddon, however, went to the bullpen to begin the sixth.
"I thought he had done his job right there," Maddon said. "We like Slegers a lot right there [in the sixth]."
Angels reach 85% COVID-19 vaccination threshold, now have relaxed health and safety protocols
The Angels have reached the 85% threshold for COVID-19 vaccinations among Tier 1 personnel, allowing the team to have more relaxed health and safety protocols around the ballpark.
One of the most noticeable differences now that the Angels have crossed the threshold is the reduction of mask requirements, which are no longer mandated in the dugout or clubhouse.
"Masks make it difficult when a ballpark gets loud, or even just conversationally when you're trying to get a point across," Angels manager Joe Maddon said, adding: "I was getting to the point where — I've only been here a short period of time — when some people who work around the office took their mask off, I didn't recognize them. It worked in reverse. The unmasked face was unrecognizable compared to the masked face. So it's good to get back to normal patterns."
The relaxed protocols also allow team members to go out for dinner on road trips, gather in indoor spaces without social distancing (so long as no non-vaccinated people are present), take fewer COVID-19 tests, use ride-hailing services such as Uber and Lyft, and meet outdoors with anyone on trips.
Other group activities such as communal clubhouse video sessions can resume as well.
"[The relaxed protocol] makes communicating a lot easier," Maddon said. "It's liberating, it's a more refreshing way, it's the way we were designed to live. Everything about it is great."
Tier 1 personnel includes players and others who often come within direct contact of the team, such as coaches and training staff members.
As of last Friday, 14 other MLB teams had already reached the 85% vaccination threshold.
Delayed by subway ride, Shohei Ohtani doesn't pitch in Angels' loss to A's
OAKLAND — Angels two-way star Shohei Ohtani was supposed to be the team's starting pitcher Thursday against the Oakland A's. Then traffic got in the way.
A car accident on the Bay Bridge forced Ohtani and catcher Kurt Suzuki to ride the BART subway system from the team's San Francisco hotel to the RingCentral Coliseum in Oakland.
Ohtani didn't arrive at the ballpark until around 5 p.m., less than two hours before first pitch. That was too delayed for him to go through his normal pre-start routine, so he instead served as the designated hitter in Thursday's 5-0 loss against the A's and will now take the mound on Friday.
"He's pretty regimented to get everything going about 4 o'clock for his start," Angels manager Joe Maddon said. "So it was exceeded by maybe an hour. So we started calling the audible at that point to not pitch him tonight."
Patrick Sandoval made the spot for the Angels (22-28) in Thursday's game, pitching five scoreless innings before the A's (30-22) exploded for five runs in the sixth inning against the Angels bullpen.
That was plenty of support for A's starter Chris Bassitt, who threw his first career complete game and shutout in a nine-strikeout, two-hit performance.
Not since the legendary Babe Ruth has a player dominated on the mound and at the plate like the Angels' Shohei Ohtani.
Leaving on a later bus than the rest of the team Thursday afternoon, Ohtani, Suzuki, Ohtani's interpreter Ippei Mizuhara and the Angels' traveling secretary Tom Taylor had begun the trek to Oakland when they hit traffic.
After their navigation system told them it would take more than an hour to get all the way to the stadium, they decided to turn around and instead take the subway, which has a stop right next to the ballpark in Oakland.
Maddon has dealt with Bay Area traffic issues before. While managing the Tampa Bay Rays in 2013, his team had to go the long way to Oakland over the San Mateo Bridge because of construction on the more direct Bay Bridge.
Maddon laughed when asked if his teams should just stay in Oakland next time.
"I don't think one situation merits all that," said Maddon, whose Angels also play the Giants on this road trip. He later joked: "I'm not going to take sides with San Francisco or Oakland, either. I'm not going to upset the chamber of commerce."
Once it was clear Ohtani would be late, Sandoval was the most suitable substitute to start, having been off the previous four days. But even if the Angels didn't have an obvious replacement, Maddon said they still would have pushed Ohtani's start to Friday.
"It's just one of those things that happens," Maddon said. "Nothing you can do about it. It's called life. You have to make the adjustment."
Maddon also said he had heard the group had an issue with the BART system that delayed their arrival even further. The transit system, however, said in a Tweet that they had not heard of any service issues to Oakland.
"First, wow, what an honor to host a baseball superstar like Shohei Ohtani on BART," the organization said on Twitter. "We did not experience any issues on our end. We confirmed with Operations Control Center there was no delay for any Coliseum-heading train during the Bay Bridge incident."
Good thing, too. The Angels would have had to get really creative otherwise.
"Plan C I think would have been to fly from San Francisco to Oakland somehow," Maddon said, chuckling again at the situation. "Because going down to San Mateo, they would have been here tomorrow."

If Angels can't win, Shohei Ohtani would not need to look far
It is an annual cry from well-meaning baseball fans: Mike Trout needs to be liberated from the Angels. The cry has been heard again in recent days, with the Angels crashing into last place in the American League West.
If Trout were desperate for liberation, he would not be here. He likes the Angels, from the owner to his teammates. He believes he can win here. He approached free agency twice, and each time he signed a contract extension in Anaheim.
What if Shohei Ohtani does not feel the same way?
With the Angels teetering toward another lost season, and with Ohtani emerging as baseball's must-see attraction, that question looms larger by the day. At the end of this season, Ohtani will be two years from free agency: the time when Trout made his most recent commitment to the Angels, and the time when the Angels could get maximum trade value for Ohtani if he were not prepared to make a similar commitment.
The Angels are caught in a vicious cycle: an owner respectfully unwilling to tank, a bottom-tier minor league system, a wave of unproductive drafts, and consistently poor pitching that undermines a pretty good lineup. In the last few years, the attempted fix has been short-term contracts to fill out the rotation.
Betting lines and odds for Angels vs. Athletics on Thursday
The Angels open a four-game series with the Athletics in Oakland starting at 6:40 p.m. PDT Thursday after losing two of three to the division leaders last weekend in Anaheim.
In between, the Angels swept a short two-game home series against the last-place Texas Rangers while the Athletics dropped two of three to the Seattle Mariners.
The A's opened around -135 favorites in Las Vegas and have been bet up to -150 as of 10 a.m. Thursday with Chris Bassitt (4-2, 3.69 ERA, 1.10 WHIP) getting the start. Bassitt started the year slow, but is 4-0 in his last eight starts and the A's are 7-3 overall when he starts. He also held the Angels to just two runs in 7 2/3 innings last Saturday in a 6-2 Oakland win.
The Angels counter with Shohei Ohtani (1-0, 2.37 ERA, 1.25 WHIP), so we get to see if he can help his own cause with his bat. Ohtani didn't pitch in the series last weekend.
The Over/Under is set at 7.5 runs, which is understandable with the solid pitching matchup, but seems a tad low as the Angels are 30-19 with the Over this season (A's are 26-23-2) and breaking out for nine and 11 runs the past two days, even without Mike Trout in the lineup.
The A's are -180 favorites to win the series (must win three of four as a 2-2 split is a push and refund).
VSiN, the Sports Betting Network, offers more expert sports betting content in a free daily email at VSiN.com/email.