Melvin Gordon feels a vibe change for the 7-2 Chargers, but can they keep it going?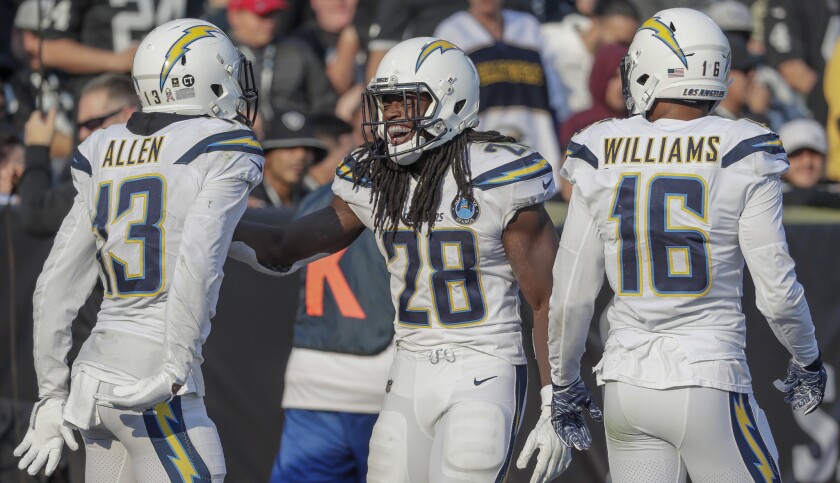 The Chargers went 4-12 in Melvin Gordon's rookie season in 2015, sprinkling one victory into each calendar month. They fizzled at the end of his second season, losing their last five games to finish 5-11. .
An 0-4 start buried the 2017 Chargers, and though they dug themselves out with nine wins in their last 12 games, a fourth-quarter meltdown at Jacksonville in an overtime loss and a lopsided loss at Kansas City kept them out of the playoffs.
The winds of fortune have shifted in 2018, a strong breeze now blowing at the Chargers' backs. The team is 7-2 and has won six straight entering Sunday's game against the Denver Broncos, L.A.'s first at home since Oct. 7.
Included in the streak are two games that lesser Chargers teams of yore would have probably lost: a 20-19 win over Tennessee in London on Oct. 21 when the Chargers broke up a Titans two-point conversion pass attempt with 31 seconds left, and a 25-17 win at Seattle on Nov. 4 when the Chargers broke up a Seahawks pass into the end zone with no time left.
The Chargers even won the NFL equivalent of a "trap game" Sunday, surviving a sluggish start in which they netted six yards on six plays through the first 19 minutes of an eventual 20-6 victory over the one-win Raiders at Oakland.
"We're just finding ways to win now," said Gordon, who has accumulated 1,033 all-purpose yards and 11 touchdowns this season. "That Seattle game … I don't know if it's the football gods or whatever, but I feel like we somehow would have found a way to lose that game.
"The Tennessee game, I feel like some way they would have gotten in [the end zone]. It's just like the tides have turned. We're making the plays that we need to make. I can't explain how or why it's happening like that, but it is."
Gordon can't pinpoint when — it was probably the Sept. 30 win over San Francisco or the Oct. 7 win over Oakland — but there was a time he sensed the energy in and around the Chargers begin to shift.
"I remember being in the locker room and I was like, 'Man, I'm feeling kind of iffy today,' " Gordon said. "Then I looked at a couple of players, I looked at Phil [Rivers] and thought, 'You know what? I can't afford to feel like this.'
"I need to tell my mind to change the way you're feeling because you got guys that looked focused, who are ready to go, who are depending on you to come out here and play like I can play."
That feeling can be contagious. The Chargers have developed a blue-collar approach under second-year coach Anthony Lynn, and as they've stacked wins their confidence has grown. They believe they will come up with big plays and win close games because they have.
But they don't appear overconfident. Practices, Gordon says, are loose but business-like. Weaker opponents are not overlooked. Players aren't distracted by outside chatter or their rise in the NFL power rankings. The focus is on going 1-0 every Sunday.
"It's just a different feel," Gordon said. "We're playing with some swag. We're playing with some energy. Everybody's on the sideline rocking, jumping up and down. I'm trying to have fun with it because I've been around these past couple of years and the energy wasn't like this."
The success and camaraderie made for an enjoyable month-long road trip. The Chargers have flown 14,653 miles since early October, winning at Cleveland, London, Seattle and Oakland, and they are no worse for the wear.
"When you're traveling like that, you have to build a bond with your teammates," Gordon said. "It's just dope, man, because I'm enjoying winning. I'm not gonna lie to you. The plane rides back from the previous years, guys were quieter, they were in their own world.
"Flying home [Sunday night], I was soaking it all in, looking at everybody laughing. Everyone was just free, loose. I was talking to [rookie running back] Justin Jackson and was like, 'Man, we gotta keep winning. It's a good feeling, a great energy.' "
Tight end Antonio Gates also senses the momentum and positive vibes but, as a 16-year NFL veteran, has a broader perspective.
Gates was on Chargers teams that won nine of their last 10 games in 2004, 10 straight to end 2006 and 11 straight to end 2009 and lost their first playoff game each season.
It is incumbent on veterans such as Gates, Rivers and offensive linemen Mike Pouncey and Russell Okung to make sure the younger Chargers remain level-headed and hungry.
"When things start going good, when you start winning these close ones and making the plays you're supposed to make, all of a sudden the confidence changes, and it snow-balls," Gates said. "But this is not our destination. This is just the road to it.
"It's up to us to keep the guys who have never been in this situation focused and committed to the ultimate prize. We understand the sense of urgency, the sacrifices you have to make, how you have to prepare, every week."
Lynn, a member of back-to-back Super Bowl-winning Denver Broncos teams in 1997-98, believes the Chargers have the right mindset.
"I feel good about the team, about the character they have," Lynn said. "I love the way they work, the way they hit the reset button and start over every single week. In this business, you have to stay in the present, man."
Etc.
The Chargers promoted linebacker Tre'von Johnson from the practice squad to replace linebacker Denzel Perryman, who was placed on the reserve/injured list because of a season-ending left knee injury suffered in Sunday's game at Oakland. Former Minnesota linebacker Jonathan Celestin was signed to the practice squad.
Follow Mike DiGiovanna on Twitter @MikeDiGiovanna
---
Get the latest on L.A.'s teams in the daily Sports Report newsletter.
You may occasionally receive promotional content from the Los Angeles Times.