Chargers offense falters again as Jaguars come back to win in overtime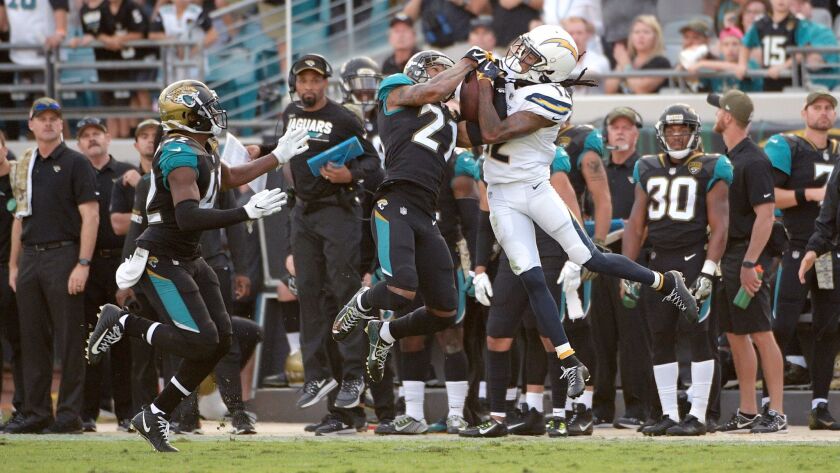 Reporting from JACKSONVILLE, Fla. —
The Chargers are staring at some "Good Will Hunting"-type math equations nine weeks into their season and, geez, do they need that janitor to walk into the locker room to figure out the problem?
A team seemingly filled with offensive talent — from the backfield to the tight ends to the receivers — cannot score enough points to win games. It has happened almost all season and, Sunday in a 20-17 overtime loss to the Jacksonville Jaguars, it happened again.
"We have to find a way to win somehow," offensive guard Kenny Wiggins said. "I don't know what the magic formula is, but we have to find a way to do it."
More than halfway through the season, the Chargers offense has greatly regressed from a season ago despite having healthier and seemingly more talented players available.
In 2016, the Chargers scored 21 points or less seven times. Sunday was the seventh time it has happened in nine games this season.
"We've got to catch better. We've got to throw better. We've got to block better — the basic fundamentals," coach Anthony Lynn said, listing the symptoms of the offense's disease. "It's a dropped pass here, a couple tipped balls. We had guys wide open and the ball gets tipped. Sometimes, those things are going to happen, but it's happening too often. We may have to move the pocket. We may have to do some things differently.
"But it wasn't good enough today."
Adding to the problems, the Chargers had two weeks to find ways to attack the Jacksonville defense and figure ways to be better on offense. And while the offensive line didn't allow the Jaguars to sack Philip Rivers once, the team whiffed on far too many big plays.
Rivers overthrew Travis Benjamin early in the second quarter on a pass that was close to being a 36-yard touchdown. Instead, it was an incompletion. Later, Rivers had receiver Tyrell Williams open on a deep ball that somehow slid through his arms. It, too, could've been a touchdown.
"When we're doing what we're supposed to be doing and playing our style of football, we're tough to handle," tight end Antonio Gates said.
But nine games in, it's not clear exactly what the Chargers are trying to do.
Sunday, they ran the ball 30 times for only 87 yards, their longest rush coming on a sweep by Benjamin — not Melvin Gordon or Austin Ekeler — for 13 yards. Keenan Allen also had a six-yard rush — a longer gain than on any of Gordon's 16 carries.
Ekeler and Gordon dominated the passing attack, combining for 13 targets. That's more than Tyrell Williams, Mike Williams, Hunter Henry and Gates combined.
In scoring just 14 points Sunday, the Chargers offense head-scratchingly seemed to run the ball better with its wideouts and pass better with its running backs.
After vowing to find ways to put the ball in the hands of the team's top playmakers during the bye week, Allen had only four catches e and Henry had only two passes come his way.
"We just can't get going. … It's frustrating," Henry said.
The problems showed up in the biggest moments — late in the fourth quarter and overtime.
After taking a 17-14 lead with 10 minutes 38 seconds left in regulation, the Chargers ran 15 plays through the end of regulation and overtime. They picked up just one first down. They turned the ball over twice. They gained a woeful 26 yards.
One more first down, one more completed pass and …
"Game's over," Lynn said. "It's very frustrating when you can't end the game on the field with your offense like they did in the Oakland game. It's very frustrating. We had two or three opportunities to put it away."
Instead, the Jaguars found the way.
"All we needed to do was get a first down and didn't," Rivers said. "Both sides of the ball had their chances, and we didn't finish. The defense did its part."
The offense didn't — again — and the Chargers paid the price.
Twitter: @DanWoikeSports
---
Get the latest on L.A.'s teams in the daily Sports Report newsletter.
You may occasionally receive promotional content from the Los Angeles Times.