Hyun-Jin Ryu leads Dodgers to 3-0 victory over Cardinals in Game 3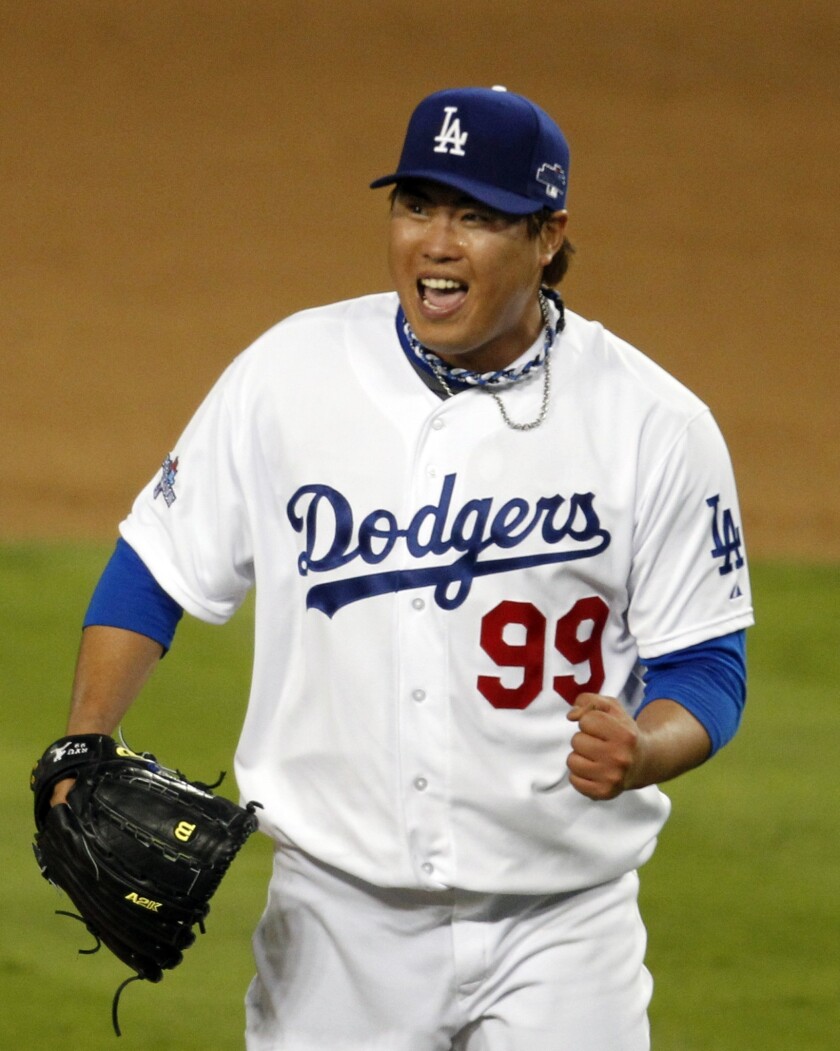 Truth is, the Dodgers could not be certain what to expect when Hyun-Jin Ryu took the mound to start Game 3. Not after his disastrous previous outing in the playoffs, and then there was the concern he was hiding an injury.
They just knew they needed a strong start from Ryu to keep the Dodgers from looking at an 0-3 hole in the National League Championship Series.
Ryu not only gave them a strong outing, he gave them the outing of his life, holding the Cardinals scoreless in his seven innings as the Dodgers took Game 3 with a 3-0 victory Monday at Dodger Stadium to get back in the series.
Ryu no-hit the Cardinals through the first four innings, and gave up only three hits on the night. He struck out four and walked one.
BOX SCORE: Dodgers 3, Cardinals 0
This was a long way from the left-hander who was chased after three innings in his divisional start against the Atlanta Braves.
The victory leaves the Dodgers down two games to one in the best-of-seven series. Game 4 is scheduled Tuesday here at 5 p.m. PT.
The Dodgers got a lift when Hanley Ramirez (cracked rib) and Andre Ethier (ankle) gutted out injuries to return to the lineup.
The Dodgers scored twice off Adam Wainwright in the second on a RBI double by Adrian Gonzalez and RBI triple by Yasiel Puig. They added one more in the ninth on a run-scoring single by Ramirez.
Here is an inning-by-inning recap of Game 3 of the NLCS:
Dodgers 3, Cardinals 0 (final):
Kenley Jansen picked up the save and completed the shutout, retiring the Cardinals in order.
The Cards finished with just three hits.
Dodgers 3, Cardinals 0 (end of eighth):
The Dodgers added one more against the Cardinals' bullpen. Carl Crawford singled with one out and the Cardinals went to reliever Seth Maness. Mark Ellis singled Crawford to second and then Hanley Ramirez dunked a little bloop hit in shallow center.
Crawford, showing some Yasiel Puig in him, rounded third and head home as second baseman Kolten Wong fielded the ball and fired to relay man Daniel Descalso. He threw a strike to the plate, but Crawford just slid under Yadier Molina's tag.
Dodgers 2, Cardinals 0 (middle of eighth):
Brian Wilson took over for Hyun-Jin Ryu to start the inning and immediately gave up a leadoff single to Jon Jay. One of those nervous Wilson outings?
Nope, Wilson got the next three consecutive Cardinals, including two looking at called strike threes.
The Dodgers now have it set up for Kenley Jansen to save it in the ninth.
Dodgers 2, Cardinals 0 (end of seventh):
Things are moving at pretty crisp clip right now. Yasiel Puig picked up a leadoff single, but was erased on a double play. A.J. Ellis then quickly bounced out to third and it was on to the eighth.
Brian Wilson has come in to relieve Hyun-Jin Ryu. He went seven outstanding innings, holding the Cardinals scoreless on three hits and a walk, striking out four.
Dodgers 2, Cardinals 0 (middle of seventh):
The Cards got a one-out single from Yadier Molina, center-fielder Andre Ethier just short-hopping the ball. A completely healthy Ethier probably get the ball.
Daniel Descalso bounced to Adrian Gonzalez, who fired to second for the force. Manager Don Mattingly made a visit to Hyun-Jin Ryu, but left hm in to face Matt Adams. Ryu made it look wise, striking out Adams.
Ryu, however, is at 108 pitches and the Dodgers have pitchers up in the bullpen, so that's likely it for the left-hander. All he's done is hold the Cardinals scoreless for seven innings on three hits.
Dodgers 2, Cardinals 0 (end of sixth):
Adam Wainwright quickly retired the Dodgers in order.
Through six innings, Wainwright has thrown 81 pitches (52 strikes) and Hyun-Jin Ryu 87 (55 strikes).
It was announced that Cardinals third baseman David Freese left the game in the fifth with right calf tightness. He's joins the ever-popular day-to-day list.
Dodgers 2, Cardinals 0 (middle of sixth):
Hyun-Jin Ryu was back in control, retiring the Cardinals in order.
Through his six innings, he has allowed two hits and a walk.
Dodgers 2, Cardinals 0 (end of fifth):
The Dodgers' new offensive strategy: hit it to center-fielder Jon Jay.
This time A.J. Ellis tripled off the glove of Jay. That's right tripled. He sat on the base awhile, looking quiet exhausted. It matched the number of triples he hit all season.
The Dodgers, however, were unable to capitalize on the leadoff triple. Adam Wainwright the next three consecutive Dodgers.
Dodgers 2, Cardinals 0 (middle of fifth):
David Freese broke up Hyun-Jin Ryu's no-hit bid with a leadoff single. Yasiel Puig made a diving attempt but could not quite glove the ball. Freese, however, apparently hurt himself in a swing during his at-bat. After Matt Adams singled, Daniel Descalso pinch ran for Freese at second.
That left two on with no outs, but when Jon Hay his a soft liner to shallow left, Descalso broke for third. Which was a very bad idea.
Carl Crawford, who has very good speed, easily tracked the ball down and threw to second to double up Ddscalso.
Dodgers 2, Cardinals 0 (end of fourth):
Mark Ellis led off with a well hit ball into the right-center gap that still should have been caught. But center-fielder Jon Jay stopped tracking the ball at the last moment, apparently thinking right-fielder Carlos Beltran would catch it.
Hanley Ramirez then lined out to deep right, enabling Ellis to tag and take third. With the corners infielders playing in, Adrian Gonzalez looped a soft hit over first baseman Matt Adams that fell for a double to score Ellis.
Gonzalez took third when Andre Ethier bounced out to second and scored when Yasiel Puig tripled off the right-field bullpen.
For Puig, who was 0-for-11 with seven strikeouts in the series, it had to be great relief. He stood on third and bounded his hands together.
It was only the second of their 26 NLCS innings the Dodgers have scored.
Dodgers 0, Cardinals 0 (middle of fourth):
Hyun-Jin Ryu still has his no-hitter going through four innings. He has walked one. He did receive some nice defensive help in the fourth when first baseman Adrian Gonzalez made a nice stab of a well hit bouncer by Matt Holliday.
He has now retired 11 consecutive Cardinals.
Dodgers 0, Cardinals 0 (end of third):
The Dodgers remain in their offensive slump in the early going. They've managed one hit through three innings after being retired in order in the third.
After three innings, Hyun-Jin Ryu and Adam Wainwright have each thrown 44 pitches.
Dodgers 0, Cardinals 0 (middle of third):
Another easy inning for Hyun-Jin Ryu, who retired the Cardinals in order. He's now retired eight consecutive and has yet to allow a hit.
By this time in his last start, he had given up four runs and was done for the night.
Dodgers 0, Cardinals 0 (end of second):
That was a pretty unimpressive inning for the Dodgers, who failed to hit the ball out of the infield.
Yasiel Puig was called out on strikes on a pitch he thought was low. Puig is now 0-for-11 in the NLCS with seven strikeouts.
Andre Ethier bounced out in his first at-bat and did some kind of weird skip just before reaching the first base bag. He limped some returning to the dugout, but went back out to center to start the third.

Dodgers 0, Cardinals 0 (middle of second):
This is not looking anything like the last Hyun-Jin Ryu the Dodgers saw.
He is throwing first-pitch strikes, and after retiring the Cardinals in order in the second, has yet to allow a hit.
Dodgers 0, Cardinals 0 (end of first):
Hanley Ramirez came to bat for the first time with two outs and blooped single that fell between second baseman Matt Carpenter and center fielder Jon Jay.
Adam Wainwright was able to get Adrian Gonzalez on a little flare to Carpenter for the third out, but at least Ramirez had a mini-successful return at the plate.
Dodgers 0, Cardinals 0 (middle of first):
Hyun-Jin Ryu made it throug the first unharmed, which is sort of progress.
Ryu, who lasted only three innings in his division start against the Braves, walked Carlos Beltran with one out but otherwise had no trouble.
That's a good sign because Ryu had allowed a first-inning run in 19 of his 31 starts.
Pregame:
It's a call to arms, also ankles and rib cages.
The Dodgers will tape themselves together and try to salvage the National League Championship Series Monday night, sending out the best lineup they can. Some may limp and moan out to positions, but it will be their regular lineup.
Hanley Ramirez, wearing something approaching a flak jacket, is going to try and play through a cracked rib. He was hit by a pitch in the opener in his first at-bat. He sat out Game 2, and his wild as it seems, will try to play. The Dodgers best have some amazing pain medication.
Ramirez announced he would try to play first, which may have put some pressure on Andre Ethier to play through his shin splint-like symptoms above his left ankle. Unlike Ramirez, however, Ethier's main problem is not swinging a bat but being able to explode defensively and chase balls down in the gap.
Ethier said his message to Manager Don Mattingly was simple: "Strap it up and go."
And then see what happens.
The Dodgers can't know how much their walking wounded can do until they try. If it becomes too much, then come the reserves.
When you're down 0-2 and facing St. Louis ace Adam Wainwright, you do whatever you can. It's a desperate time, and if playing Ramirez and Ethier smacks of desperation, it's what teams do in these situations.
The Dodgers will send out left-hander Hyun-Jin Ryu, whom the Dodgers claim is healthy, not counting a bruised psyche after lasting only three innings in his previous playoff start.
---
Get our Dodgers Dugout newsletter for insights, news and much more.
You may occasionally receive promotional content from the Los Angeles Times.