Dodgers reportedly to hire Athletics' Farhan Zaidi as general manager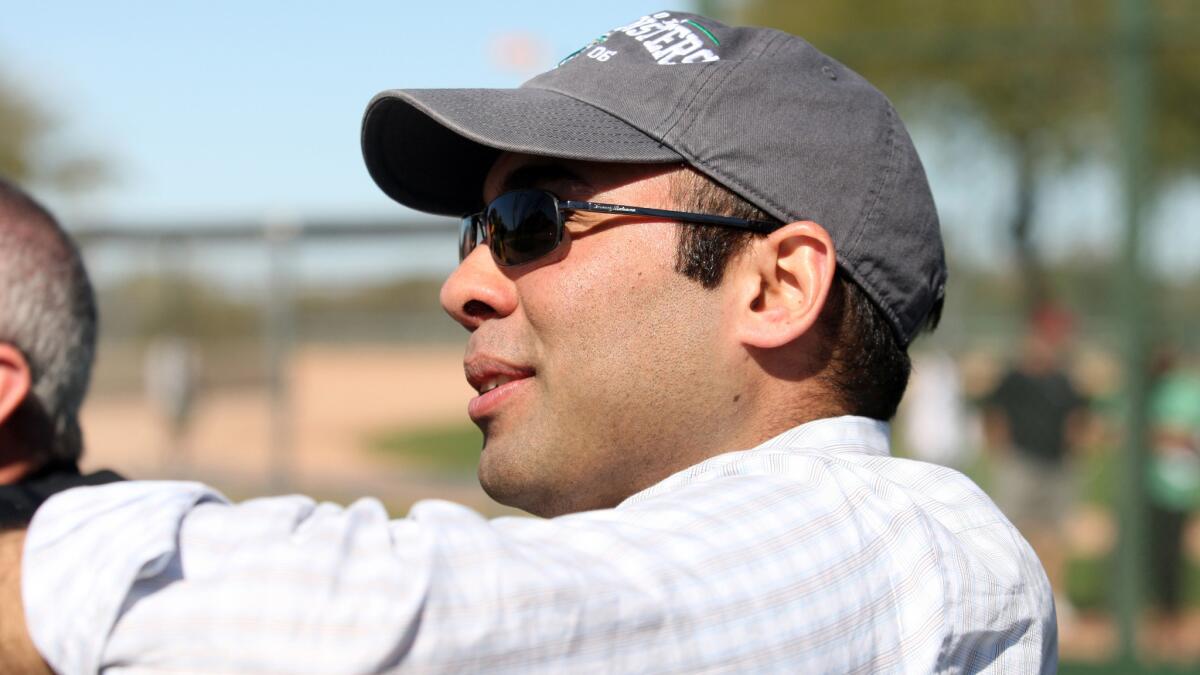 Oakland Athletics assistant general manager Farhan Zaidi will be named the Dodgers general manager, according to people familiar with the situation who spoke under the condition of anonymity because a formal announcement isn't expected to be made until later this week.
Zaidi, 37, has a bachelor's degree in economics from MIT and a doctorate in the same subject from UC Berkeley. His hiring should bolster the analytics program championed by Andrew Friedman, the team's new president of baseball operations.
Zaidi won't be the only major addition to Friedman's front office in the coming days, as the Dodgers would like for most of their major positions to be filled before the general managers' meetings in Arizona next week.
Josh Byrnes, the former general manager of the Arizona Diamondbacks and San Diego Padres, will be a senior executive.
The Dodgers are in talks with Padres scouting director Billy Gasparino, as well as former major league outfielder Gabe Kapler.
Gasparino could succeed the departed Logan White as scouting director. White moved to the Padres last month. Farm director De Jon Watson also left the Dodgers this off-season, to become the vice president of baseball operations for the Arizona Diamondbacks.
Zaidi's move to the Dodgers comes as something as a surprise, if only because the Athletics have managed to retain most of their leading front office members in recent years. Zaidi worked with the Athletics under Billy Beane for the last 10 years.
Zaidi has a particularly unique background. He is of Pakistani descent and was born in Canada as the son of a British-educated engineer. He was raised mostly in the Philippines, where he played Little League, and is one of few Muslims in baseball.
Speaking to The Times this year, Zaidi said his fondness for the analytic side of baseball started to develop when he was in grade school and picked up a copy of "The Bill James Baseball Abstract" in a bookstore.
"I bought that book each year and I basically carried it around with me everywhere," Zaidi said. "Then I think the bookstore realized there was only one customer for the book and they stopped carrying it."
With the Athletics, Zaidi provided statistical analysis for evaluating players available on the free-agent and trade markets, as well as the draft. He played a major role in the Athletics' signing of Yoenis Cespedes in 2012.
He also assisted on arbitration cases and worked with the coaching staff to analyze scouting reports.
"Coming from economics and sort of my background in academia, I've developed a little bit of a contrarian nature," Zaidi said.
He said that was an asset in an Athletics' front office that included executives with diverse educational backgrounds.
"As a group we are less prone to just let assumptions stand and let opinions go unopposed," he said.
Zaidi is a firm believer in collaboration.
"Whether you're an analyst or whether you're a player-development instructor or whether you're a coach on the big league staff, there's no one vantage point that will lead you to every answer," he said. "So again, it comes back to the fact that it's a collaborative process.
"When you get to that place where everybody appreciates and knows that they don't have all the answers, that there's really a true exchange of information and it's not just going one way, that's sort of an atmosphere we've been able to cultivate. And I think that's part of the reason we've been successful."
Follow Dylan Hernandez on Twitter @dylanohernandez
Get our Dodgers Dugout newsletter for insights, news and much more.
You may occasionally receive promotional content from the Los Angeles Times.