Juan Uribe to miss meeting Dodgers in postseason because of chest injury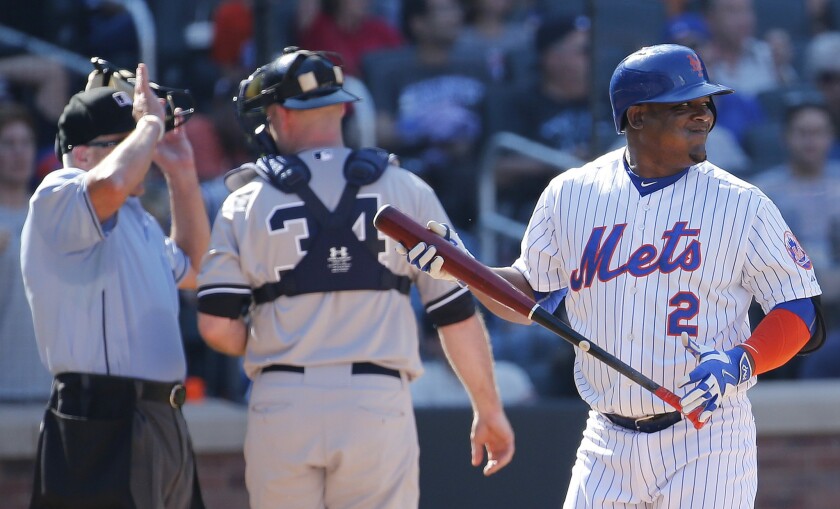 In May, when the Dodgers traded popular third baseman Juan Uribe to the Atlanta Braves, Braves second baseman Kelly Johnson was on the disabled list.
Shortly after, when he returned, Johnson introduced himself, hoping to make Uribe feel more comfortable on an unfamiliar team.
"It had only been a couple weeks for him," Johnson explained.
When Johnson stepped into the clubhouse, he found Uribe was already treated like an elder statesman.
"He was already at home, making everybody laugh," Johnson said. Overnight, Uribe had become one of the clubhouse's most respected members. Johnson saw the same happen when he and Uribe were traded to the New York Mets in July.
So the news that Uribe will miss the National League divisional series because of a chest injury came as a disappointment, to both clubhouses, in a way.
"We were all hoping to have him," Johnson said. "He's kind of a bridge between everybody."
The Dodgers held Uribe in such high esteem that they still held a Juan Uribe Bobblehead Night, even after he'd been traded away. On Thursday, Dodgers outfielder Enrique Hernandez said he'd been looking forward to seeing Uribe again.
"He's a guy that's extremely respected in this clubhouse," Hernandez said.
For the Mets, the loss of Uribe deprives them of their biggest source of postseason experience.
The Mets' entire roster has a combined 299 postseason at-bats. Uribe alone has 157.
And he'd gotten the best of his former team earlier in the season. Uribe had five hits in 14 at-bats with three runs batted in in six games against the Dodgers this season. Noting that, Hernandez said that, although he was happy to see Uribe again, he was also "happy that he's not going to play. Because last time he played against us, he killed us."
One Mets player the Dodgers may encounter is left-handed starter Steven Matz. Matz, who has been sidelined because of back spasms, threw 80 pitches in a simulated game at the Mets' spring training facility in Florida on Thursday.
If he is healthy enough to be added to the roster, Matz would be the Mets' probable starter in Game 4 and the rotation's only left-hander.
Matz said he would leave the decision to the team, but he told MLB.com that he felt "a little rusty in the first couple innings, but felt really good, finished strong, arm feels great, back feels great, so I'm ready to go."
Mets Assistant General Manager John Ricco called Matz's start "encouraging," but said that the team will "wait and see how he feels tomorrow morning" before finalizing the roster.
Follow Zach Helfand on Twitter @zhelfand
---
Get our Dodgers Dugout newsletter for insights, news and much more.
You may occasionally receive promotional content from the Los Angeles Times.