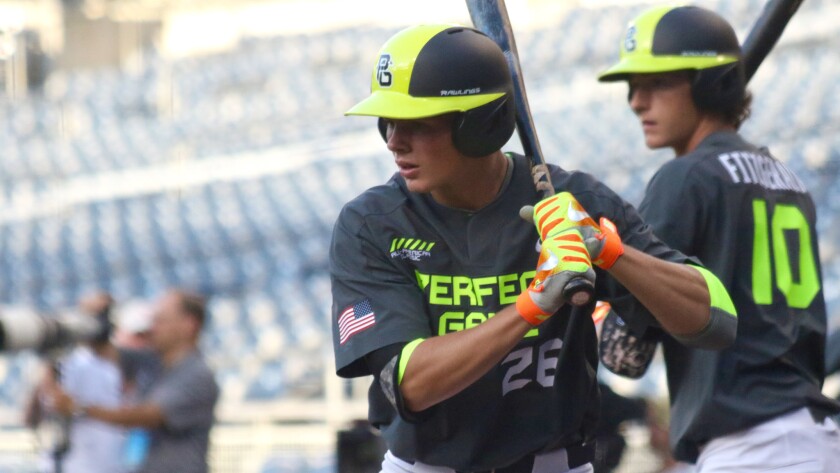 Reporting from San Francisco —
One day last fall, months before he became a first-round draft pick, Gavin Lux sought the opinion of his uncle. Augie Schmidt was a first-round pick in 1982 and had spent nearly three decades coaching Carthage College in their hometown of Kenosha, Wis. Lux longed to play professional baseball, but he had heard rumblings about his scrawny frame and physical immaturity. He wanted his uncle's take.
Schmidt was honest. Lux was committed to play baseball at Arizona State. That path made sense, Schmidt told his nephew. He should go to college.
"I really thought he was going to have to go mature and get stronger," Schmidt said. "And he didn't like that answer. He decided he was going to go work. He wanted it so bad. It's amazing what he's done to his body and the strength he's added in the last four months."
His lineage prepared him for the mental rigors of the game. His skills were transcendent in the relative dead zone of the Badger State. And his desire drove him to increase his dedication to weight lifting, impressing scouts along the way as his strength manifested at the plate.
Lux had experienced a growth spurt midway through high school, but it wasn't until his senior season that his coordination and power matched his 6-2 frame. Hours after the Dodgers chose Lux with the 20th pick in the Major League Baseball draft, scouting director Billy Gasparino suggested Lux had added about 25 pounds since the fall. The Dodgers listed him at 175 pounds, and suggested his maturation would only continue.
"One of the things we were impressed with was just how much strength he's put on in the last six months," Gasparino said on a conference call on Thursday night.
Gasparino expressed his confidence that Lux could stick at shortstop. He hit .531 as a senior at Indian Trail High School.
During the winter, Lux ventured 30 minutes from his home to a baseball facility in a town called Caledonia. He occasionally shared a cage with Dodgers catcher A.J. Ellis, who noticed his "athletic swing" and his ability to spray line drives across the diamond. The other day, Ellis saw a picture of Lux taken recently.
"You could tell that he had put some weight on, and grown out of that wiry, high school body," Ellis said. "He's definitely headed in the right direction."
A year after failing to sign first-round pick Kyle Funkhouser, the Dodgers will attempt to sign Lux as the draft winds down this weekend. Major League Baseball allotted a $2,316,300 bonus for the 20th pick. The Dodgers' overall pool of draft money is $9,273,900, which they must use to also sign compensatory first-round picks Will Smith, a catcher from the University of Louisville, and Jordan Sheffield, a pitcher from Vanderbilt.
As a high school player, Lux possesses more leverage than his college brethren. But he sounded eager on Thursday to start his career. He grew up in the game, spending hours assisting with his uncle's team at Carthage.
Lux blended into the program. He aided as a bat boy and became so attached to the players he cried when they graduated. As he grew older, he became "just one of the guys," Schmidt said.
"Never once did I call him and ask him if he wanted to hit or come to practice," Schmidt continued. "My rule was he always asked me. And he didn't even know that was my rule. He asked me pretty much every day."
From a young age, Lux displayed soft hands and quickness in the field. He could handle the challenge of shortstop without much difficulty. "Defensively, he was so much further along than any other kid he was playing with," Schmidt said.
As a Blue Jays farmhand, Schmidt marveled at the looseness and vibrancy of All-Star shortstops like Alfredo Griffin and Tony Fernandez. He hoped to imbue his nephew with some of those qualities, stressing to Lux the importance of making plays on the run and utilizing his athleticism.
An affinity for defensive flair was not the only quality Schmidt transferred onto Lux. Schmidt was open about his struggles in the game, and his inability to reach its highest level.
In 1982, Schmidt won baseball's Golden Spikes Award, given annually to the nation's best amateur player, for his exploits as a shortstop at the University of New Orleans. Toronto chose him with the second pick of the draft.
He toiled for five seasons in the minors. He hit .238 in triple-A and walked away in 1986. The concept of failure consumed him, he explained. He could not handle it. Schmidt did not hide the reality from his nephew.
"He's never been sheltered from the fact that pro ball is hard," Schmidt said. "It's really tough. We talked more about dealing with success and failure, and what the game's going to throw at you.
"I had a talk with him the other day. I said, 'You think you're ready for the beating you're going to take?' He understood what I was talking about. He knows that there's days when baseball just kicks the crap out of you."
Lux welcomed the challenge. He dedicated himself to the pursuit heading into this spring, transforming his body in the process. On Thursday, Lux made clear he hopes to sign with the Dodgers.
"He just wants to know when his next game is," Schmidt said. "He's a ballplayer. He'll let everybody else figure out the logistics, and all that."
andy.mccullough@latimes.com
Twitter: @McCulloughTimes
---