Adrian Gonzalez back in Dodgers lineup, wants to stay there for duration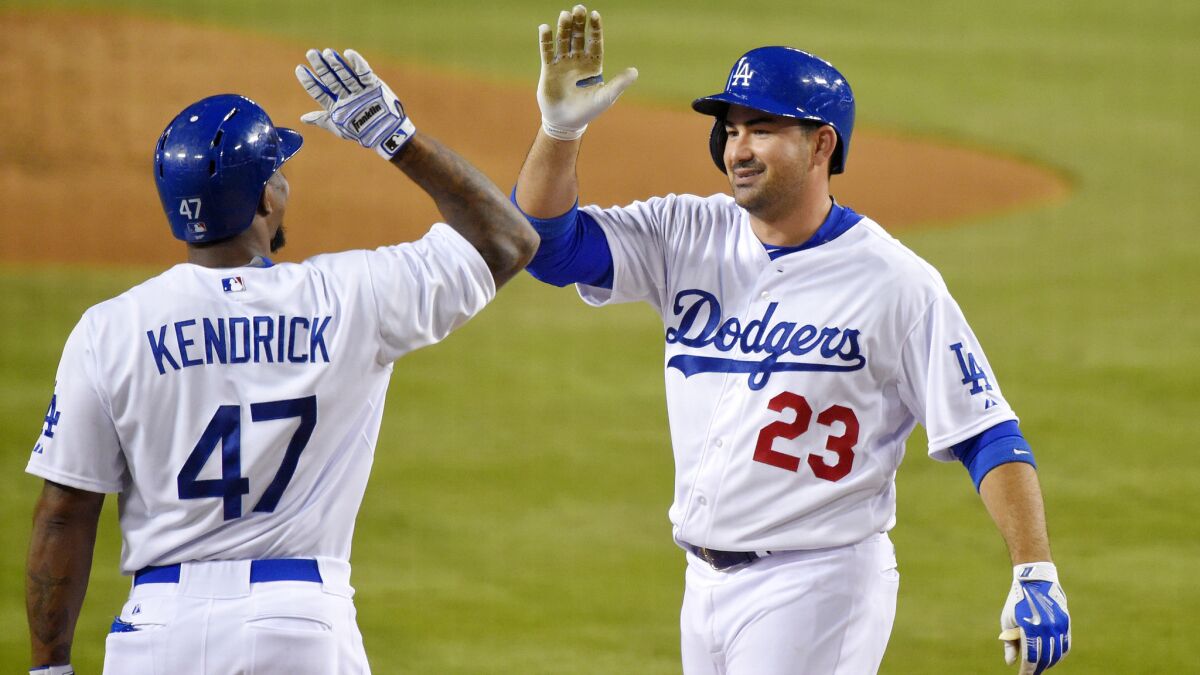 Reporting from Denver —
As Adrian Gonzalez prepared to return to the Dodgers lineup Friday, he downplayed the severity of the back problem that relegated him to a pinch-hitting role the previous day.
"It doesn't feel as bad as you make it seem," he said.
Gonzalez, who leads the Dodgers with 28 home runs and 88 runs batted in, said that he wouldn't play if he thought he couldn't do so effectively.
"It's not bad," he insisted. "I can still play."
While categorizing his back problem as "a nick," the All-Star first baseman acknowledged it's been the source of some discomfort over the last week. A disk in the lower part of his back is pinching a nerve, affecting his left leg.
"My whole left side — my hamstring, my calf, my quad — everything feels weak and kind of dead, in a sense," he said. "When I'm hitting, I feel like I have no backside. When I'm running, I feel like I can't really push off my left leg."
But Gonzalez wants to remain in the lineup, even after the Dodgers are officially crowned the champions of the National League West.
Part of that is because he wants them to finish the regular season with a better record than the New York Mets, which would give the Dodgers home-field advantage in the likely NL division series between the teams.
Gonzalez also thinks the final week or so of the regular season could help him prepare for the postseason.
"I'm trying to get to a point where I feel great going into the playoffs," he said. "So I'm tweaking things every at-bat, every day, to look for that feel that I can carry into the playoffs."
Gonzalez went into Friday batting a modest .233 this month, but he wasn't concerned.
"I'm not so concerned about my statistics," he said. "I'm more concerned about finding a feel."
Gonzalez said his preference would be to start each of the remaining regular-season games.
"Like last year," he said. "Once we clinched, I played every day. After three at-bats, if it wasn't a close game, I came out.
"I think we still have to keep our minds sharp. We don't want to start putting it in cruise control because we won the division. We want to be able to go into the playoffs with a playoff mentality."
Extra bases
Sidelined utilityman Enrique Hernandez had a "heavy" workout at the Dodgers' spring-training complex in Arizona, Manager Don Mattingly said. If Hernandez doesn't experience any setbacks Saturday, he could return to the Dodgers "pretty soon," Mattingly said. . . . The Dodgers released right-hander Mat Latos, whom they had designated for assignment last week. . . . Eight Dodgers have 10 or more home runs. That number could increase if Howie Kendrick homers before the end of the regular season. The only time the Dodgers had nine players with 10 or more home runs in a season was in 2004.
Twitter: @dylanohernandez
---
Get our Dodgers Dugout newsletter for insights, news and much more.
You may occasionally receive promotional content from the Los Angeles Times.