Dodgers bound for awkward ceremonies at Wrigley Field as Cubs celebrate World Series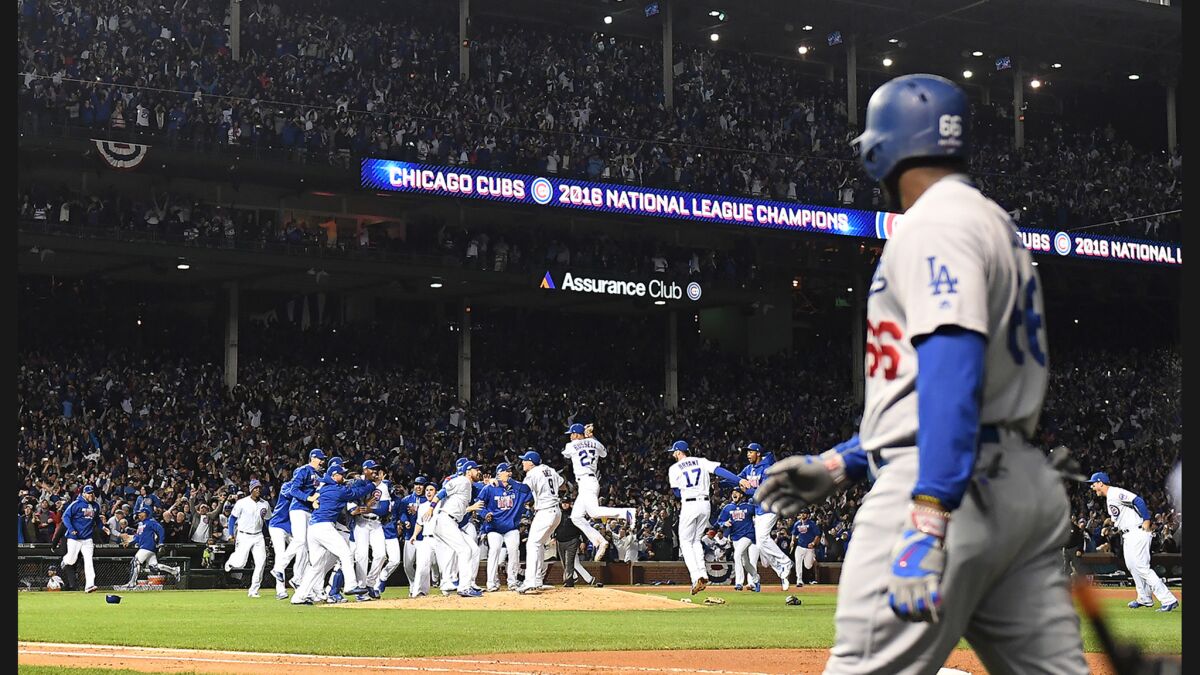 Reporting from Denver —
The Dodgers will attend a party thrown partly at their expense on Monday at the Cubs home opener. After 108 years without a World Series championship, the Cubs will raise the banner they earned in October, after blazing a path that included defeating the Dodgers in the National League Championship Series.
Two days later, the Dodgers will be subjected to another ceremony when the members of the 2016 Cubs will be awarded their World Series rings.
Manager Dave Roberts admitted he was not exactly looking forward to watching the festivities.
"Is it good to see, inspiring? No," Roberts said. "I don't think it's inspiring. I think it's great for the Cubs. It's great for their fans. It's been a long time coming. I think it's great for baseball.
"But for our players, I think it's individual. You've got to ask each guy. To be on the line for 45 minutes, to watch the ring ceremony, when it's 40 degrees, I don't know how comfortable or inspiring that will be."
The Dodgers held a 2-1 lead in the NLCS after a pair of strong starts by Clayton Kershaw and Rich Hill. But the team stumbled through the next three games, and the Cubs waffled Kershaw in Game 6 at Wrigley Field. The Dodgers felt enough confidence in their team to bring back for 2017 21 members of the 25-man roster from that series.
Baez might be delayed
Pedro Baez pitched on Friday and Saturday as he began a rehabilitation assignment for his right wrist contusion. Roberts had indicated on Saturday that he expected Baez to rejoin the Dodgers during this series against the Cubs. On Sunday, he altered the team's stance, explaining how Baez may need to complete a multi-inning stint before he leaves the disabled list.
The decision will depend on how much Roberts taxes his bullpen on Sunday and Monday. Alex Wood is slated to start on Monday in place of Hill, who is disabled because of a blister on his left middle finger. Roberts said Baez likely would not be activated until Wednesday, or perhaps as late as next weekend against the Diamondbacks.
Twitter: @McCulloughTimes
---
Get our Dodgers Dugout newsletter for insights, news and much more.
You may occasionally receive promotional content from the Los Angeles Times.