Kings give Devin Setoguchi a chance at a fresh start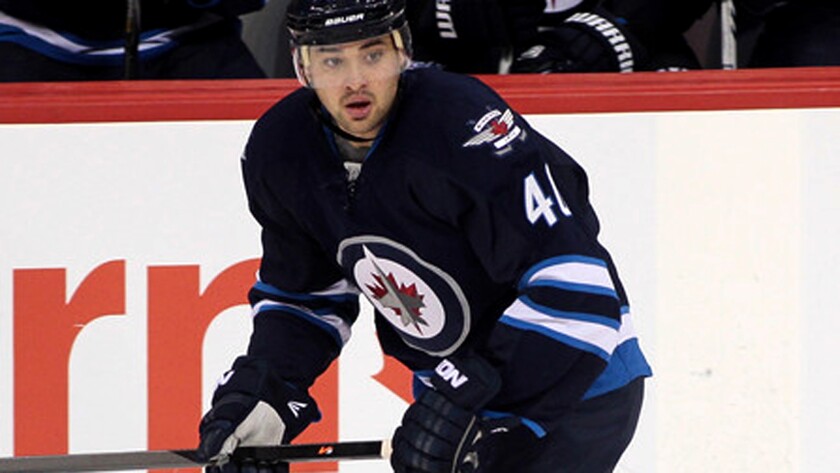 Devin Setoguchi hit rock bottom in an airport bar in St. Louis.
Hours earlier he had sworn off alcohol, which had derailed his once-promising hockey career. But then his stomach started to burn and he began coughing up blood, the result of problems brought on by his drinking.
His livelihood, his health and his future all seemed to be slipping through his fingers at the same time. So Setoguchi bellied up to the bar, crawled back into a bottle of Irish whiskey and started to cry.
His flight left without him.
Four days later Setoguchi took one final drink, then walked through the doors of a rehab center in Malibu. That was 19 months ago and Setoguchi says he hasn't had a drink since, allowing him to reclaim both his life and his health.
Now he wants his career back too. And he took what he hopes will be a big step on that road Friday afternoon when he skated with the Kings on the first day of training camp in El Segundo, less than an hour's drive from the rehab center that may have saved his life.
"I've been out of the league for a year. It's not like I can go two years out of the league and have a chance to make it next year," he said. "So yeah, this is a chance.
"Is it my last chance? Probably."
The odds against him succeeding are long ones. Setoguchi, a right wing who once made $3 million a year, is in camp on a tryout contract, which means the Kings can cut him at any time. The same is not true of many of the players Setoguchi is competing against for a spot on a team with little salary-cap space.
In other ways, however, his timing couldn't be better. With many players missing from camp because of the World Cup of Hockey, which returned this month after a 12-year hiatus, Setoguchi is guaranteed ice time. And with Milan Lucic (20 goals, 35 assists) having left as a free agent, Kings Coach Darryl Sutter finds himself trying to piece together his third and fourth scoring lines from a group of youngsters — not the kind of players Sutter generally favors.
Then there's Setoguchi, three months short of his 30th birthday, who has played 471 games in the NHL and scored 20 or more goals in a season three times with San Jose.
"He's still a really good player," said Sutter, whose younger brothers Rich and Ron recently turned their Alberta hockey school over to Setoguchi and two partners.
Setoguchi thinks that, sober, he can still be a really good player too. So earlier this month he phoned Rob Blake, a former teammate and now the Kings' assistant general manager, and asked for an opportunity to prove it.
If any team had reason to steer clear it was the Kings, who were embarrassed by off-ice incidents involving drugs and domestic violence over the last two seasons. But Blake and Kings General Manager Dean Lombardi felt Setoguchi deserved another chance.
And just as important, they felt he could help the team.
"He's gone through some tough stuff and seems to have that under control," Blake said. "So it's worth giving a look. Let him have that opportunity to play in NHL camp.
"I do like the type of player [he is]. He's fast and he can shoot. And I think where he is in his life right now is in order of committing to hockey again."
That last part hasn't come easy. As he struggled both with his addiction and with injuries, Setoguchi passed through four NHL organizations in three years before ending up last season in Switzerland, where he collected 24 points in 30 games with Davos.
Some of his problems, Setoguchi knows now, began with depression and anxiety, maladies he thinks are common, yet often hidden, in professional sports.
"Our job is based on performance," he said. "You have an expectation you have to live up to every night. When I look back on it, there's a lot of things I did when I was younger … where I can see well, there's a pivotal moment that I had.
"I feel like I could help a lot of people."
But first of all, he had to help himself.
"I'm doing pretty solid," he said Friday. "I've gone 19 months sober. I'm over a year and a half. It's been a work in progress."
Twitter: @kbaxter11
---
Get the latest on L.A.'s teams in the daily Sports Report newsletter.
You may occasionally receive promotional content from the Los Angeles Times.