Milan Lucic says it again: He wants to return to the Kings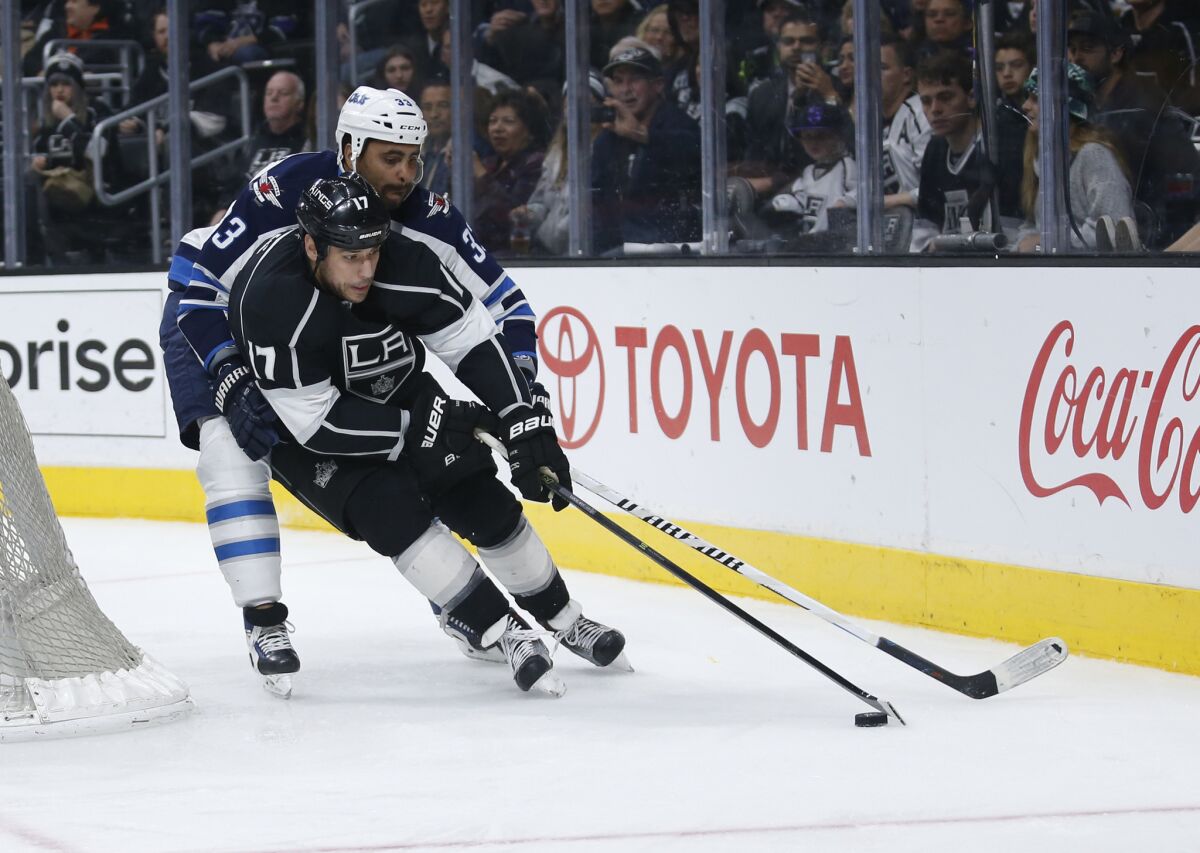 There's some good news for Kings fans, who came to appreciate Milan Lucic's upfront personality and hard-hitting style during the past season.
The big-bodied winger, who came to the Kings from the Boston Bruins in a trade last summer, reiterated Sunday a point that he made Friday night: His choice would be to continue his NHL career in Los Angeles instead of exploring unrestricted free agency, which he is eligible to do.
"To be honest, I really don't have much interest in hitting the open market, or even hearing what's out there — because in my mind, this is where I want to be," said Lucic. "Why flirt with something when you know what you want?"
Lucic's willingness to stay, at what would almost certainly be for a discount compared to what he could potentially earn as a free agent, might make negotiations on a contract extension easier for Kings General Manager Dean Lombardi. Lucic, whose salary-cap hit to the Kings was $3.25 million this last year, said he didn't think the sides were too far apart.
"Just a little bit more work to do to bridge the gap here," said Lucic. "It's something I definitely want moving forward and it's something they want too. Hopefully, we can make it work out here."
Neither Lombardi nor Coach Darryl Sutter spoke Sunday, as the team conducted a wrap-up meeting after a season that ended with Friday night's 6-3 loss to San Jose. That gave the Sharks a four-games-to-one series victory in the opening round.
As expected, Vinny Lecavalier, who joined the Kings in January from the Philadelphia Flyers, made it official — he will be retiring. Lecavalier made that promise to the Kings so that his $4.5-million salary-cap charge wouldn't linger on the books.
"I've had a lot of good moments," said a reflective Lecavalier. "One of the best was winning the Cup [in 2004, with the Tampa Bay Lightning], but to get a second chance at playing when you think you might not play again was great. This was just a really good experience for me, the last three or four months.
"I always had that confidence deep down I could still do well. It was great, and this is a great team. I know they're going to win again, just by the way they act, and the leadership group and the talent they have. It's been great."
Lecavalier plans to stay in Southern California until the end of the school year and then move back to Tampa, where he began his NHL career and developed strong roots. Backup goaltender Jhonas Enroth also plans to stay until the end of May, when the lease on his apartment runs out.
Whether he returns for another season is a matter of some conjecture now. The Kings have six unrestricted free agents and three restricted free agents with whom to negotiate contracts. Enroth didn't close the door on a possible return, but would want a larger role if that were to occur. He played only 857 minutes compared to 4,034 for starter Jonathan Quick.
"Just being a bigger part of the team is what I would like to do in the summer," said Enroth, when asked about his plans. "I really thought they were going to play me more. If you sign a guy for $1.2 million, you're not going to play him 13 games, in my opinion.
"You should play him 20 or 25. I thought I earned more games, obviously. I played pretty solid in the games I got, but I got a lot of breaks in between games too, so it's tough to get a groove going."
Among the other players — all soon to be free agents — who may have played their final games in Los Angeles are defenseman Luke Schenn and winger Kris Versteeg, who were added for depth purposes during the season, as well as defenseman Jamie McBain and forward Trevor Lewis, who has played his entire career with the Kings after being chosen 17th overall in the 2006 NHL entry draft.
By Sunday morning, the sting of Friday night's loss to the Sharks hadn't lessened much among the Kings.
"We weren't the team we needed to be in the playoffs, there's no doubt about that," said defenseman Drew Doughty. "We can use all the excuses we want, but when it came right down to it, we just didn't perform good enough. That's the bottom line. San Jose — I don't want to say they were hungrier or more determined to win, but they definitely played better than us. So yeah, it's disappointing."
Typically, the players scatter quickly. Some are heading home to Europe, some to their off-season homes. For the Kings' core players, it will be a shorter summer than usual, with the 2016 World Cup on tap for September. By then, the Kings will have sorted out the off-season business that will keep Lombardi busy in the months ahead.
"I'm sure some guys aren't going to stick around, but that's just the business of hockey," said Doughty. "It's sad to see guys go, but that's just how it is. It's unfortunate. Whatever happens, happens. Hopefully, we can have most of them stay, but if not, obviously, you have to say goodbye."
lisa.dillman@latimes.com
Follow Lisa Dillman on Twitter @reallisa
Get our high school sports newsletter
Prep Rally is devoted to the SoCal high school sports experience, bringing you scores, stories and a behind-the-scenes look at what makes prep sports so popular.
You may occasionally receive promotional content from the Los Angeles Times.