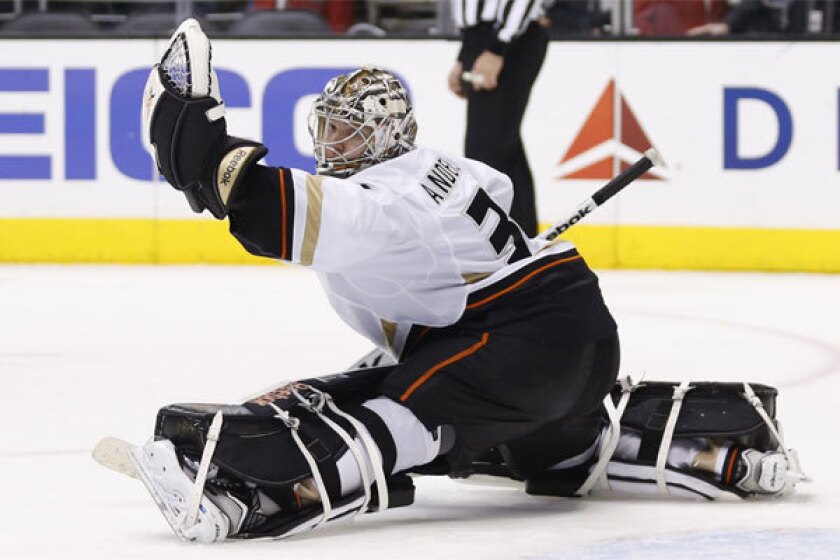 Frederik Andersen will make a third consecutive start as Ducks' goalie Wednesday night, with Coach Bruce Boudreau saying he wants typical starter Jonas Hiller to get more rest as the Stanley Cup playoffs loom.
"I was thinking [Hiller] was a little mentally tired coming back from the Olympics," Boudreau said. "A good little rest of two or three games -- or even four -- might be apropos for him to get him back where he should be."
Hiller (29-11-7) won 14 consecutive games from Dec. 6 to Jan. 12, but is 6-6-3 since and gave up four goals on 23 shots Friday night in a 4-3 overtime loss to the Edmonton Oilers, when the Ducks had 48 of 51 shots stopped by Ben Scrivens.
Hiller said he was told after leaving the dressing room following Tuesday's practice that he wouldn't start Wednesday.
"You want to play, but it's the coach's decision, part of the business," Hiller said following Wednesday's morning skate. The Ducks play Edmonton on Wednesday night at Honda Center.
"I want to play as good as possible when the playoffs start. It's been a long season. There's been ups and downs. Sometimes, with things going on, and everything that's at stake for me next year [facing free agency], sometimes it's best to take a break.
"I want to play as good as possible."
Boudreau said he also wants to see how the rookie Andersen (18-5) will fare in just his second stint of three consecutive games since a Nov. 8-12 stretch when he went 2-1 against Buffalo, Vancouver and Florida while Hiller was hurt.
"Anybody can do great things once in a while, but over time proves how good you can be," Boudreau said.
Andersen surrendered four goals in the first 31 minutes of Monday's 5-4 overtime win over Winnipeg, but rallied to make substantial saves as the Ducks mounted their greatest comeback win in team history.
Boudreau said he feels for Hiller: "If you're not playing, you're disappointed. I wouldn't expect him to be doing cartwheels."
Hiller said he doesn't know when he'll play again, but would like a chance to redeem himself in Edmonton on Sunday.
"Sometimes if things don't go well like that, you wish you can play right away," Hiller said. "All I can do is wait."
Boudreau said "there's lots of time for him to get back in a good groove," acknowledging that a strong showing in a return to Rexall Place in Edmonton could be part of that.
"I believe in that for every player ... if you kick a guy in the [rear], it's only a foot away from a pat on the back," Boudreau said. "You've got to do both to be successful."
FASTH POISED FOR START: Former Ducks goalie Viktor Fasth, traded to Edmonton on March 4 for draft picks, is scheduled to start for the Oilers Wednesday night.
Fasth won 15 games for the Ducks last season, but just two this season as groin and abdominal injuries sidelined him and allowed Andersen to take his job.
"Viktor was a great goalie for us and an even better guy," Ducks defenseman Ben Lovejoy said. "No one wants to see this guy succeed in this league more than the guys in this room. Except for tonight.
"Competitive guy, hated to get scored upon even in practice."
Fasth hasn't played since March 22 following a practice injury in which a teammate collided with him and Fasth hit his neck on a goal post.
"I've got to believe he'll be a little motivated," Boudreau said.
Conversely, Boudreau said, "I don't shoot the puck every day in practice, but maybe somebody has an inkling, 'Hey, I used to beat this guy here every time ... ,' but when he's on, he's pretty good."
ALSO:
Blacked out of watching Dodgers on TV
Former agent says he paid ex-UCLA star Tyler Honeycutt
Jonny Gomes makes a patriotic fashion statement at the White House
Twitter: @latimespugmire
---