Five takeaways from the Lakers' 113-97 win over Miami
1. Twice Kentavious Caldwell-Pope was fouled while shooting a three-pointer, and both times he knocked down all three free throws.
For Caldwell-Pope and the Lakers, that was a clear sign the shooting guard was going to be aggressive in this game against the Miami Heat and that he was going to take his shot without hesitation.
He got off 11 shots total, leading to a season-high 19 points for Caldwell-Pope off the bench in the Lakers' win over the Heat Sunday night.
He made just four of his shots, but that wasn't the point.
It was that Caldwell-Pope, who was three for five from three-point range and eight for eight from the free-throw line, was willing to be more involved in the offense.
"I've been saying for a minute now that I have to just embrace the role that I'm in now," Caldwell-Pope said. "It's about taking my shots and finding my shots in the right position."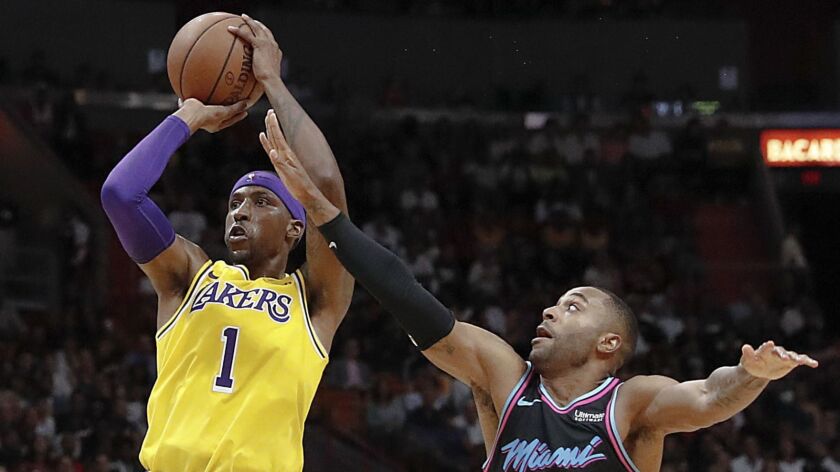 2. It was not the bounce-back game Lonzo Ball had envisioned after he went scoreless at Orlando on Saturday night.
He did score against the Heat on Sunday night, but just two points.
He missed five of his six shots and all four of his three-pointers.
"Stay confident," Ball said when asked about making shots. "Keep shooting open shots. All my shots are pretty much open because everybody goes under [the screen]. So just knock them down."
Ball was asked how much is scoring a barometer for how well he plays.
"I don't look at scoring," Ball said. "I'd rather look at wins and losses. Today we won, so it's all good."
Ball did provide the Lakers with six rebounds and seven assists.
3. The Lakers were happy with how they played defense against the Heat.
Miami shot just 40.2% from the field.
But the Heat did make 40.6% of its three-pointers, going 13 for 32, and many of the shots were open looks.
So the Lakers still have to clean that up as they go forward.
4. Taking care of the basketball was paramount for the Lakers in getting the win.
They turned the ball over just 10 times, three times in the second half.
"One way we talk about winning on the road is we can't turn it over," Lakers coach Luke Walton said. "And we did a nice job of that as well."
5. Led by LeBron James going six for eight from three-point range as a part of his 51 points, the Lakers shot 40.7% from three-point range.
They connected on 11 of 27 of their threes.
---
All things Lakers, all the time.
Get all the Lakers news you need in Dan Woike's weekly newsletter.
You may occasionally receive promotional content from the Los Angeles Times.