Lakers brass asks LaVar Ball to tone down the rhetoric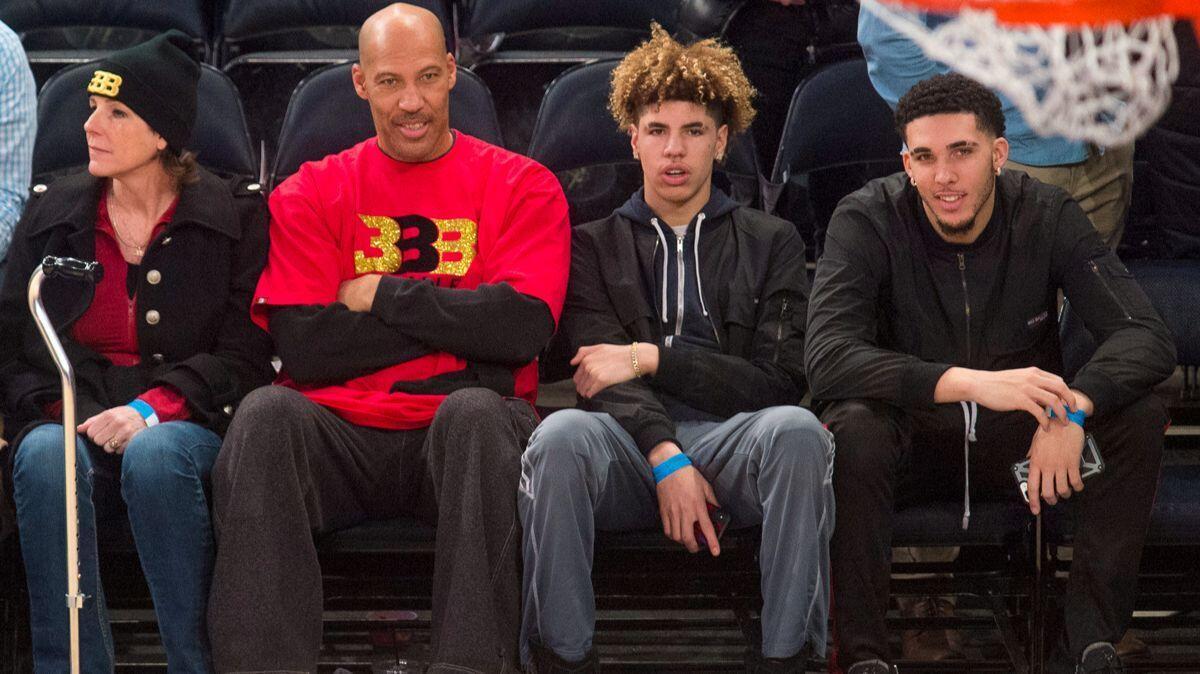 Reporting from New York —
On November 29, the same day the Lakers played the Golden State Warriors, LaVar Ball and his business manager met with Lakers president of basketball operations Magic Johnson and general manager Rob Pelinka, according to a person who was not authorized to speak publicly. The meeting followed an interview with Bleacher Report in which Ball said the Lakers coaching staff was too soft on point guard Lonzo Ball and didn't know how to properly coach him.
The Lakers wanted him to tone down the rhetoric.
"It was a good conversation," LaVar said after Tuesday's game at Madison Square Garden. "What I love about [Johnson] is just the communication that we have as a family and as friends to fix the situation they're just solutions that we throw off each other. That's all it is. The press is going to make it out like I'm trying to demean them or they're trying to demean me. And it's not.
"We're just talking, we're just talking. We're trying to do what's best for the team. That's all."
Although LaVar appreciated the chat, it did not change the way he spoke to reporters. Six days later, an interview aired on Sirius XM in which Ball detailed his concerns with the way Lakers coach Luke Walton was playing Lonzo, including the fact that he should get more playing time in the fourth quarter.
LaVar has long held that he will speak his mind when he feels it necessary.
On Tuesday, he, his wife Tina and sons LiAngelo and LaMelo sat courtside for the Lakers 113-109 loss to the Knicks. LaVar jumped out of his seat in the third quarter when Lonzo spiked in a dunk off an alley-oop pass from Kentavious Caldwell-Pope.
Lonzo said he didn't notice his father's reaction because he had to get back on defense.
"I know how he is [going crazy]," Lonzo said. "Regardless, he's always going to be turnt up. I like his energy, some people don't."
LaVar has been around the Lakers during their trip. He attended games in Philadelphia and New York. The family did a popup shop in New York on Sunday, a day off for the Lakers. Five-thousand fans attended.
The next day, LiAngelo and LaMelo Ball signed with a Lithuanian basketball club to play starting in early January.
LaVar said he will go with his sons to help them get settled, then the plan is for his brothers to remain with them.
"See, everybody had their own thought, like, 'He's just gonna ship them out there to Lithuania, and he ain't gonna do nothing,'" LaVar said. "I'm going out there. What you think? I've got to make sure the setup is right."
Etc.
Ball bumped into Caldwell-Pope during the third quarter of Tuesday's game. He left the game briefly to check on the injury and wore an ice pack just above his left knee after it. Ball said it is just a bruise. … Lonzo Ball has a fan in Knicks journeyman Michael Beasley. "I think Lonzo is awesome. … He's a great point guard. He makes great decisions. He pushes the tempo and has those guys playing and having fun. He needs to work on his shot in the summer, but other than that he does a lot of things great," Beasley said.
Follow Tania Ganguli on Twitter @taniaganguli
All things Lakers, all the time.
Get all the Lakers news you need in Dan Woike's weekly newsletter.
You may occasionally receive promotional content from the Los Angeles Times.