Lakers' Tyson Chandler says he's here to complement JaVale McGee, not compete against him for minutes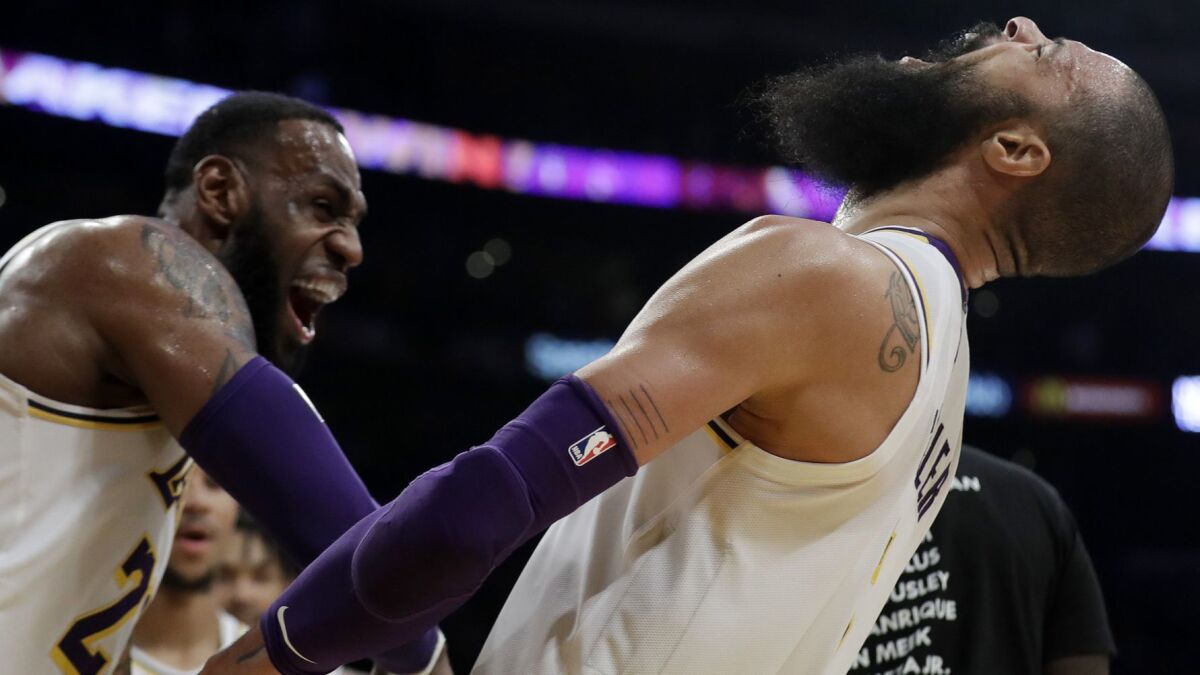 As he watched the Lakers from afar, Tyson Chandler couldn't help but be impressed with how well JaVale McGee was playing.
When they became teammates, he wanted McGee to know that.
"It's not about me and him," Chandler said. "I am not here to take anybody's job. I am here to try to make the team better. My hope is to make his job easier, so he stays fresh so he can play throughout the year and give us the type of minutes that he's giving. As well as me. The goal is for us to help each other, not go against each other."
For the first few weeks of the season, McGee was the Lakers' only consistent option at center. He started and played more minutes than he had in years. When he rested, the Lakers typically tried smaller lineups, whether their matchups called for them or not. McGee loved the team's reliance on him and excelled in that role.
With Chandler in the mix, the Lakers were able to take some pressure off McGee, which isn't something McGee wanted. But with Chandler's addition undeniably improving the Lakers, McGee isn't one to complain about it.
"I don't know if he's made it easier, I mean, my job's not hard," McGee said. "I don't want it to seem like, 'Oh I need help, ahhhh,' nah. But yeah, he's definitely helped me."
For much of his 11 seasons in the NBA, coaches have limited McGee's minutes, in part because of his asthma. It was part of the scouting report Lakers coach Luke Walton received on McGee when talking to people around the league about him.
That concern annoys McGee, who has noted over the seasons that he has never had an asthma attack while playing. He believes it's devalued him as an NBA player.
When Walton actually got to work with McGee, he saw a player who could handle heavy minutes. McGee, who hadn't averaged more than 20 minutes per game in the previous six seasons, was regularly playing more than 20 minutes this season, and three times played more than 30 minutes.
He led the league in blocked shots through the season's first 2 1/2 weeks, and now ranks second to Miami's Hassan Whiteside.
Still, the Lakers clearly needed help. They were getting dominated on rebounds and struggled defensively, especially against teams with depth at center.
Chandler had been looking for a way out of Phoenix, a team that had been rebuilding during his tenure there. With Phoenix's permission, Chandler began considering his options.
"I think it was like five teams and I narrowed it down to two," Chandler said. "And then I had to do some heavy thinking and praying, and then I can only see myself in a Lakers uniform."
Chandler said the other finalist in his decision was Golden State.
"It feels good that he chose us," Walton said. "… I'm happy he's here. Doesn't matter to me whether we got chosen over somebody else or not."
Chandler said he spoke to McGee about how well he thought McGee had been playing. He also wanted McGee to know that he wasn't after his job.
"That's the conversation, the first conversation I had because I wanted to make it known," Chandler said. "Because, again, he's balling. And I don't want to get in his way at all. Just want to come and help the team."
McGee said Tuesday that he doesn't remember that conversation, but added there isn't any awkwardness between the two.
"The ultimate goal is the team, and that's what we continue to preach," Walton said. "JaVale's fine with it."
McGee's minutes haven't diminished much since Chandler's arrival. He's still regularly logging more than 20 minutes a game. But Chandler has had some critical moments. The Lakers haven't lost since Chandler joined their team and in two of those three games, Chandler made game-saving plays in the final seconds.
"He's damn near the same player I am," McGee said. "I fit in pretty well, so I figured he would too."
UP NEXT
VS. PORTLAND
When: 7:30 p.m., Wednesday
On air: TV: Spectrum SportsNet, ESPN; Radio: 710, 1330
Update: The Lakers snapped their 16-game losing streak to the Trail Blazers on Nov. 3 with a 114-110 victory at Portland. The teams opened the season against each other and will not play again until the season finale on April 9.
Follow Tania Ganguli on Twitter @taniaganguli
---
All things Lakers, all the time.
Get all the Lakers news you need in Dan Woike's weekly newsletter.
You may occasionally receive promotional content from the Los Angeles Times.