Lakers hold final group workout before NBA draft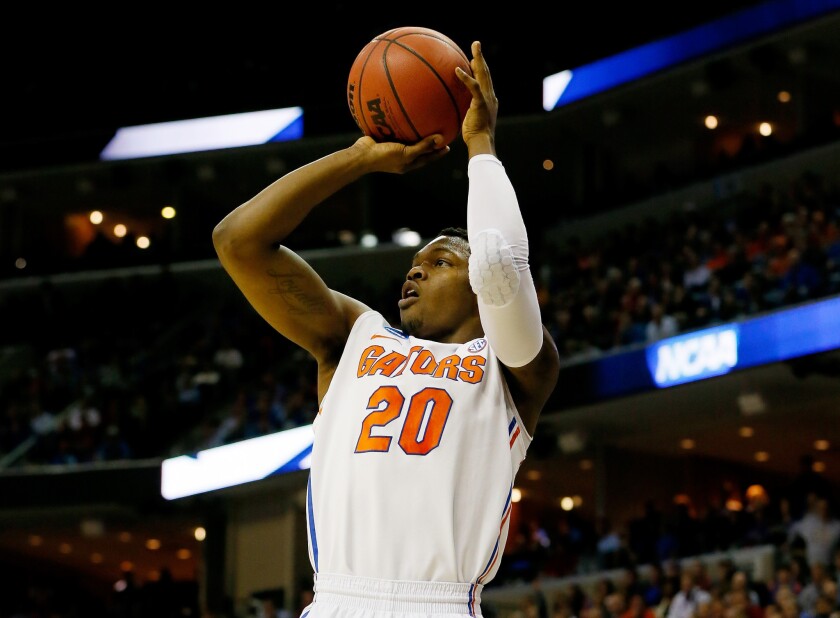 With less than a week left until Thursday's NBA draft, the Lakers put another six young players through the team's final group workout on Friday at its practice facility in El Segundo.
The Lakers will bring back Duke center Jahlil Okafor on Friday. They'll also hold additional sessions before draft day, taking second looks at other possibilities for the franchise's three picks (No. 2, No. 27 and No. 34).
The team recently gave point guard Emmanuel Mudiay a second workout in a three-on-three setting with five unnamed second-round prospects. The Lakers also gave Latvian power forward Kristaps Porzingis a private audition.
On Friday, the team looked at Florida's Michael Frazier, Louisville's Terry Rozier, Kentucky's Andrew Harrison, Georgia's Marcus Thornton, Wyoming's Larry Nance Jr. and St. John's Sir'Dominic Pointer.
Frazier likened his game to that of Bradley Beal, shooting guard with the Washington Wizards.
"We're about the same size, same athletic ability and we can both shoot the ball very well," said the 6-foot-5 junior.
Last season, Frazier averaged 12.1 points a game while shooting 38.0% from three-point range. He was even better as a sophomore, hitting 44.5% from behind the arc.
"Whoever takes me is getting the best shooter in this draft," he said.
Rozier, who averaged 17.1 points, 3.0 assist and 2.0 steals with the Cardinals, said Kobe Bryant was his all-time favorite Laker.
"He's got that dog about him. Winner's mentality -- the same way that I feel," he said.
In addition to his ability to score, Rozier said he won't back down from a challenge, especially defensively.
"Toughness -- if a coach needs me to check a certain guy, I'm willing to step up and get a stop," said the 6-foot-2 sophomore.
Point guard Andrew Harrison didn't get any tips from his brother Aaron Harrison, who worked out for the Lakers less than two weeks ago.
"We've done so many of these. It's like, I didn't even want to know," said Andrew Harrison. "I'm enjoying the process, but he didn't tell me nothing."
The 6-foot-6 sophomore averaged 9.3 points and 3.6 assists a game while shooting 37.8% from the field and 38.3% from three-point range last season.
Harrison was also a teammate of current Lakers forward Julius Randle.
Nance, a power forward, said he's hoping to impress teams with his "basketball IQ [and] high motor, that's really what I'm trying to show in these workouts."
The 6-foot-9 senior averaged 16.5 points with 7.3 rebounds a game, shooting 50.7% from the field and 34.1% from behind the arc.
His father, Larry Nance Sr., was a three-time NBA All-Star and slam-dunk champion (1984). He played power forward for the Phoenix Suns and Cleveland Cavaliers.
"He's definitely someone I'd like to be like," said Larry Nance Jr. of his father.
Thornton, a 6-foot-8, fifth-year senior who averaged 12.3 points and 7.3 rebounds a game, said he looks up to Atlanta Hawks forward Paul Millsap as a model for his style of play.
"I think a guy like Paul Millsap, undersized but very tough, continues to add things to his game every year," said Thornton. "That's the kind of guy I look at and try to emulate."
Pointer is hoping to get drafted for his defensive prowess.
"I hate being scored on," Pointer said. "I just go out there and play hard."
The 6-foot-5 small forward averaged 13.9 points, 7.8 rebounds, 2.5 blocks and 1.9 steals a game in his senior season for the Red Storm.
In total, the Lakers have auditioned 78 players, most for the 27th and 34th picks in the draft. Many will go undrafted but could be summer league and training camp possibilities.
The Lakers' remaining workouts will be closed to the media.
Email Eric Pincus at eric.pincus@gmail.com and follow him on Twitter @EricPincus.
ALSO
Quinn Cook shared his admiration for the Lakers with Jahlil Okafor
Duke guard Quinn Cook tries to show Lakers his versatility in workout
Will top NBA draft picks square off when Lakers meet T'wolves in Summer League?
---
All things Lakers, all the time.
Get all the Lakers news you need in Dan Woike's weekly newsletter.
You may occasionally receive promotional content from the Los Angeles Times.