Spotlight: Clemson, Michigan and Georgia reach for the top as Maryland bottoms out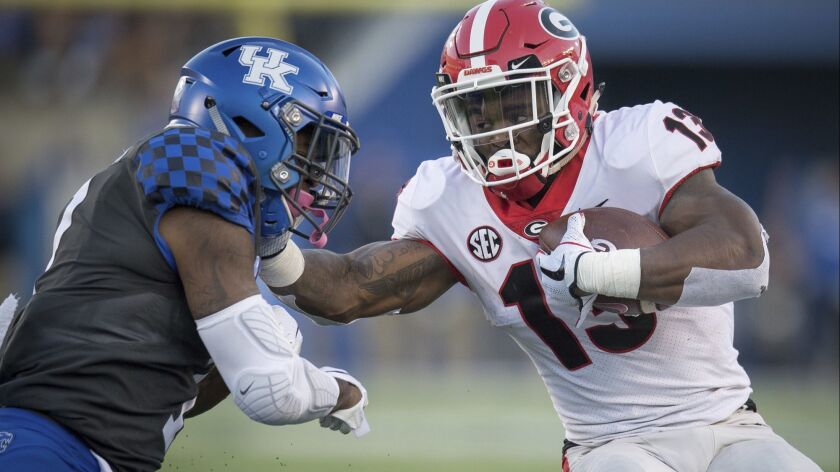 A few declarative utterances may have been made during Week 10's so-called "Statement Saturday."
Such as:
-- Georgia has bulldogged its way to Beast in the SEC status, whether or not Alabama is paying attention.
-- Clemson's ACC act is so buttoned-up, it might behoove a few major players to see if they can avoid the Tigers in one of the Dec. 29 national semifinals.
-- Michigan's penthouse tenancy in the Big Ten won't face any eviction notices from a less-than-threatening 8-1 Ohio State.
-- Texas El Paso isn't a complete loser.
-- Army commands Commander In Chief-like respect, but it has ruffled feathers elsewhere.
-- And Maryland just ain't right.
So let's prioritize.
A tumultuous week in Terrapins history was capped by a sobering 24-3 loss to visiting Michigan State, days after the school hierarchy decided to reinstate, then ultimately fire, head coach DJ Durkin. That's after months of investigation into the death of offensive lineman Jordan McNair during a May offseason workout.
Maryland (5-4, 3-3), somehow a win away from becoming bowl eligible, has four losses by a combined 86 points. It managed only 100 yards total Saturday, including only 26 yards rushing on 29 carries for interim coach/offensive coordinator Matt Canada.
"This week was a challenging week," Canada said in an understatement. "That's a fact. You guys all know that. We lost today because we just didn't play well enough and I didn't coach well enough."
Maryland players were not made available to the media after a game that also saw the ejection of Terrapins defensive tackle Mbi Tanyi in the second quarter for throwing a punch at a Michigan State player.
Georgia's line dance
Two starters down on its offensive line, No. 6 Georgia instead pushed open enough holes for a season-high 331 yards rushing against the nation's top statistical defense and produced a dominant 34-17 win at Lexington, Ky., over No. 9 Kentucky to clinch another Southeastern Conference East title.
The Bulldogs (8-1, 6-1) put up the most points allowed this season by the Wildcats (7-2, 5-2).
"Our kids are tough, resilient, and they fight," Georgia coach Kirby Smart said. "Our guys played extremely physical today and answered the bell."
Georgia, which sports the SEC's youngest team as 68.2% of its roster is either freshmen or sophomores, won't have to play another true road game the last three weeks, and then has the SEC title game in Atlanta.
Kentucky, seeking its first SEC championship game appearance since it started in 1992, played much of the second half without two senior starters. Safety Darius West was ejected on the first drive of the third quarter for targeting. Not long after, Kentucky offensive guard Bunchy Stallings was ejected for making contact with an official in protest of a call.
"They beat us in all phases," Kentucky coach Mark Stoops said.
Clemson, and then some
When 5-foot-9 sophomore receiver Will Swinney took a quick flip from quarterback Chase Brice and scooted in eight yards for a fourth-quarter touchdown to give No. 2 Clemson the final points of its 77-16 over Louisville, Tigers head coach Dabo Swinney couldn't consider it meaningless.
Yes, that touchdown was scored by his kid, the first in his college career.
"The biggest thing for me, is just seeing his teammates happy for him," the coach said. "Will's a grinder. He's had a great camp, and he's worked really hard so good to see him be rewarded with that. That was a pretty cool moment as a dad too."
This happened long after the Tigers had a two-yard touchdown rumble by 6-foot-4, 350-pound defensive tackle Dexter Lawrence to bump the lead to 42-3 just after halftime.
Clemson (9-0, 6-0) has as many 60-point wins this season (two) as there have been in the first 65 seasons of the Atlantic Coast Conference's existence. Perhaps next is to consider challenging the school single-game record of a 122-point win in a shutout of Guilford in October of 1901.
Near black eye for Buckeyes
No. 10 Ohio State (8-1, 5-1 Big Ten) has only one win this season against an opponent currently above .500 — a 27-26 decision at Penn State on Sept. 29.
It almost got worse when Nebraska, on a two-game win experience after losing its first six, held a 21-16 halftime lead in Columbus, Ohio, and kept it uncomfortable until the Buckeyes, who had a week off after a 29-point loss at Purdue, ran out the clock and escaped with a 36-31 victory.
"Obviously, we're not anywhere near where we need to be," said Ohio State coach Urban Meyer, whose team has games at Michigan State and Maryland before the final conference meeting against unbeaten and No. 5 Michigan (8-1, 6-0) at Ohio State on Nov. 24.
A first step for UTEP
While one 20-game losing streak disappeared for Texas El Paso with a 34-26 triumph, Rice had its nine-game losing streak extended in the process when the two Conference USA rivals faced off in Houston.
UTEP (1-8, 1-4), which went 707 days without a win, was outscored 16-0 in the fourth quarter by Rice (1-9, 0-6). UTEP ended Rice's final drive with an interception by Justin Rodgers with less than two minutes left.
"Rice came back and did some really positive things and hung in there," UTEP coach Dan Dimel said. "There wasn't any panic in what we were doing."
ARMY takes rivalry to flight
Fullback Darnell Woolfook ran for 117 yards and a touchdown to push Army past Air Force, 17-14, at West Point, N.Y., giving the Cadets (7-2) the honor of keeping the Commander in Chief's Trophy that represents supremacy among the three service academies.
But Air Force (3-6) may have been more upset about an injury to its live mascot, a 22-year-old white gyrfalcon that was removed from a colonel's residence as part of a prank by Army students, according to the Colorado Springs Gazette. While in the cadet's captivity, the bird reportedly suffered a wing injury and may have to be euthanized. It was being brought back to Colorado Springs, Colo., on the football team's chartered flight.
A rash of Ivy notables
During Harvard's 52-18 home win over Columbia, Crimson senior quarterback Tom Stewart recorded the three longest scoring passes in the school's 144-year history. Of his school-record-tying five touchdown tosses in a 393-yard passing performance, Stewart had scoring plays of 92 yards (on the first play from scrimmage) as well as 75 and 74 yards on Senior Day …
Princeton quarterback John Lovett's five-yard keeper for a touchdown with 6:33 remaining secured a 14-9 win over Dartmouth and kept the Tigers unbeaten (8-0, 5-0). It was the first loss for the Big Green (7-1, 4-1). …
Hey, wait a SEC
ESPN issued an on-air apology to SEC commissioner Greg Sankey after political commentator and LSU fan James Carville accused the league of favoring Alabama during a "College GameDay" visit to the LSU campus on Saturday morning.
Carville came on the set and complained about a first-half suspension of LSU star linebacker Devin White, called for targeting in the second half of the Tigers' last game and unavailable for the first half against Alabama on Saturday night. Carville also displayed a sweat shirt with: "Greg Sankey (heart) Alabama" on it.
ESPN partners with the conference on the SEC Network. The Alabama-LSU game aired Saturday on CBS.
---
Get our high school sports newsletter
Prep Rally is devoted to the SoCal high school sports experience, bringing you scores, stories and a behind-the-scenes look at what makes prep sports so popular.
You may occasionally receive promotional content from the Los Angeles Times.