Jeff Fisher says he's not changing play callers despite Rams' struggles on offense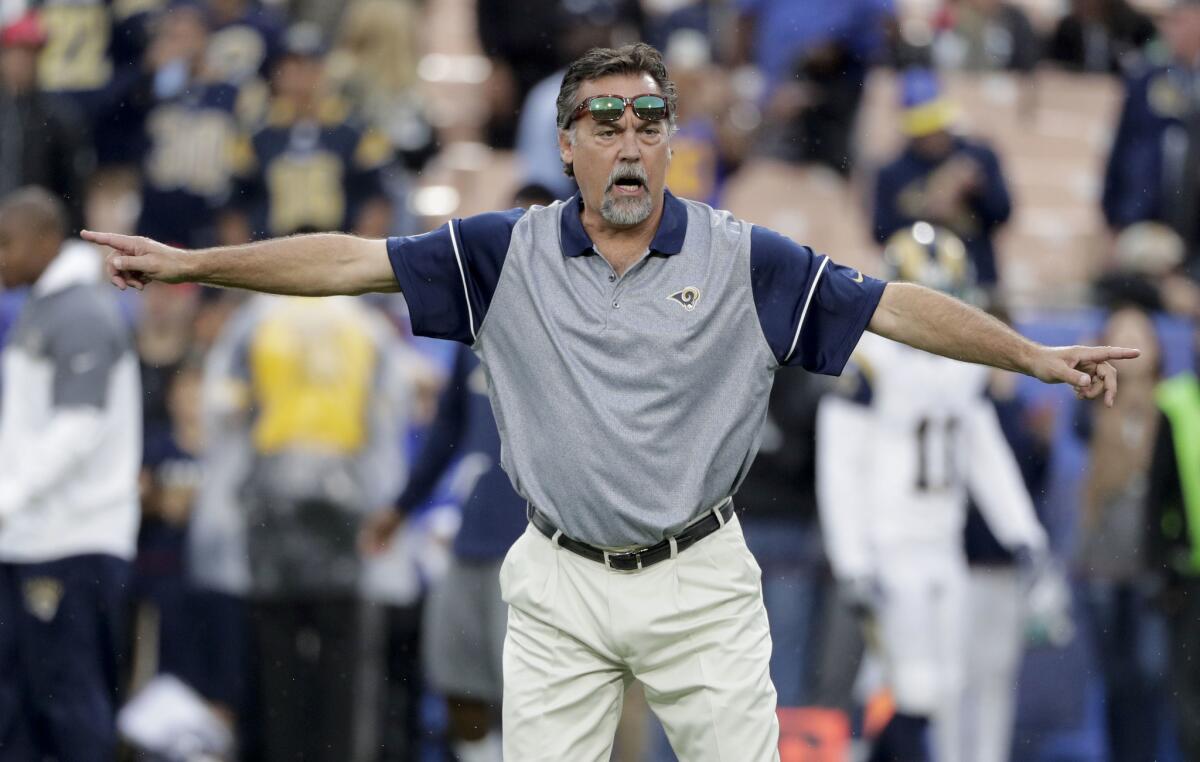 The Rams made a major change on offense last week when Coach Jeff Fisher finally turned to rookie quarterback Jared Goff.
But after another subpar offensive effort in a loss to the Miami Dolphins, there will be no change in play callers, Fisher said Monday.
Offensive coordinator Rob Boras oversees the lowest-scoring offense in the NFL. The Rams entered Sunday's game averaging 15.4 points a game.
They emerged from the 14-10 loss averaging 14.9, and play the high-scoring New Orleans Saints on Sunday.
Asked if he had given any consideration to changing play callers, Fisher said no. He also expressed confidence in Boras, who replaced the fired Frank Cignetti with four games left in the 2015 season.
"Not given it any consideration," Fisher said during his weekly news conference at Cal Lutheran. "I did that last year.
"I have confidence in Rob and the offense has confidence in Rob. And the offense right now knows they're not doing what they should be doing."
The Rams rank 31st in total offense, 28th in passing and 29th in rushing.
They have scored only three touchdowns in the last four games.
Except for the final six minutes, the defense played another dominant game against Miami on a day when the offense once again sputtered.
"We didn't score enough points," Fisher said. "That's been a common theme here, and we need to get better at that."
The Rams have been unable to spring running back Todd Gurley consistently, and linemen have complicated matters by committing penalties.
Fisher mentioned a block-in-the-back penalty by left tackle Greg Robinson on a Goff scramble and a false-start penalty against tight end Lance Kendricks on the first play.
Changes in offensive line personnel are being considered, Fisher said.
"We're looking at everything right now," he said, adding, "We've got some repeat mistake-makers."
Rams fans looking for Goff to breathe life into the offense were disappointed Sunday as the No. 1 pick in the draft was given a conservative game plan. Other than a Hail Mary at game's end he attempted only one long pass.
"We didn't take our shots down the field, which, in retrospect, we probably needed to do," said Fisher, who cited "constant pressure" and "coverage" as reasons for limiting longer throws.
Goff, who was sacked once, completed 17 of 31 passes for 134 yards. He said after the game that he was happy with the play-calling, but acknowledged a desire to attempt longer passes.
"I would like to throw some balls down the field," he said, "and I think that will be in the plan every week and it's up to them."
Goff was referring to Fisher, Boras and, presumably, quarterbacks coach Chris Weinke.
The Saints are averaging 28.5 points a game, and upcoming opponents New England and Atlanta also rank among the NFL's highest-scoring teams.
The Rams will open up the play-calling for Goff, Fisher said.
"We have to score points," he said, "So, yeah, we're going to do more things. . . . He's going to be a big part of it, and we'll have to push it down the field."
Quick hits
Rookie linebacker Josh Forrest will "most likely" be put on injured reserve because of a knee injury suffered against the Dolphins, Fisher said. Nic Grigsby would be promoted from the practice squad. Forrest, a sixth-round draft pick from Kentucky, started four games and also played on special teams. He has nine tackles. . . . Fisher said he was still gathering information from law enforcement agencies in regard to cornerback Troy Hill, who was arrested Saturday morning on suspicion of driving under the influence after a collision with a big rig on the 101 Freeway. Hill, who started four games and was in a rotation with E.J. Gaines and Trumaine Johnson, was inactive against Miami. Fisher said he spoke with Hill on Monday. "I'm very, very disappointed in him," Fisher said. "Disappointed in his choices, but waiting to get the results from law enforcement before I make a decision." . . . Fisher noted that the costly fourth-quarter penalties by tackle Aaron Donald and linebacker Alec Ogletree during the Dolphins' scoring drives were "both by our two defensive captains."
Get the latest on L.A.'s teams in the daily Sports Report newsletter.
You may occasionally receive promotional content from the Los Angeles Times.