Case Keenum's record-setting game should keep Jared Goff on ice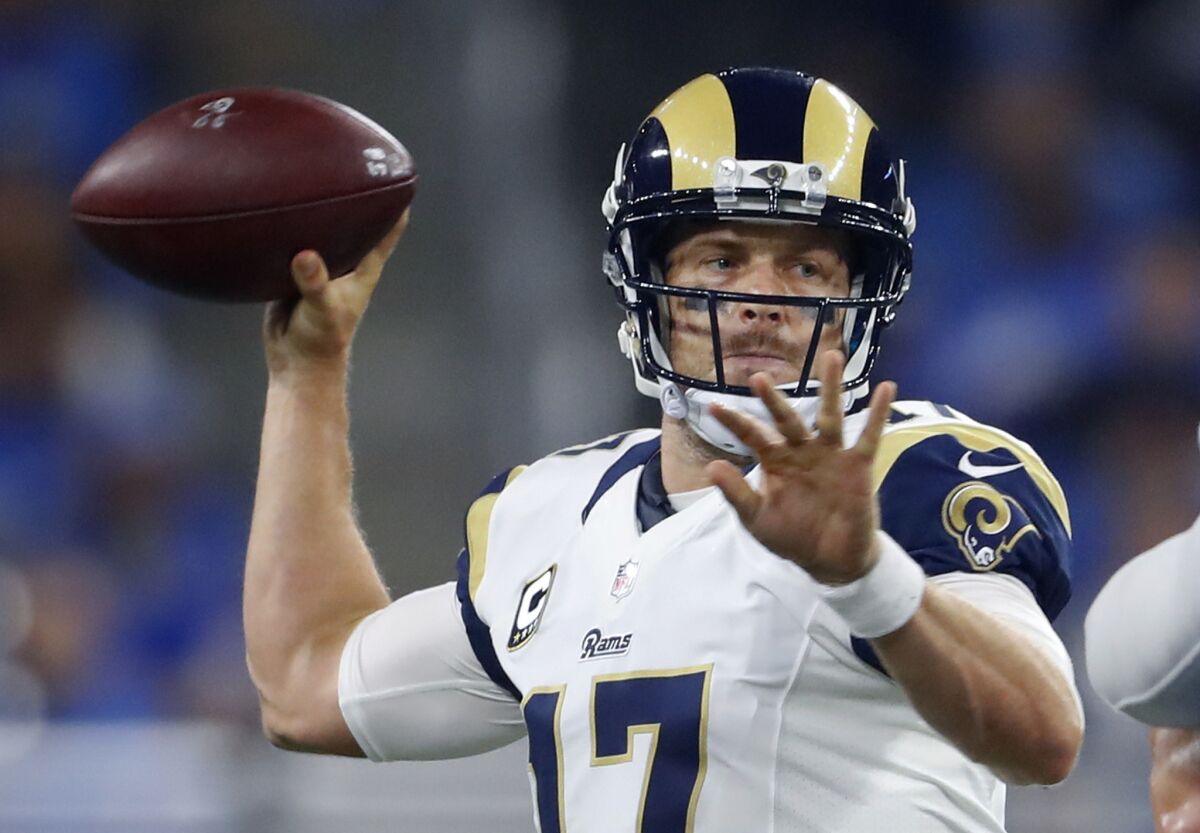 Reporting from Detroit —
Case Keenum broke a Rams record with 19 completions in a row.
Afterward, though, he was more concerned that he sounded like a broken record.
"Just like I said last week, we had the ball in our hands with a chance to win the game, and we didn't do it," he said, gripping a lectern in a Ford Field interview room. "It's pretty frustrating."
The result might have been the same as the Buffalo game a week earlier — an L is an L, after all — but this was not a typical performance by the Rams' offense. Keenum was crisp and effective, completing 27 of 32 passes for 321 yards and three touchdowns. He also ran for a score and spread the ball to seven receivers.
The streak of consecutive completions started with 14 minutes, 57 seconds remaining in the second quarter, with a short pass to running back Benny Cunningham, and ended with 14:16 left in the fourth with a nine-yard touchdown pass to Kenny Britt. In between, he was a machine.
All of that was overshadowed in the aftermath by Keenum's game-ending interception on a deep pass for tight end Lance Kendricks. Team records don't mean much after back-to-back defeats have leveled the Rams at 3-3.
"I thought we moved the ball well," Keenum said with a shrug. "Just not enough."
His efficiency was impressive, though, and something on which the Rams can build.
"If you hit on 19 in a row, that's a big congratulations to the offense as a whole," said former Rams quarterback Jim Everett by phone Sunday, after seeing his mark of 18 consecutive completions eclipsed. "It means everybody's on the same page."
What Keenum really did was muddy the waters, at least temporarily. Earlier in the season, next week looked like a natural point of entry for No. 1 pick Jared Goff. The Rams would come back from London, get a week off, and maybe work in a young quarterback who figures to be the future of the franchise.
Keenum has not complied. Sunday, he tightened his grip on the starting job, and prying it away from him could be like separating a pit bull from a sock.
He knows better than anyone that the first pick in the draft is looming right over his shoulder, and the outstanding performances of rookie quarterbacks Carson Wentz in Philadelphia and Dak Prescott in Dallas have only ramped up the expectations and intrigue surrounding Goff.
That day is coming, when the Rams hand the keys of the offense to the rookie. The franchise didn't make a historic trade up from the No. 15 spot and mortgage the future simply to ride the fence on which quarterback will eventually get the job. But with the way Keenum played Sunday, he isn't going to make the choice an easy one.
"Case was feeling good tonight," Rams Coach Jeff Fisher said. "[The game] slowed down for him. He made some big-time throws and guys caught the football … but we still need to win a game."
The guy who went undrafted in 2012 patently refuses to step aside. He has only dug in deeper.
"Any time there's stress put on you or adversity, it kind of reveals some things about yourself," Keenum said. "I've prepared very well for this, I'll continue to prepare very well, and I'm going to work extremely hard. I work hard and I fight.
"I've got a competitive spirit. I want to win. I'm a winner. I have no doubt that every time I step on the field I'm going to be successful."
Despite his gaudy statistics, he wasn't successful enough Sunday. With 1 minute, 9 seconds remaining and the Rams trailing by three, his pass down the middle for Kendricks was intercepted by safety Rafael Bush.
"We were on the line, trying to hurry up and run our two-minute mode," said Keenum, who was operating with no timeouts. "Just thought Lance had a little seam there, tried to look off the safety, and [Bush] made a heck of a play."
This wasn't the first time Keenum has had a statistically impressive game. He had a near-perfect passer rating of 158.0 against Tampa Bay last season before coming back to earth a week later with a 86.0 at Seattle. Regardless, the Rams won both those games.
Statistics suitable for framing don't mean much if you're on the wrong end of the final score, so Keenum wasn't in the mood to relish his record against the Lions.
On the positive side, with the way the offensive line played, he emerged largely unscathed, whereas in other games he has hobbled away from the locker room with ice strapped to various appendages.
"It makes tomorrow morning a lot better," he said.
Physically maybe. But after this defeat, the Rams still took their lumps.
sam.farmer@latimes.com
Get the latest on L.A.'s teams in the daily Sports Report newsletter.
You may occasionally receive promotional content from the Los Angeles Times.