Angels' Albert Pujols might need an Olympic break in a few years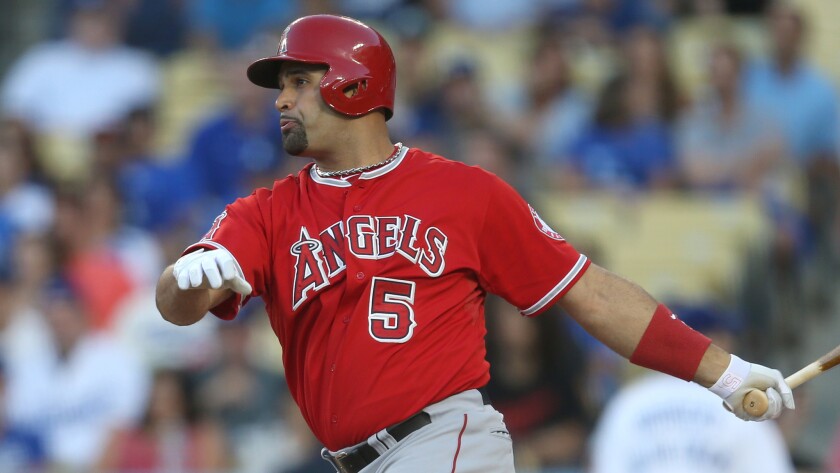 Reporting from Tempe, Ariz. —
Albert Pujols raised the possibility of retiring before his 10-year, $240-million contract expires in 2021, but not for the reasons one might think.
The Angels first baseman, who turned 35 in January, is in the fourth year of his deal, and already there has been speculation about whether the 6-foot-3, 237-pound slugger will be able to play at a high level as he approaches 40. Pujols will be 41 in the final year of the contract.
But Pujols, who arrived at spring-training camp Sunday, said his 9-year-old daughter, Sophia, an elite-level gymnast, could force him from the game if she achieves her goal of competing in the Olympics.
Pujols said Sophia is shooting for the 2020 Tokyo Games, even though current Olympic gymnastic rules require girls to be 16 and Sophia would be 14.
"That might have to be the year I retire," Pujols said. "You can put that in the paper, because I don't want to miss it. … Either that, or they'll have to put me on the disabled list for two weeks."
Pujols is a virtual lock to make the Hall of Fame, with a .317 career average, 520 home runs and 1,603 runs batted in, but he is relishing being a cheerleader for his daughter, who won the all-around competition Saturday at a meet in St. Louis.
"It was emotional," Pujols said. "To see her raise that trophy up, the smile and [look] in her eye … there's nothing more precious. My wife and I were sitting next to each other. Tears were coming out of our eyes. I can't imagine if she got the opportunity to go to the Olympics. It would be pretty exciting."
A more immediate goal for Pujols is helping the Angels, who had a major league-best 98-64 record but were swept in the first round of the playoffs last season, reach the World Series.
To that end, Pujols, who hit .272 with 28 home runs and 105 RBIs in 2014, said he would have "no problem" moving to the cleanup spot if Manager Mike Scioscia bats 2014 American League most valuable player Mike Trout third.
Pujols has hit third in 1,790 of 2,080 starts, including all 412 of his starts with the Angels, fueling a belief he would not feel comfortable in another spot.
"No matter where I am in the lineup, my job is to try to help this organization win," Pujols said. "Obviously, Trout is the best hitter we have. Whether he feels comfortable hitting second, first, whatever, he needs to have his Trout year."
Erick Aybar is often mentioned as a candidate to bat behind leadoff man Kole Calhoun, and the switch-hitting shortstop has a .277 career average batting second. But Aybar hit only .238 in 35 starts in the two-spot in 2013. He has hit .281 in the sixth spot and .296 in the seventh spot.
"The key is finding somebody in front of Trouty who can set the table like Kole," Pujols said. "It's tough to find. You guys talk a lot about Erick, but you don't want to move a guy who's had a successful career where he's been hitting and put him in a situation where he's not comfortable."
Pujols is coming off his first "normal" off-season with the Angels, one in which he didn't recover from surgery or injury. He had right knee surgery after 2012 and sat out the final two months of 2013 because of a torn plantar fascia in his left foot.
Pujols said the knee hardly bothered him last season, and the Angels took him off his feet by starting him at designated hitter 43 times. But Pujols made 116 starts at first base and played superb defense.
"I feel great, man," Pujols said. "I'm happy with how I played defense last year. I believe I'm a Gold Glove defender."
Twitter: @MikeDiGiovanna
---
Get our high school sports newsletter
Prep Rally is devoted to the SoCal high school sports experience, bringing you scores, stories and a behind-the-scenes look at what makes prep sports so popular.
You may occasionally receive promotional content from the Los Angeles Times.