Freddie Roach says Ronda Rousey should steer clear of Holly Holm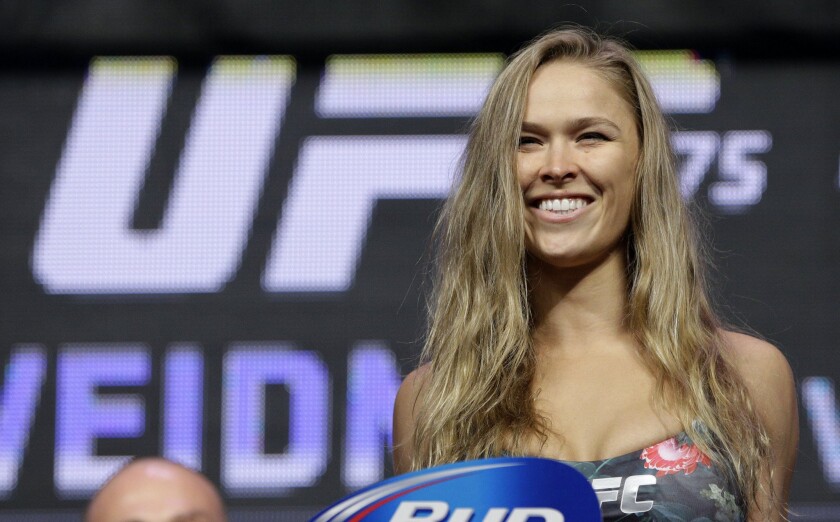 Famed boxing trainer Freddie Roach knows enough about fighting to form a qualified opinion about Ronda Rousey's interest in a rematch against women's bantamweight champion Holly Holm.
"If I was … Ronda, I'd stay away from the girl [Holm]," Roach said Wednesday at his Wild Card Boxing Club in Hollywood.
There was speculation following Rousey's second-round knockout loss to Holm in November in Australia that she would seek an elite boxing trainer like Roach to deal with the expert stand-up skill of Holm, a former world boxing champion.
Join the conversation on Facebook >>
It was Holm's boxing that battered Rousey in the first round, setting the stage for the defining second-round head kick in Holm's stunning victory.
Roach, the Boxing Writers' Assn. of America six-time trainer of the year, said that nothing beyond casual contact between third parties has taken place regarding a possible union with Rousey, whose Glendale coach, Edmond Tarverdyan, was fined $5,000 by the California State Athletic Commission Tuesday for making false statements on a prior application about his criminal record.
Tarverdyan's cornerman's license was returned on suspended status for three months, according to CSAC Executive Officer Andy Foster.
It was Tarverdyan who pressed Rousey to embrace a stand-up style against Holm, and the trainer was also criticized afterward for lacking direction to Rousey following her first-round punishment.
"Somebody asked me if I would take [Rousey] over and I said, 'Well, I would like to help her, but to get the experience the other girl [Holm] has from 35 pro [boxing] fights – she beat everybody, fought everybody in the world and has a background in kickboxing – I would stay from the girl," Roach said.
But Holm has the belt, Roach was reminded.
"It'll take [Rousey] four-to-five years to get the experience [Holm] already has," Roach countered.
What about the idea of Rousey fervently working to take Holm down to apply her judo skills and seek her famed armbar submission?
"She can't just take her down because [Holm] not only knows kickboxing, she knows the defense to not be taken down," Roach said. "[Holm] proved it last fight. She only got taken down once, and she got out of that real quickly. She's a smart girl."
Holm (10-0 in MMA) will make her first title defense March 5 in Las Vegas against former title challenger Miesha Tate.
The Holm-Rousey rematch would be expected to draw a substantial pay-per-view audience. UFC President Dana White did not immediately respond to The Times when asked about Rousey's fight schedule for 2016.
Roach, meanwhile, said he spent four days in Montreal last week overseeing former UFC welterweight champion Georges St-Pierre's personal six-week training camp. St-Pierre has told Roach he'll decide if he'll return to the UFC after the session, and Roach said he'd serve in St-Pierre's corner.
"He looked really good," Roach said of St-Pierre. "He told me, 'I haven't made a decision yet.'"
ALSO
Holly Holm will fight before Ronda Rousey rematch, UFC says
Ronda Rousey won't fight until after UFC 200 in July, Dana White says
Watch Ronda Rousey's family and friends react to her knockout by Holly Holm
---
Get our high school sports newsletter
Prep Rally is devoted to the SoCal high school sports experience, bringing you scores, stories and a behind-the-scenes look at what makes prep sports so popular.
You may occasionally receive promotional content from the Los Angeles Times.